Lady Flames down Campbell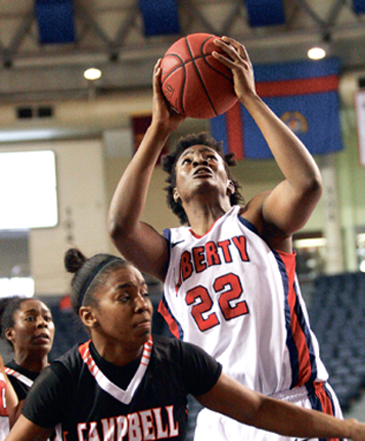 Omotola's fifth double-double of the season helps lift Liberty to 65-58 victory
Despite shooting 34 percent from the field, the Liberty Lady Flames (14-6, 6-2 Big South) heavily out-rebounded the Campbell Lady Fighting Camels (12-6, 4-3 Big South), leading to a 65-58 victory Saturday, Jan. 19.
Forward Tolu Omotola tallied her fifth double-double with 15 points and 11 rebounds.
"Crashing the boards was the most important thing," Omotola said to the Flames Sports Network. "Everyone was rebounding, and it was the most important thing for us, everybody crashing the board and being aggressive."
With 11:08 remaining in the first half, guard Reagan Miller hit a three-pointer, which sparked a 7-2 spurt. By the end of the first half the Lady Flames were able to cling to a 36-26 lead.
At the beginning of the second half the Campbell spouted an 8-2 run of their own, reducing the lead to four. But the Lady Flames answered with seven straight points nd pushed their lead back to 10.
Liberty continued to pressure the Lady Fighting Camels, scoring and holding their largest lead of 14 points with 6:53 remaining in the game.
Campbell reduced the lead to single digits, but was unable to pull any closer.
The Lady Fighting Camels came into the game fourth in the country in three-point field goal percentage, but the Lady Flames held them to 22 percent (2-17) from behind the arc.
While both teams struggled from the field, the Lady Flames made up for it from the free-throw line and had heavy production from the bench, outscoring Campbell 31-14.
The Lady Flames also posted a plus-27 margin rebounding (59-23).
"I think our determination, especially on the boards, was the difference," Head Coach Carey Green said to the Flames Sports Network. "We were able to get second chance because we were able to go to the offense boards so well. If it was not for that, then I do not think we could have pulled this one out."
Liberty went 25-34 (73 percent) from the free-throw line. Center Ashley Riniger went 9-11 from the charity stripe and scored 11 points and five rebounds off the bench.
Guard Devon Brown struggled from the field, shooting 2-16. She also grabbed 11 rebounds and three steals.
Lady Fighting Camels guard Tonisha Baker finished with a game-high 21 points and four assists. Forward Kiera Gaines added 12 points four rebounds and three steals in the defeat.
With the win, the Lady Flames remained second in the Big South Conference, behind the Longwood University Lancers (9-9, 6-1 Big South). Liberty travels to face the Lancers Saturday, Jan. 26 at 5 p.m.