Editorial: Charles Barkley was right, sort of…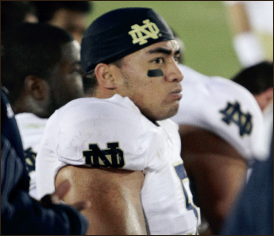 In 1993, Nike released a 30-second commercial that caused a national uproar. In the advertisement, former NBA superstar Charles Barkley declared that he was not a role model, stating, "Just because I dunk a basketball doesn't mean I should raise your kids." Barkley has repeatedly stated from then on that athletes should not be used as role models by parents for their children.
And with the recent developments in the Manti Te'o girlfriend hoax — which I will proceed to refer to as "Girl-Gate" from this point further — Barkley appears to have a very valid point.
News broke Wednesday, Jan. 16 that Te'o, the standout middle linebacker for the Notre Dame Fighting Irish and runner up in this year's race for the Heisman Trophy, had either completely fabricated a story about his girlfriend dying of cancer near the beginning of the season, or had been duped by an online impersonator. Either way, Te'o undoubtedly lied or embellished details about a woman whom it appears he never met.
Before the story, Te'o was seen as an inspirational figure. On game days, networks focused cameras on him on the sideline as he rallied his team to critical defensive stands during big games. Te'o frequently alluded to his faith and the church as to what kept him grounded as an individual. He was seen as a fighter with class and grit for dealing with not only the death of his girlfriend, but also his grandmother — who did actually pass away during the season.
Now, in the blink of an eye, that reputation is gone. It went up in smoke, just like any evidence that his girlfriend existed appears to have as well.
While his draft stock may be hurt, Te'o will undoubtedly be drafted in the first or second round of this April's NFL Draft. Jerseys will be sold with his name on the back. Tickets will be sold that bear his likeness on the front. Kids will get his signature at training camp publicity events.
But anyone with children or college-age students who will one day be in that situation, let this incident serve as a lesson — a confirmation of what Barkley said. Te'o just serves as yet another reminder that athletes, no mater how clean their image may seem, are very often flawed human beings.
The problem is that Barkley was only halfway correct. Athletes certainly are not required to set an example for children. It is not in their contract, and it is not their obligation to make sure that children behave.
Unfortunately, parents portray athletes in a way that says they should be placed on a pedestal. But for every Tim Tebow, Jeremy Lin or Mariano Rivera-esque athlete who is not ashamed of his faith and appears to be a person of high moral character, there are many who are not.
Let us not make these athletes with superior physical abilities become more than what they are. Athletes are, like everyone else, fallen human beings whose harmful desires get infinitely more publicity than most of ours.
While these athletes are in such high positions that it is impossible for children not see them as role models, it is crucial that we become actual role models who they can experience and learn from firsthand. Mothers, fathers and respected members of the community serve this purpose much better than most athletes ever could.
So take this advice when mentoring a young person, or remember it for your future children. There is nothing wrong with teaching the youth how to make that fade away jumper like Kobe, how to have a deadly crossover like Iverson or even how to dunk like vintage Barkley, but save the off-the-field role model part for yourself.