'Dirty God' released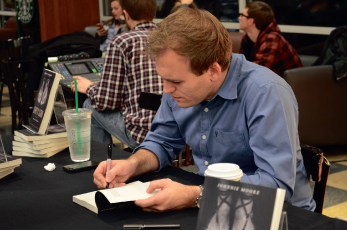 Johnnie Moore highlights the human side of Jesus
Ask anyone on the campus of Liberty University to describe God. There is no shortage of adjectives in the Bible to pick from, but the word "dirty" would probably not find its way onto most people's list. Call it unconventional, but Liberty Vice President Johnnie Moore has set out to convince his readers that God is dirtier than most people think.
Moore released his new book, "Dirty God," Jan. 1, and since then, he has received some interesting reactions to the title of his second book.
"Secular people are discovering it because they think that it's controversial," Moore said.
According to him, he chose the unusual name because Christians sometimes become enthralled with the divine nature of God and lose sight of the fact that Jesus was also fully man.
"I think if we look at the human side of Jesus, the way he lived his life when he was here, we can get a glimpse into how to live our own. So this is a book about grace through the lens of the human side of Jesus."
In the book, Moore points out that Jesus did not hesitate to associate with lepers and chose to be born in a small, relatively unimportant town. Ultimately, Moore's reference to God "getting dirty" is a metaphor for Jesus' willingness to live among imperfect people, give grace to people who did not deserve it and provide a way for them to get spiritually clean — salvation.
"Jesus is the polar opposite of every other idea of God in history," Moore said. "You're beating down the wall to get God to pay attention to you, but Jesus is the God who dropped the ladder down from heaven to be with us."
In addition to providing a picture of what God's grace looks like, Moore also shared what kind of effect that grace had on his faith.
"I say in the book that one of the most profound truths I ever learned is that God isn't angry at me," Moore said. "God genuinely cares about me. He's concerned about me. He's patient with me. He's kind. It's his kindness that draws us to repentance."
Moore has also been given a chance to explain what the book is all about on a national stage. He has written online articles about "Dirty God" for CNN, which appeared on the front page of the news station's website for multiple hours, and the Washington Post. He also appeared on Fox News.
Moore celebrated the launch of "Dirty God" with a book signing in the café at the Liberty Bookstore, complete with live music from the Campus Praise Band. Students waited in line to get a signed copy of the book, and Moore returned the favor, spending multiple minutes with each person and personalizing each copy.
"These particular events, the release parties, are a lot more fun because we get an even more relaxed environment," Brian DiGia, trade manager at the Liberty Bookstore, said. "It's a great way to push and promote the book, and it's a lot of fun."
The Liberty Bookstore has hosted multiple book release parties in the past, most recently for Liberty professor Karen Swallow Prior's new release, "Booked: Literature in the Soul of Me," in the fall of 2012.
"If (readers) took away one thing from the book, I would say that God is more kind than you ever imagined him to be, and it is the greatest privilege in the world to know his kindness and to introduce others to it," Moore said.
"Dirty God" is the follow-up to Moore's first book, titled "Honestly," in which he addresses the topic of hypocrisy in the Christian faith. He also plans to release a third book in 2014.
Excerpt: "Dirty God", Chapter 4
Jesus is the God who comes to us without fanfare. He seems weak when he arrives in that manger, but he's anything but weak. He's powerful enough to hold back his glory as he begins his journey of wading through the muck of man's sin, and all the way to the cross, he demonstrates that the values of the kingdom of God are different from the values of this world, or of the Romans or the Pharisees or Herod himself. Jesus taught that it was by grace that you enter into this new way of living and this renewed relationship with God.
When you think about it, the whole story really is absurd.
Gods are primarily thought of as "powerful" — like Zeus with his lightning bolt. They don't waste their time meddling in the lives of humans. They're too busy being gods.
And Jesus is all-powerful. Jesus can hold the universe, which he created, in the palm of his hand. Even so, Jesus comes to us totally differently from any other god. He entered history as a God who looked more like a man.
Jesus didn't care about impressing the barons and the politicians. He didn't have time for the rabbis with their long prayers and outward adornments.
Jesus came for everyone, and especially for those who didn't deserve God's attention.
He came for the regular men and women who claw and fight their way through life, trying to make this world a little better place. He came fully aware of man's inadequacies, and he didn't intend to rub them in.
He came not to judge the sin of the world but rather to take onto his own shoulders the burden of giving a second chance to people who didn't deserve one.
Jesus didn't just send a message to man through yet another prophet. Instead, he dropped a staircase from heaven so that he can walk with us, touch us, talk to us, feel like we feel, hurt as we hurt, struggle as we struggle, and eventually help us get to where we ought to be — in the presence of God again.
He handles us with care. He relishes the opportunity to make something beautiful out of our messes.
He arrived on the scene with a certain everydayness. When you imagine him there in the feeding trough in Bethlehem, you could almost miss that this was a moment of such cosmic importance — a time when God grabbed history in his two hands and ripped it apart.
Jesus' arrival was, in fact, the most significant moment in all of history, and it was his grace that brought him here, and his grace that defined the revolutionary way he taught us to think about God and his kingdom.
You would think that the wonderful news of God's grace would be received with open arms. But grace, like a glimmering diamond, shimmers most brightly when it's placed squarely on something dark as night.
Jesus arrived with a great gift — a gift that almost no one wanted.