Convocation set to impress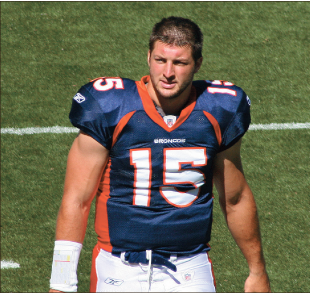 Liberty University distinguishes itself from educational institutions around the world in a myriad of ways, but perhaps the most unique distinction of Liberty culture is convocation.
This triweekly, mandatory campus event inevitably produces wide-ranging sentiment. For some of the student population, the time could not be more inconveniently squandered — and why must it be held so torturously early in the morning? For others, the set hour of collective worship and teaching is an anticipated event that is both refreshing and enjoyable.
Regardless of the category into which you fall, one thing is certain: the spring 2013 convocation schedule is already receiving exceptional publicity. Ever since the optimistic rumors began last semester that Tim Tebow would appear as a guest speaker, the campus has been humming with elation.
The list of noteworthy speakers, however, does not end with the NFL quarterback and Heisman trophy winner. In fact, Tebow is just the beginning. In addition to this highly anticipated guest, students may also expect an assortment of renowned visitors ranging from politicians to pastors, sportscasters to superstars.
Those who love music can look forward to hearing from Christian hip-hop artist LeCrae this March. For those more interested in politics, keep an eye out for former Arkansas Gov. Mike Huckabee. For all those diehard sports fanatics, James Brown, host of NFL Today on CBS, is scheduled to make an appearance. And if you have not heard of him yet, you will want to look up Jeff Bethke, a Christian author, poet and YouTube sensation.
Johnnie Moore, overseer of the Office of Spiritual Programs, said that he is thrilled to be hosting such prominent Christian names as Franklin Graham, Judah Smith and Bobby Gruenewald.
"This semester, we've prepared another one of the best convocation line-ups in the history of Liberty University," Moore said. "For sure, people will talk about this semester for a long time."
It is faculty like Moore and events like convocation that earn Liberty the reputation of a school committed to its students. Where else can thousands of students join together to personally hear from the world's most important professional, political and spiritual leaders three times a week?
"No university in America exposes its students to these types of leaders on such a regular basis," Moore said. "It is a repository of wisdom that makes a Liberty University education unique and invaluable."
So despite what your feelings toward convocation may be, this semester is sure to bring in at least one speaker that will leave you motivated, encouraged and ready to take on the world as a champion for Christ.
If you are not in the regular habit of attending convocation, research the schedule and make note of key dates you will not want to miss — I guarantee there will be quite a few of them. And to the customary campus attenders, get ready for a semester of convocation unlike all before.
Be sure to make the most of every opportunity presented to you as individuals of reputable stature prepare to pass through our extraordinary university. Have a book signed, shake a hand and take a moment to speak to prestigious people with the knowledge and advice that just might leave a lifelong impact.