Campus experiences improvements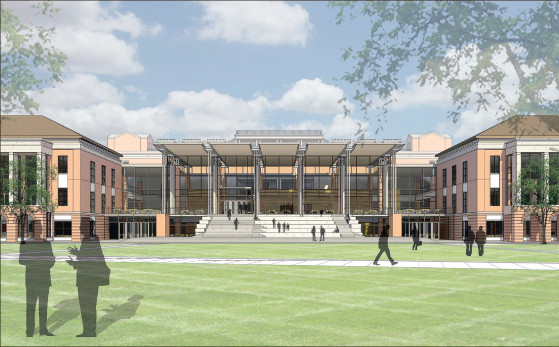 The flurry of construction projects enhances academic and athletic facilities
Amidst the clamor of construction noises on campus, sizeable progress has been made on the various buildings Liberty University is erecting.
The addition of multiple facilities, including an incoming Osteopathic Medical and Health Sciences School, the Jerry Falwell Library, a baseball stadium and a multi-level dorm that will eventually replace South Campus have already begun making their presence known across Liberty's campus.
According to Chancellor Jerry Falwell Jr., progress on the new South Campus dorms began this week, starting with the relocation of students previously living in Dorms 1-4. Those students have since been moved to the "Liberty Annex," formerly known as the Quality Inn on Odd Fellows Road.
According to Executive Vice President Neal Askew, the university has remodeled the hotel to mirror the dorms on campus so that it consists of three students per room, one bunk and one loft, and three desks.
"They like it so well. They're so blown away by how nice it is, the word is spreading, and there are students asking if they can move from their dorm to over there," Askew said. "We have everything set up for them — the bus transportation is set in place, and the students will be dining over at the original Annex."
According to Falwell, the new dorms, while still being separated by gender, will include a co-ed social area on every floor for students to have more places to get together. Construction on the new dorms will be completed in phases on an as-needed basis, and, according to Vice President of Auxiliary Services Lee Beaumont, the administration is currently discussing the possibility of having food options in one of the new, eight-story dorms.
Falwell also said that student growth over the next few years is not expected to exceed the number of dorm rooms available, as the new buildings will go up as the student population grows.
"The enrollment management department has informed us that each year, a few hundred more students will be accepted into the university, and by 2020, we should be close to about 16,000 students," Falwell said. "Once we build the second dorm building on South Campus, that will more than allow for that growth."
In the past, universities and other institutions needed to fill out and get a conditional use permit (CUP) signed and approved in order to construct more buildings on any land. However, the new institutional zoning plan currently being approved by the City of Lynchburg, Falwell said, is expected to eliminate this requirement.
The new baseball stadium that is being built on the site of the old David's Place is still planned to welcome guests on opening day, Feb. 22, according to Director of Planning and Construction Charles Spence. Final touches will not be completed until June 2013, but the stadium will be opened to accomodate games and fans as soon as the season begins.
"All of the facilities and upgrades are part of our effort to make our athletic facilities mirror what you would see at FBS (football bowl subdivision) schools," Falwell said. "We want to join an FBS conference, and for the most part, we're there. The baseball stadium is sort of the last piece."
The Jerry Falwell Library, which currently sits behind DeMoss as a framework, is expected to finish on time, according to Spence. Having hired top-notch architects and an interior designer who has been busily planning for six months to ensure that the minutest detail is met, both Falwell and Spence guaranteed that the Jerry Falwell Library will house the best of the best — every detail, from the technology that will be used to receive and return books, down to the type of material used for seating.
The library will also feature a food court on its ground floor.
"Our plan is to bring in a Pizza Hut, a sushi bar, Starbucks and a brioche/Panera Bread type of eatery," Askew said.
Structural steel for the new School of Osteopathic Medicine and Health Sciences is ready for placing on Liberty Mountain. Before bad weather hit Lynchburg, the concrete flooring and walls of the soon-to-be basement were set in place. Falwell anticipates the completion of the building to be May 2014, ready for classes the following semester.
"The plan is to be finished with the construction primarily between April and May of next year, because there is a tremendous amount of set up time needed with it being a brand new school," Spence said. "The doctor and his staff need to get their procedures and training plan in place."
The School of Osteopathic Medicine, according to Falwell, will also host a clinic on the first floor for Lynchburg residents and Liberty students.
An additional change to the campus that may somewhat alleviate traffic backup is a new tunnel that will run underneath the railroad tracks and come out at the intersection of Wards Road and Harvard Street. This new tunnel, which will include four lanes and a pedestrian and bicycle lane, is expected to near completion July 2013.
"All of our growth in the future is going to be engineered so we don't increase the number of off-campus students commuting from two to three miles away," Falwell said. "In other words, all growth is going to be in new dorms on campus for resident students, and it's going to be in housing projects that are close enough to (have students) bused. I really don't think our roads and our parking lots can handle any more commuter traffic."
The new Sears building that Liberty purchased in Oct. 2012, according to Falwell, should also take care of some of the on-campus traffic. While the city is still drawing up plans for the civic center that will eventually take the place of the old Sears building at River Ridge Mall, the administration plans to move some of the departments currently at Green Hall there. Only departments that students do not need access to will be moved, Falwell explained.
"The city is still trying to put the civic center proposal together," Falwell said. "Even if everything falls in place, we still won't have to move out of the Sears building for three years, and that gives us plenty of time to finish everything else here."
Among the many projects happening over campus, one of the original buildings at Liberty is also expected to receive some additions. DeMoss will eventually be expanded to incorporate two additional academic buildings to its posterior side, as well as a new food court that will include many different eatery options. According to Beaumont, the food court will include an additional Chick-fil-A, as well as healthy or organic options that are yet to be confirmed.
The LaHaye Student Union will also be expanded to include more rooms to meet student needs, according to Beaumont. Both the cardiovascular workout space and the weight room space will be doubled, more multi-purpose rooms and at least one more basketball court will be added, and the student union will begin towel service for those students using the facilities, Beaumont said. The food court will also be expanded, though the administration has not finalized exactly which ones will be coming to Liberty as of yet.
"You're going to have a lot more space, and a lot more equipment, so that gives us the ability to offer additional exercise classes and more workout options," Beaumont said.
As Liberty administration continues to brainstorm ways of improvements, students should expect nothing but the best. After all, as Jerry Falwell Sr. always said, "If it's Christian, it ought to be better."