Div. II hockey comes up short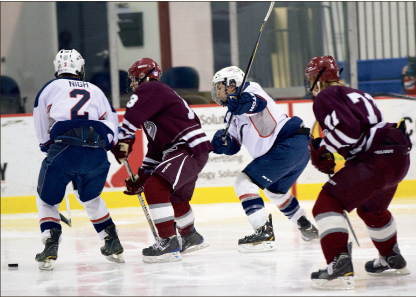 Penalties, poor line changes, trips to sin bin foil LU comeback in third period
Victory flirted with the Liberty men's DII hockey team but sided with Rider University, Saturday, Dec. 1.
Liberty went down 1-0 in the first period but came back to overtake the Broncs, earning a 2-1 advantage by the second period. However, Rider played a better third period, scoring two goals to win the game 4-2. Rider is ranked eighth in the DII Southeast Conference and will earn seeding points for defeating Liberty.
"I think it was a good battle," Head Coach Chris Lowe said. "Ultimately, we took too many penalties in the third, and that was what made the difference tonight. When two teams are evenly matched, you just can't afford to do that."
Heading into the third period, Rider started with two players down. The situation quickly reversed when a series of scuffles sent two Liberty players to the penalty box, and the pressure mounted on the goalie Justin Gortman. Rider capitalized on its advantage in numbers and evened the score during a power play.
The go-ahead goal came a few minutes later when the Rider offense took advantage of a line switch and overwhelmed the Liberty defense. The final goal came during the dying minutes of the game when goalie Justin Gortman was pulled out for a sixth skater in a last ditch effort to force a goal with superior numbers. The plan backfired when a pass was intercepted and flicked across the ice into an open net, extending Rider's lead to 4-2.
"Rider's a very good team," Lowe said. "I thought we were better five on five, but they have a good power play. They've got some skilled guys, and that ended up costing us. Gortman played very well in the net. The goals they got were second and third chances and power play chances, keeping us in it, and their goalie played very well."
The fall semester may be coming to a close, but the hockey season will continue over the winter break and during the spring semester. Lowe has mentioned that he has high hopes for his current squad.
"I'm excited. We're young, so we're getting better every game. We've got a couple of guys with injuries that will get back in January, and hopefully that will help us solidify," Lowe said. "This is a team that we can potentially see in the regionals, and hopefully our guys know what to expect now, and we can learn from that."
DII hockey will compete against Georgetown University Friday, Dec. 7 at the LaHaye Ice Center.