CEO seeks to motivate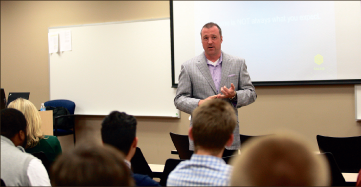 Liberty University business students had the opportunity to listen to Dean Parker, founder and CEO of Callis Communications, a leading company in unified cloud communication services, Thursday, Nov. 8. The 1996 Liberty alumnus encouraged students to do what they love and focus on Christ.
Parker came to the event with Callis's Executive Vice President, Troy Hartless, a 1993 Liberty alumnus.
"We are excited about Callis making a significant investment into Liberty University as the students start their professional careers," Hartless said.
According to a press release, Callis Communications is one of the fastest growing companies in Alabama and has been an Inc. 500 company every year since 2008.
Parker used his experience with the communications corporation to inspire students with the message of his son's adoption.
"You have to remember you are the intersection of faith and business, and how does that intersect? It intersects because I thought I was making a business investment … and then that little boy showed up in our household."
He encouraged students to remember that God has a time and a purpose, and good things will happen if they just "follow their faith."
Parker connected with students by sharing some of his experiences at Liberty and asking if any of them had ever spray-painted the "Spirit Rock." He and a friend had gotten the permission from Dr. Falwell to have the rock delivered. He also was influential in starting the tradition of Coffeehouse.
Parker then shared the principles that he considers crucial to success, starting with where a company positions itself in the beginning.
"It's great to have a highly successful business alumnus that's out there serving the Lord," School of Business Dean Scott Hicks said. Hicks explained how successful Parker's company has been, saying, "That's what our students need to hear, 'cause that's what we're trying to do in the School of Business and that's what we want to deliver."
In a meeting with 13 students before the event, Parker challenged their reasons for being at Liberty.
"Is a Christian education really what you want? Or do you want a Christian worldview of where you want to be?" he asked.
Parker then encouraged students to remember to keep God first and remember that He has a plan.
The one point that was hammered home to the students was to remember to do something that they love doing. Hicks was enthusiastic about the professionals coming to speak.
"It's not easy, and (they shared) that with our students — that's what I'm excited about, and I think our students need it."