Zombies invade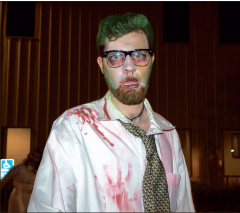 Students hold third zombie walk
Terror recently swept across the campus of Liberty University, and it had nothing to do with a hurricane. Zombies assembled on the front steps of DeMoss Hall before invading popular places on campus, searching to satisfy their hunger for human brains.
Liberty students dressed up as a zombies and roamed the campus during the third annual zombie walk the night of Sunday, Oct. 29.
"(My favorite part is) seeing the looks on the faces of students that have no idea that it's coming, especially in the c-lab," Liberty student Jake Holland said.
Students working on homework in the computer lab looked up from their work to stare at the groaning, limping pack of zombies making their way through the room. Throughout the night, the zombies also terrorized the new rooftop terrace of DeMoss Hall, a Liberty bus and the Tilley Student Center.
"I feel like zombies are hot right now," Holland said. "It's a thing, especially with 'The Walking Dead,' and some of the zombie movies are everywhere right now. It's easy to dress up like a zombie."
The group of undead invaders included a zombie bride and a zombie version of Michael Jackson from his music video for the song "Thriller." Holland, who often dresses up like Waldo from a "Where's Waldo?" book, put on makeup and turned into a zombie for the event.
"I like dressing up anyway, so it's just an excuse to dress up even more," Holland said.
Holland said that the event attracted 80 people when it began two years ago, but only about 20 zombies were able to attend this year.
"It's a tough night because it always seems to be on a pretty busy night," Holland said. "There are always a million other things going on. Schoolwork usually takes precedence."
Savannah Hughes helped come up with the idea for a zombie walk two years ago when one of her friends organized one near her home city of Dallas, Texas. Hughes immediately created a Facebook group promoting it, and she also started writing on white boards in classrooms to get the word out about the student-organized event.
Some highlights from the first year's zombie walk included walking to Sonic on Wards Road and frightening an unsuspecting couple in the Vines Center.
"There were some couples in there hanging out, just trying to be by themselves," Holland said. "It ended up being the girl's worst fear, being surrounded by zombies, so we took advantage of that. That was when we had like 80 people, so that was probably my favorite moment."
Hughes said they always try to coordinate the zombie walk with Halloween, which is one of her favorite holidays.
"You get to dress up and be somebody that you don't normally get to be," Hughes said.
Liberty students breathed a sigh of relief as the zombie invasion subsided. No unsuspecting students were harmed during the attack.