Writing club hosts local authors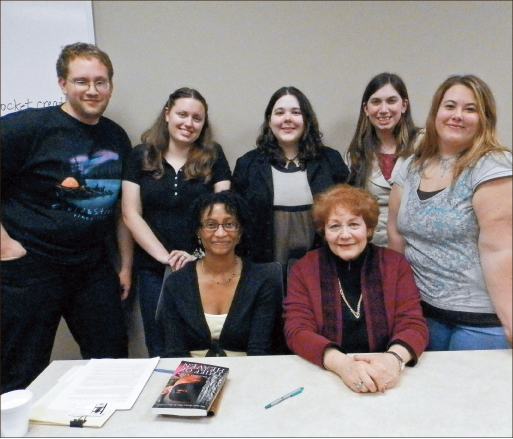 Liberty's creative writing group, Scribble, learns about the publishing business
Liberty University students returning from their fall break took a few hours away from their unfinished homework to relax and learn about writing from published authors Marie Colligan and Charmaine Davis Monday, Oct. 15.
Hosted by Scribble: Creative Writing Community, the event provided student writers and recent graduates with the opportunity to see two different perspectives on writing and on the publishing industry.
According to Davis, one of the best things to do is fully give in to the fact that you are a writer.
"I got out of this business of 'I'm an aspiring writer,'" Davis said. "I'm a writer. Just own it."
In Davis and Colligan's experience, writing conferences are crucial for the success of a new writer.
"You get that personal connection at conferences," Davis said.
According to Colligan, she spent years attempting to get her first fiction novel, "Marcel's Gift," published. It was only when she attended a writer's conference and had a face-to-face conversation with a publisher that she was able to get her book out there.
"You get better results (at conferences)," Colligan said. "Save your pennies, save your money, and try to get to a conference."
Both speakers also stressed the importance of joining local writing groups.
"Join some kind of writing critique group — it opens your eyes," Colligan said. "You know you can write, but you're surprised by how much you really don't know about writing."
Christian writers will go through various difficulties as they write and hone their craft, but Davis said that they have to remember that they are not alone.
"You need to have the Holy Spirit empower you so you're not doing it on your own," she said.
Davis also cautioned writers not to be too hasty in their rush to get something published. Writers may think that God has given them something to write, but "it may not be meant for everyone," she said.
"You don't want to be ashamed of what you write," Davis added. "You gotta have something (that will sell). It needs to be a good book. You can't skip the good writing part."
Several members laughed aloud at Davis' remark as Colligan nodded in agreement with her colleague.
Near the end of the event, one member asked the speakers how they found ideas for their various writing endeavors.
"You never know where an idea is going to come from," Colligan replied.
Colligan also urged members to write down that "gem" once they find it, telling them not to discard it.
"You may not use it for years," she said, "but you'll still have it (when you do)."
Davis had a somewhat different perspective on searching and finding ideas, saying, "Get up and live your life, and it will come to you."
According to Davis, writers should also commit to writing one short story a week.
"It gives you a sense of achievement that you won't get in a novel, (and it) gets you used to searching for ideas," she added.
The most significant thing that Colligan and Davis stressed was the fact that writers have to be committed and passionate about what they do.
"If it's not joyful for you, you're doing the wrong thing," Davis said.
Scribble members asked questions throughout the two-hour event, hoping to benefit from the unique perspectives of the two speakers.
"(Everyone) seemed like they were very interested," Public Relations Officer Rachel Werner said after the event. "It was … very much an interactive audience."
But members were not the only ones to benefit from this experience. Davis and Colligan both said that they enjoyed the time and would love to come again.
"Personally, I think it was extremely informative and encouraging that you don't have to be Stephen King to get published," Werner said.