Scaremare marks 40 years of frights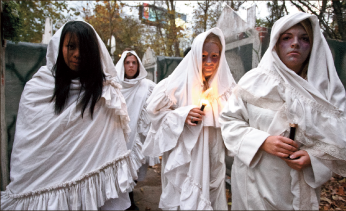 Scaremare, the widely-known, annual Halloween evangelism outreach run by Liberty University, is almost ready for an opening night filled with fright.
Opening Oct. 11, Scaremare prompts visitors to walk through woods crawling with men holding chainsaws and paintball guns before they walk through a house with multiple themed rooms. Visitors will meet Liberty students in unexpected places, disguised under draping garments and wearing oozing masks that drip blood.
Although it is intended to give visitors a scare, the event's purpose is a little different from the normal haunted house.
"Our main objective is evangelism," Steve Vandegriff, the event's director, said. "Scaremare is just a very unusual and unique way of evangelizing."
Initial planning started early in January, and preparations began in July. More than a haunted house, Scaremare uses many different techniques to scare its visitors, showing them the reality of death in order to introduce them to salvation.
After walking through the woods and the houses at Scaremare, individuals are invited into tents where a Liberty student shares their testimony. Chosen from Liberty's youth ministry communication class, 20 to 40 students are given the opportunity to alternately share their story to Scaremare visitors before telling them about Christ.
"Scaremare inspired me to see how many different ways you can go about sharing Jesus with people," Liberty sophomore Jacob Weatherholtz said.
Approximately 10 percent of individuals in total attendance each year make a decision for Christ. Last year, close to 25,000 individuals visited Scaremare and 250 wanted to know more about salvation after their visit.
"We're partnering with truelife.org, so if a kid had a question about anything after Scaremare, he or she can get a video answer online," Vandegriff said.
The website also features a church directory where individuals can get plugged into a local church in order to further their newfound walk with Christ.
This year marks Scaremare's 40-year anniversary, and they are planning to celebrate with the addition of another two-story building.
"If you're afraid of tunnels, dogs, heights, certain animals or clowns, you probably don't want to come," Vandegriff said, hinting at the new features of Scaremare.
Visitors will begin their journey at Scaremare through the doors of the new addition before walking through woods that lead to the house used in previous years. Liberty was gracious to provide much of the needed help to open the new building.
Construction, electrical and ground and marketing crews from Liberty dedicated a portion of their time to donate to this outreach's efforts.
"From a Christian perspective, we're kind of taking back the holiday," Vandegriff said.
The students around Liberty are anxiously awaiting the opening of Scaremare for the season.
"Will I go? Definitely. Will I tell people to go? Yes," Liberty junior Patrick Swilley said.
The longer walk and added features of Scaremare are drawing attention from Liberty students as Oct. 11 approaches.
"It's so popular (that) everybody comes to it, then people do get saved from it," freshman Brooke Ashe Batista said. "I'm really excited to go this year."
Friendly faces of Liberty will be hidden from view, threatening screams from locals as they promote the name of Christ through the Halloween season.
"We're going to do our best to scare you, but we're also going to challenge you at the end," Vandegriff said.
Scaremare runs the weekends of Oct. 11, 18 and 25. Proceeds benefit Liberty's School of Religion.