Scaremare celebrates 40th year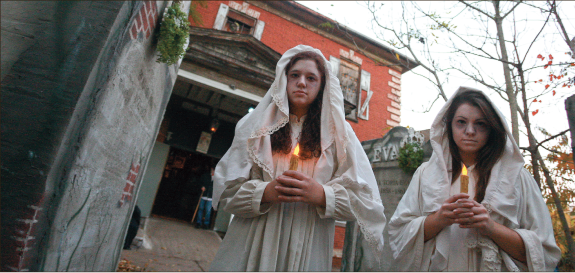 The Center for Youth Ministries rallies hundreds of students every year to aid in spreading the Gospel
Scaremare has returned to Lynchburg to spook thousands of inquisitive guests from across the region.
The ministry is celebrating 40 years of using its haunted fun house to present the gospel to thousands in the
Lynchburg area.
According to their website, Scaremare had one of its biggest weekends yet Oct. 12 and Oct.13, with more than 6,500 attendees.
"We were packed Saturday night. The recorded decisions as of Saturday night were 1,025 people," Steve Vandegriff, the director of Scaremare, said. "We'll figure out why the numbers are higher. Was it the new building or the clarity of the message? Probably a combination of those things."
Sponsored by Liberty University's Center for Youth Ministries, the Scaremare ministry started in 1972. Since its inception, more than 300,000 people from several states have attended the house, according to Vandegriff.
Vandegriff spoke about the history of Scaremare and how the ministry got its unique name.
"It was built by a bunch of youth pastors over at TRBC (Thomas Road Baptist Church)," Vandegriff said. "They were looking for an outreach in the month of October. The name first started with the name nightmare. They didn't like that name, so they combined the words nightmare and scare."
For Vandegriff, there is something about Scaremare that separates it from other ministry opportunities.
"I love the combination of the fun element and a message. I'd be the first one to say that Scaremare is not for everybody, and I think only a chosen few should even attempt it," Vandegriff said. "For whatever reason, the history is there. People know that there is a message of life after death, which is what the whole theme of the building is, and they either put up with it or they tolerate it or they're anxious to see how we combine it, and it seems to be working."
Vandegriff says that pastors of various churches have used Scaremare as an event for their church youth groups.
"The ministry of Scaremare has been a major blessing to our students and their friends," Mike Camire, student pastor at Parkway Baptist Church, said. "Scaremare is a great opportunity to challenge your students to bring friends because of the life-changing message that it gives. Over the years, we have seen God radically change lives because of the creative way that Scaremare presents the Gospel. Our students are excited about Scaremare all year, and we appreciate all of the hard work that goes into making Scaremare happen."
Vandegriff hopes Scaremare can continue to be a quality event put together by Liberty students to help steer thousands of kids away from an eternity in hell.
"I would feel really good about that, that we have diverted kids from eternal punishment and they'll be found in the kingdom because of this unusual event," Vandegriff said.