Quiz Bowl team schools competition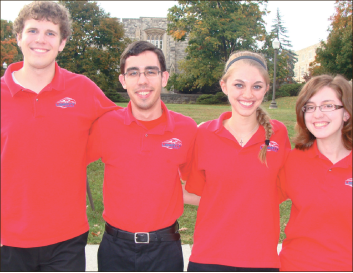 Liberty University's Quiz Bowl team defeated the University of Virginia for the first time ever and Virginia Tech for the second time in last Saturday's Collegiate Novice 3 Tournament.
The tournament, which took place at Virginia Tech in Blacksburg, Va., was geared toward freshman and sophomore students who had not competed in a Quiz Bowl tournament before college.
Dr. Jim Nutter, coach of the Quiz Bowl team, said that he is extremely proud of the team's accomplishments.
"I told the team at the beginning of the season that we had never beaten UVA but that I thought this novice team had the potential to do so. After our 365-205 win over UVA, I was pretty much speechless. All I could do was shake my captain's hand," Nutter said.
Nutter said that although there were some moments of doubt, he was always confident in his team.
"We did lose a few close games, including losing to UVA on the final question in the playoff game…but the most impressive half we had was the second half against Virginia Tech, who we out scored 250-25. We actually held Tech scoreless in the second half until the final tossup question, which they answered correctly," Nutter said.
Greta Hanks is a current member of the Quiz Bowl team who took part in Saturday's win. She feels closer to her teammates and more prepared for the next match.
"I was really happy with our results Saturday," Hanks said. "I think everybody did well. Being that it was our first tournament, I now know what to expect and what to work on for next time. Traveling with the team really built our camaraderie."
According to Quiz Bowl team member Jon Conway, team spirit was evident from the onset of the tournament trip.
"Travelling was a blast," Conway said. "We all rode in a 15-passenger van. We passed the time by preparing for the tournament, sleeping and singing along to Disney music."
The Quiz Bowl team began in 2005 and won their first Big South Conference tournament in 2006. The success continued as they won in 2007, 2008, 2010, 2011 and 2012.
"A lot of hard work and preparation goes into competitions, with countless hours spent on recruitment, practice and scrimmages," Nutter said. "Every student who applies to the Honors Program who has high school Quiz Bowl experience gets a letter from me, and then I write every National Merit Finalist a recruitment letter as well. We have been practicing twice a week since August, playing three scrimmages every Tuesday and Thursday from 5-6:30 p.m."
Nutter said that the team has come a long way from the time it began, and he is always eager to add new members.
"When we began in 2005, we only had five players. Right now, we have 18 players practicing with us — a varsity team, a JV team and two novice teams."
The Quiz Bowl team has a busy upcoming schedule, where they will face even tougher competition against Atlantic Coastal Conference (ACC), Southeastern Conference (SEC) and even Ivy League schools.
Nutter, however, has a positive outlook for the future and hopes to continue to succeed in competitions.
"Right now, we may not win every game, but we are competitive academically with most any Quiz Bowl team in the country," Nutter said.
The team will compete at the University of Maryland over fall break, at UVA on Nov. 3, and has hopes to play in the national tournament this spring.