Professor designs for NEEDTOBREATHE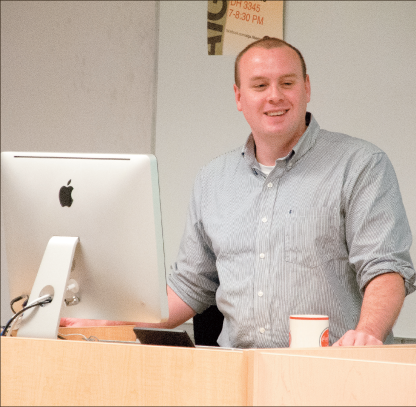 David Meyer excels in and out of the classroom, working as the creative director for the band
One of Liberty University's own professors, David Meyer, works as a teacher and creative manager for the band NEEDTOBREATHE.
Meyer received his degree in graphic design from Liberty in 2009.
"I was a bit of a major jumper for a while, going from business to missions to graphic design," Meyer said. "Each aspect of my 'major jumping' has been beneficial to me. I've been able to have my own business in graphic design and also use it as a platform for reaching others for Christ."
Meyer said that students who frequently change career paths in college might not be wasting their time.
"I would encourage each student to realize that even though they may not be sure what they're going to do as a career at first, God can always use the things you learn along the way to connect you to others in the most unusual ways," Meyer said.
According to Meyer, he moved to Nashville, Tenn. after graduation, where he worked with a historical preservation organization to create images for advertising. He also worked with a Fortune 500 company, Hospital Corporation of America, where he created a number of mass email campaigns, branded a new energy department and created a variety of infographic-type pieces.
Shortly after his creative ventures in Nashville, Meyer began working closely with the rock band NEEDTOBREATHE.
"As the creative manager for NEEDTOBREATHE, I do a wide variety of work for the band," Meyer said. "Most importantly, I oversee all outgoing artwork representing the band, making sure it sticks to the band's mission and purpose and reflects the image they wish to portray."
Meyer has worked with the band, designing everything from T-shirts, single albums and website design to photography, filming and packaging.
"I most recently finished a project that was a behind-the-scenes film of the band at Bonnaroo Music and Arts Festival sponsored by Kodak," Meyer said.
Meyer is currently teaching several classes at Liberty, such as Digital Imaging, Art as Communication, Digital Photography and Interactive Multimedia. While working as a professor at Liberty, Meyer continues to serve as the creative manager for NEEDTOBREATHE.
"My teaching career at Liberty has been great," Meyer said. "I feel I am who I am today because of the guidance I received while a student at Liberty. I find it extremely fulfilling to share with students things I have learned along the way and teach them things about the industry that they will be facing in a few years. I'm grateful to still be able to be in the industry while teaching so that I can keep my own design repertoire fresh and relevant."
Meyer's experience in the professional world has aided his teaching style at Liberty.
"One of the things that is really nice about having Professor Meyer as a teacher is that he focuses his assignments off of things he has had to do in the work place," Liberty student Kristen McCoy said. "As students, we know that we are getting assignments that will be given to us when we get out in the real world. I really enjoy knowing that I am being taught by someone who has his credentials."
Although Meyer has enjoyed success in the professional world, he said that he will still follow wherever God leads him and his family.
"There's no better place than being right in the center of God's will," Meyer said. "My wife and I are excited about what God wants to do in and through us in this new chapter He has for us at Liberty University."