Poll results spike concern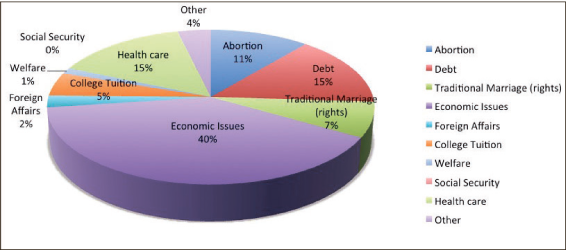 The presidential election is quickly approaching, and a significant amount of votes rely on students in colleges and universities all over the country.
A poll was recently given on the Liberty Champion website concerning which campaign issues are the most troublesome to college students. Topics such as economics, debt, health care and abortion were among the highest-rated issues. Out of 81 voters, 40 percent voted for economic issues.
Liberty senior history major and Army ROTC cadet Taylor Redmond agreed that the impending economy is his primary concern.
"The economy is what drives everything else," Redmond said. "We are in a position that is worse than ever, and history doesn't really smile on situations like this. Poor economy drives up crime rates and divides classes."
Junior communications major Jillian Springer also voiced her concerns with how the current economic state will affect her career post-graduation.
"I'll be graduating next year, and if the economy continues the way it's going, it will be tough to find a job as a college graduate," Springer said. "Foreign affairs is a close second, as my brother just graduated from Liberty's ROTC program and is currently in the army. With the volatility throughout the world, it makes me a little uneasy."
According to the White House website, the president believes that investing in the creativity and imagination of the American people will create the jobs and industries of the future and restore middle-class security. By doing so, we will out-innovate, out-educate and out-build the rest of the world to ensure that our nation achieves rapid, sustained and broad-based economic growth.
However, Obama's biggest weakness still seems to be the economy. A Fox News poll currently shows Obama's ticket leading over Mitt Romney's 48-43. Nearly one in five Independent voters are still undecided, according to poll results. The poll also shows likely voters fairly evenly split between Obama and Romney when it comes to picking which one would do a better job "improving the economy and creating jobs," with 47 percent for Obama and 46 for Romney.
"Forty-seven percent of the country is dependent on the government and unable to take personal responsibility," Romney said at a private fundraiser in May.
"Our economy needs to be reinvigorated, and the president has laid out his plan," Romney continued. "It's a continuation of the old plan. We can't afford four more years of the last four years."
According to students, another concern for this election is debt. Roughly 15 percent of the poll voters claimed that this issue will be an important factor in their voting decision.
"Over the last four years, the deficit has gone up," Obama said. "Ninety percent of that is as a consequence of two wars that weren't paid for, as a consequence of tax cuts that weren't paid for, a prescription drug plan that was not paid for, and then the worst economic crisis since the Great Depression."
Romney, however, wants to cap federal spending at about 20 percent of the output of the economy by the end of his first term.
"When Obama came into office, there was just over $10 trillion in debt. Now, there is over $16 trillion in debt," Romney said. "If he were re-elected, I can assure you it will be almost $20 trillion in debt. And by the way, those debts get passed on to our kids. It's not just bad for the economy or for our job creation, but it's immoral for us to pass on obligations like that to the next generation."
Welfare has also been a hot topic on the heels of the election. The Romney campaign recently released a television advertisement claiming that Obama's alterations to the welfare program "gut" the program's work requirements. According to the ad, "since 1996, welfare recipients were required to work. On July 12, President Obama quietly ended the work requirement gutting welfare reform." The ad ends by saying that Mitt Romney's plan for a stronger middle class will put work back in welfare.
According to an article by CBS News, the Romney campaign launched two offensive attacks on the president's executive order allowing states waivers for welfare in September, saying that the president is rolling back the federal work requirement.
Subsequently, the Department of Health and Human Services announced a change to those waivers in July, saying that they "don't skirt work rules, but allow states to test alternative and innovative strategies" to meet work requirements.
Senior criminal justice major and Army ROTC cadet Brian Sammis voted welfare as the most concerning topic of the upcoming election.
"(Welfare) needs to be reformed," Sammis said. "Rather than giving it to people for the rest of their lives, put a limit on it. For example, if the welfare cap is two years, it gives people the chance to find a job or go back to school and get a degree for a job. Otherwise, people become dependent upon it, and there is virtually no way to motivate them to get off of it."
In an interview with NBC News, conservatives criticized Romney for supporting the health reform law he recently signed, saying that it was frighteningly similar to the health reform law signed by Obama.
Romney claimed that his law was constitutional and appropriate in Massachusetts, but was not meant to be implemented nationally.
"I think throughout this campaign as well, we talked about my record in Massachusetts. Don't forget, I got everybody in my state insured," Romney told NBC News. "I don't think there's anything that shows more empathy and care about the people of this country than that kind of record."
Obama's current health care plan, however, claims to make Medicare stronger by adding new benefits, fighting fraud, and improving care for patients. He said the life of the Medicare Trust Fund will be extended to at least 2024 as a result of reducing waste, fraud, abuse, and slowing cost growth in Medicare. This law includes consumer rights and protections, more affordable coverage, and better access to care.
"Heath care is my biggest concern for this election," Liberty junior graphic design major Chelsey Johnson said. "I have a feeling it will really affect where our money and taxes will go."
Other issues voted on in the Champion poll included abortion, traditional marriage (rights), foreign affairs, college tuition and social security. To view what each presidential candidate has to say about those topics, visit their campaign pages at barackobama.com and mittromney.com.