Learning new ways to educate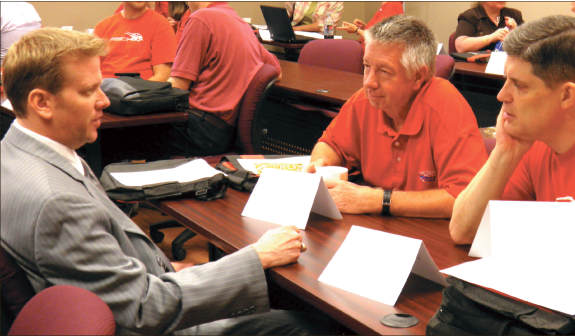 The Center for Teaching Excellence provides Liberty professors with beneficial tools for their classes
College is a place for students to learn from their professors, but the Center for Teaching Excellence (CTE) is a place for professors to learn.
The CTE provides Liberty University faculty with many helpful classes, workshops and any other assistance that is needed in order for them to succeed in all areas of their work. It is here that faculty learn the newest, most effective teaching methods.
Sharon Wheeler, director of the CTE, described how important it is for the school to have this service.
"We're all about assisting our faculty in any way that we can," Wheeler said.
The program is only one year old, but Wheeler said it has already provided much assistance for school faculty.
For example, a professor may be assigned to move from teaching a 50-student class to a 500-student class and may not have experience in teaching a larger-classroom setting. In this instance, help is provided to assist the professor with this transition.
After training sessions, the CTE is able to observe professors as they implement what they learn in the classroom and determine the impact their training has on the students.
"It's a great opportunity to meet together with the entire faculty to discuss and learn about relevant, timely topics in teaching," Anita Satterlee, associate dean of the School of Business, said.
"I think CTE shows you the opportunity to work on new things you don't know about, and then it also helps you to polish the things you think you've been working on," Bruce Kirk, a professor of communication studies, said. "We went over rubrics, writing skills and how to grade papers the right way. You think you've been doing it correctly, and they help you to understand what the best practice is. They tell you what's happening in the educational world right now that maybe you're not aware of even though you've been teaching for a few years."
The CTE provides boot camp programs, new faculty orientation and the Institute for Student Success (ISS) that help prepare faculty for the upcoming semester. More than 52 different workshops are provided for faculty to choose from during one day of the institute.
Additionally, ISS includes a one-day workshop featuring renowned national speakers. This year, Tim Elmore, noted author and founder of Growing Leaders, spoke.
Not only does the CTE provide workshops during new faculty orientation and the ISS, but an entire academic calendar of events can be found on their website.
If a faculty member is struggling with technology in the classroom, there are many workshops available to help them. During the ISS, some sessions provided for faculty were entitled "Blackboard Basics," "Clickers — The Next Step," and "How to Effectively Use Smartboard Software."
"We go through the teaching excellence program for a number of things — they have workshops in the summer. I also went through a boot camp with them, which is a one-week intensive. It was a technology intensive — they taught us everything under the sun," Kirk said.
Wheeler said that professors who become familiar with modern teaching technology often experience positive feedback from students.
"It is important for us to know that it is getting down to the student level," Wheeler explained.
In addition, the CTE has started a new graduate student assistant program. Wheeler sees graduate students as the "future faculty" of Liberty University, which makes teaming with the graduate school a smart decision.
"We are so excited about what we do here that we are constantly adding things for faculty," Wheeler said.
Two new programs this year include Koinonia Mentors, where veteran faculty are paired with new faculty, and the Faith Learning Integration Brown Bag series.
The Graduate Student Assistant (GSA) program offers several training sessions, including sessions that teach graduate students how to transition from being a student to a teacher. Wheeler hopes that this will eventually lead to a certificate program for the GSAs that will aid them in the competitive job market.
Many other colleges have a seasoned CTE program implemented within their school. Liberty's CTE is new, but Wheeler and her team have helped the program flourish by providing countless opportunities and services for faculty to get involved with.
Overall, Wheeler believes this will be most beneficial for students.
The CTE is located in DeMoss 3032, and further information on their program can be found at liberty.edu/cte.