Equestrian Center hosts Fall Festival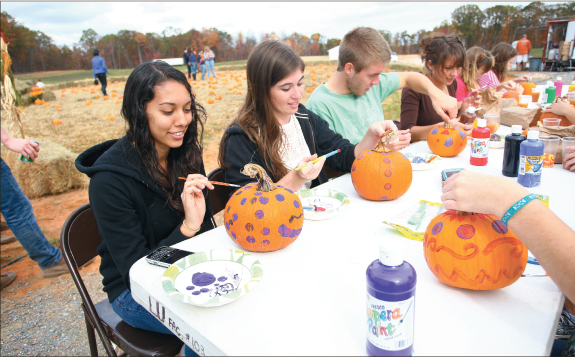 Student Activities celebrates the season with hay rides, pumpkin picking and live music by Dogwood & Holly
Pumpkin patches, apple cider and leaves of red, yellow and orange drew students to the Liberty University Equestrian Center Saturday, Oct. 26 for Student Activities' second annual Fall Festival.
Students enjoyed horseback riding, live music and games on a 65-degree, autumn day.
"It's gorgeous up here," Elizabeth Karr, a Student Activities event supervisor and Liberty graduate student, said. "It's a great fall area. There's room for a pumpkin patch, and you have the horses here. It's just really pretty, and it's the perfect location for it."
Hay rides transported visitors up a gravel road to the top of the hill, where smells of funnel cakes and cotton candy filled the air on the windy October day.
"Half your job is making sure the food doesn't blow away," Student Activities worker Devin Gatling joked to one of his fellow employees working concessions.
Festival attendees not only got the chance to ride horses, but they also witnessed a gasp-inducing demonstration that featured one horseback rider hanging upside down on the side of a galloping horse. The rider later made another trip around the circle, this time standing up straight on horseback.
Karr said that Student Activities had been planning the event more than a month ago, and she enjoyed seeing the event go smoothly.
"That's just the best part for all of us, just seeing it all unfold," Karr said.
Liberty alumnus Sterling Snyder heard about the festival through a friend, and they both decided to come. Their choice paid off when Snyder won the pumpkin painting contest and a $50 gift card to Target for her pumpkin version of the "Veggie Tales" character Bob the Tomato. Every speck of orange had been replaced with a bright red body, a pair of round, white eyes and a green top.
"I'm actually pretty excited because I have been looking at bikes online, and the one I wanted is from Target anyway," Snyder said. "So that makes it a little bit more affordable for me."
Snyder said that she chose her prize-winning pumpkin design because Bob the Tomato's shape is similar to that of a pumpkin's.
Student Activities also gave away prizes for other contests, including a sack race and bobbing for apples.
Dogwood & Holly, a band made up of four Liberty students, brought the festival to life from a stage surrounded by bales of hay. The band has played at numerous Student Activities events in the past, including two Coffeehouse appearances, the Campus Artist Series and the Night of Folk.
Luke Sawyer, a Liberty sophomore, plays banjo and guitar and sings in the band.
"We like little venues like this," Sawyer said. "Student Activities has been good to us, so we try to return the favor."
Sawyer said he especially enjoyed performing at the festival because of the time of year.
"I love fall," Sawyer said. "It's my favorite season. I just love the trees and seeing God's creation."
The next Student Activities event will be the Switchfoot concert at the Vines Center during College for a Weekend, Nov. 2.