Deep Hollow race challenges runners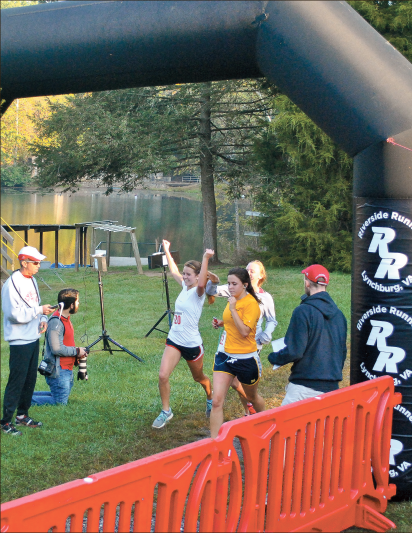 Students enjoy colors of fall leaves while participating in first Liberty Mountain Trail Series race of semester
Many students, alumni and Lynchburg residents participated in the Deep Hollow 5K and Half Marathon Saturday, Oct. 6.
The race results webpage at liberty.edu/sa lists a combined total of around 300 participants for both events. The runners could not have asked for better weather, Samantha Wells, Liberty student and runner said.
"There wasn't much of a breeze in the trails, but the shade was nice," Wells said.
The fall season was very evident on the trails, which furthered Wells opinion of a perfect run.
"The trails were stunning and the leaves were beautiful," Wells said.
The course for this race was a challenge for many runners. Jean Turner, first-time participant of the 5K, described a fall she took around the halfway point.
"(The race) was awesome. I fell. It made me feel terrible," Turner said.
Turner's sister Elaine Maddy, who also participated in the 5K, likes the challenge that running trails brings. "I love it, I knew that I would do all right," she said.
Ross Meyer, a 5K runner, agreed. "The race was a challenge, but trails are better than road. It's easier on your body and not as boring," he said.
Trail races are nothing new to student and 5K runner Tinsley Zentmeyer. The Deep Hollow 5K did not seem to be difficult for her at all, and the beginning of the race was easy.
"It was a wider trail, and there weren't very many rocks or roots," Zentmeyer said.
This smooth trail made the race fly by for Zentmeyer.
"I didn't see the mile markers going up, so it was a good race," she said.
However, it was not this easy the whole time for Zentmeyer.
"Towards the end, I started to get down, but I was like, you know, I just want to enjoy this," Zentmeyer said.
Wells, who participated in the half marathon, did not have quite the same feelings in regard to the course.
"The course was wicked hard at a lot of points," Wells said. "There were a lot of bridges, which was cool, but there was also a lot of hard elevation. Through it all, I just had to keep running. I honestly felt great mentally."
Liberty student Trey Fisher's only intention for the race was to have fun, but with his 7:04-minute pace, he took first place with a three-minute lead. Fisher ran as a student at Liberty Christian Academy and currently runs cross-country for Liberty University. Fisher has been running for five years but "never used to be a big trail runner," he said. As he crossed the finish line, Fisher did not seem to be struggling at all.
"I feel like I ran a half marathon, but I felt good the whole time, and I feel good now," Fisher said after crossing the finish line.
Deep Hollow kicks off the Liberty Mountain Trail Series. It consists of seven trail races, all of which take place on the Liberty Mountain trail system and are hosted by Student Activities.