'Awkward' couples are not amused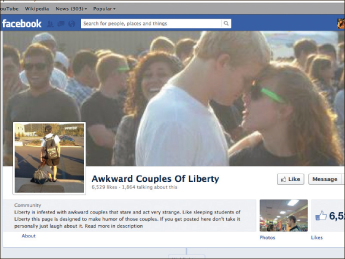 Liberty couples, beware.
Yes, you with the your hand resting on your boyfriend's shoulder, and you, comfortably lounging on the couch of the LaHaye Student Center after a long day of classes, beware.
Your peers are poised, watching and waiting for an "awkward" moment to catch on camera.
"Why?" you may ask. Well, your candid camera moment could end up on the latest Facebook page "Awkward Couples of Liberty" — a page designed to mock couples around Liberty's campus that are deemed awkward.
Even though the page is still in its infancy — created less than a month ago — it has taken Liberty's campus by storm. The page has already been liked by over 6,000 people, accounting for almost half of Liberty's residential population, and has become a topic of online discussion for over 2,000 of its fans.
Although the site's founders, Liberty students Jordy Vickrey and Neil Lloyd, have said in the website's "About" page that they hope the site will "decrease Liberty's awkward couple population," the site may have much more dangerous effects on those tagged in photos.
Cyber bullying, invasion of privacy and defamation of an individual or even Liberty University's reputation are only a few of the issues that have been questioned about the site. As it continues to receive what seems to be unfiltered comments and postings, these effects can only escalate.
"(The website) is controversial," Vickrey said. "I think it does come down to where people draw the line on how sensitive they want to be, and what they find funny."
The page's profile picture is one of the most memorable photos, and has been commented on more than 30 times. The photo, which depicts a male standing on a sidewalk with his girlfriend leaned up against his leg, has received a flood of remarks. These comments range from friendly to downright rude, including its first comment, which insinuates that the girl in the picture is her boyfriend's dog.
Dean of Students Keith Anderson has commented on this as well as other pictures, listing both the Liberty Way that could be enforced for inappropriate conduct and Scripture that encourages students to alter their thinking on the page to "provoke them onto righteousness."
"I was offended in my spirit for the individuals who would end up on that page," Anderson said. "Cyber bullying has a documented impact. Psychologically, it hurts people. It does not make them better. For you to laugh at or be entertained by another's psychological and emotional composition is just not in good taste."
Although the aforementioned couple did not request for their picture to be removed from the site, others who have had their pictures posted have become more vocal about their disapproval of being added to the page.
"I love Liberty University, and I do respect the policy," Barbara Chown commented on her "awkward photo" after many had criticized her for not following the Liberty Way.
"I would also appreciate it if someone can remove this picture, please. If you were in my position, you would want the same thing to happen. This is really quite embarrassing to see all the comments on here."
In the page's "About" information, Vickrey and Lloyd also stated that "all seen rude content will be deleted." Chown's comment was posted Sept. 14, and as of yet, her picture has not been removed.
Anderson said that he has met with Vickrey and Lloyd and has attempted to establish a filtration system for the pictures and comments.
Vickrey and Lloyd stated that they started filtering content prior to their meeting with Anderson but have now included others to help police the site.
"My thing is we don't post the photos, and we take down anything that they have a problem with. They just have to message us," Vickrey said. "We've probably taken down about 10 to 12 photos."
Vickrey said that they have taken down certain photos that they view as too mean or too sensual in nature to remain on the site. However, when asked about Chown's comment, the two founders said they could not remember seeing her post.
Photos that violate the privacy of its victims and the overly critical, inappropriate and sensual comments still remain on the site.
"I wanted to cut out some of the shenanigans and lighthearted comments that have taken place," Anderson said. "Everyone has freedom of speech. That freedom of speech doesn't just give you the liberty to say whatever you want, but also to say the godly things as much as you want."
The page may have been created with lighthearted intentions, but we as Christians need to discover a better way of handling these "awkward" situations.
Matthew 18:15 says, "If your brother sins against you, go and tell him his fault, between you and him alone. If he listens to you, you have gained your brother" (ESV).
Calling out our brothers and sisters in Christ by posting their pictures on the World Wide Web is not the way to address "awkward" or inappropriate couple interaction.
If we choose to bear the name of Christ, we need to heed his direction and confront each other in a way that honors him. Public mockery creates division between brothers, while private confrontation creates brotherhood.