Voter registration draws to a close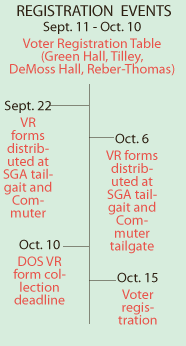 With only 34 days left to register to vote in Virginia, Liberty University students, faculty and staff have been given ample opportunities to guarantee that their voice is heard during the 2012 General Election, Nov. 6.
The Dean of Students office has partnered with the Student Government Association (SGA) to help staff voter registration tables around campus, according to Senior Conduct Officer Mark Hyde.
While students can register to vote at the Department of Motor Vehicles (DMV) or online at lynchburgva.gov, the tables set up in DeMoss Hall, the Tilley Center and the Reber-Thomas Dining Center make it "easy" for students to register, Hyde said.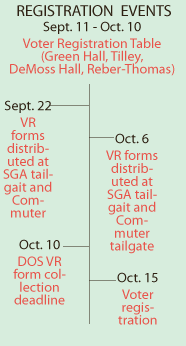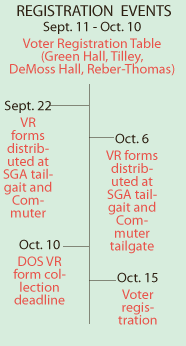 Students can also visit the Dean of Students office, located in Green Hall 1830.
"(That is) always a good spot for students to stop by during business hours and register to vote," Hyde said.
One vote, as seen by the 2000 presidential elections, can make all the difference.
According to the Federal Election Commission's (FEC) website, fec.gov, George W. Bush defeated Al Gore when the race was left in the hands of Florida voters. Bush won by 537 votes in Florida.
While Gore received 48.38 percent of the nation's popular vote to Bush's 47.87 percent, according to the FEC, Bush winning the state of Florida pushed him to victory in electoral votes. The final total was Bush 271, Gore 266.
"That's part of being an educated voter — knowing what your vote means, wherever you cast it," Hyde said.
The deadline for registering to vote through Liberty's services is Oct. 10, according to Hyde. Because Liberty needs time to confirm that the registrations are completed correctly, students must turn in their registrations five days earlier. However, eligible voters have until Oct. 15 to register in the commonwealth of Virginia at the DMV along with the Registrar's office, according to the City of Lynchburg's website.
Students living on campus can write their address down as 1971 University Blvd. and vote in the Vines Center on Nov. 6, according to Hyde. However, students living at the residential ANNEX will not be eligible to vote in the Vines Center, as their address will be different, Hyde said. Their polling place will be Sheffield Elementary School.
According to Chancellor Jerry Falwell Jr., buses will be provided for ANNEX students wishing to vote.
"(Classes will not be cancelled), but I have asked the faculty to excuse students who miss a class or are late to class because of voting," Falwell said.
Students are encouraged to look at their states' requirements for absentee voting, as the deadlines are fast approaching. More information on this can be found at fec.gov or on Liberty's website.