Local organization mentors children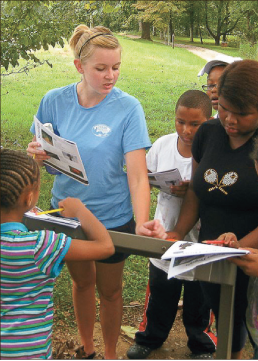 James Bourdon is one man who wants to make a difference in his community, and he is using his passion and calling to do it.
Bourdon, the founder and operator of Urban Mountain Adventures (UMA), has created the opportunity to help mentor inner-city kids through the experience of the great outdoors.
Although volunteer-based, the dedicated staff at UMA all share the same goal: to care for the youth of the community in a way that is fun and exciting for kids and to take part in the great commission of spreading the gospel of Jesus Christ.
"It's about Him [God], not us," Bourdon said.
Bourdon also emphasized the community's need for youth-focused mentors and what it means to these kids to have someone to look up to.
"We use the gifts we have and the passions we have to reach out to the kids," Bourdon said. "The outdoors give very easy opportunities to share Christ."
Founded in 2008 and based in Downtown Lynchburg, UMA has made great strides in community outreach and is one of the many ways that Liberty students can get involved in the local community. Doing anything from rafting and kayaking to hiking and repelling, these kids have a blast exploring the physical and spiritual benefits of being outside.
Alongside Bourdon is Chris Mabes, a Liberty University student and dedicated volunteer for UMA, who has spent the last 10 months working with the youth.
Bourdon and Mabes both enjoy sharing what goes into this ministry and how it has shaped not only these kids' lives, but their's as well.
"Patience and grace are probably the two greatest lessons I've learned," Bourdon said.
Bourdon especially emphasized that this ministry is focused on building long-term relationships with the youth instead of only being involved for a short time. Those willing to volunteer should dedicate more than just one night a week because UMA attempts to take an active part in these kid's lives.
"It's a really humbling thing, and I've learned to deal with certain things in a lot better manner along with being more patient," Mabes said.
Although the organization does strive to share the gospel with the kids they mentor, Mabes and Bourdon have realized that they don't have to do all the work themselves.
"You don't need to throw the gospel at them to reach them," Mabes said.
"We're obedient and available and we do our part," Bourdon said. "God is doing his part."
For more information, visit urbanmountainadventures.org, call (804) 690-2064 or visit their Facebook page.