Furniture studio finds success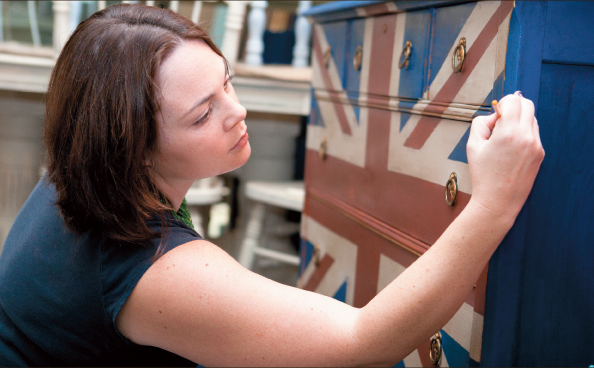 Nestled in a small Jefferson Street suite in Downtown Lynchburg, Studio Eleven is a furniture store filled to the brim with unique furniture pieces and accessories, proving that one man's trash can become another man's treasure.
"Studio Eleven is the middle ground between a thrift store and a high-end furniture store," co-owner Elisa Allen said.
In fact, most of the furniture found at Studio Eleven was at one time headed to the curb. Some pieces are in need of much attention, while others just simply need to be cleaned off. Regardless of the time needed to make a piece presentable, the results are all the same: vintage remade furniture at an affordable price.
The name "Studio Eleven" comes from Hebrews 11:1, a Bible verse that defines what the word faith means to Christians, and the owners have certainly lived up to the name.
"Getting the doors open was a really big leap of faith for us," said Allen. She and co-owner Bri Precious-Keyes have taken that leap even further by committing to give 40 percent of all their profits to either the Liberty Godparent Home or Daily Bread, both local non-profit organizations. It is the customer who decides which organization the profits will go to. At Studio Eleven, giving back to the community was the obvious choice.
"It's just our labor of love," Allen said.
In six short months, business has taken off. Allen and Precious-Keyes started the store in March 2012 and already have numerous plans for expansion.
One thing that sets Studio Eleven furniture apart is the type of paint used on many of the pieces. Chalk paint, not to be confused with chalkboard paint, can be used to create numerous looks, depending on what technique is used. Named for its chalk-like feel when applied to a surface, it is a user-friendly paint that saves time by eliminating much of the preparation process, such as sanding and priming. Studio Eleven also serves as a vendor for Annie Sloan's Chalk Paint, the brand they use on their own projects.
Tucked away in the back of the store is a large workspace that serves multiple purposes, but perhaps its primary purpose is to function as a classroom. With approximately three classes a month, customers are given the chance to learn about remaking their own furniture.
"We take what's on HGTV and make it real," Allen said. The classes also teach 12 different techniques for using Chalk Paint. Robin Turner, who occasionally helps at the store, pointed out that Studio Eleven is "more than just furniture. It's home improvement."
For those interested in home improvement or just having a look around, Studio Eleven is located at 901 Jefferson Street in Downtown Lynchburg.