New facilities in the works for athletics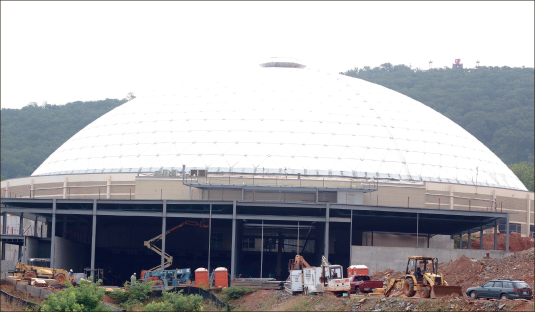 Liberty University has been blessed with all the new sports facilities that are underway.
Athletic director Jeff Barber has said to expect the new Worthington baseball stadium to be completed in February 2013. In addition to the stadium, the Matthes-Hopkins track and field used by students, community, faculty and staff, will be renovated. Furthermore, due to the demolition of the Schilling Center, a new basketball practice facility is being built behind the Vines Center.
But Liberty has even more upgrades in the works.
"We also have one that's probably not on the radar screen by most people," Barber said. "We've had several donors step up and we are building a new golf clubhouse up on the mountain on Lone Jack Road near the Equestrian Center. We've had four donors step up and donate money, and we are building a new range and a new clubhouse area for the guys to practice."
The grass is already down on the fairways for the range, but construction on the clubhouse has not yet begun. However, Barber said he hopes it will be finished in the spring.
All the new renovations to come have been created with the students' concerns in mind.
"The athletes are blown away and just so excited, and they're here to do things for the Lord and be a testimony and help build a Christian university," Barber said.
"Liberty wants student athletes to know that they really do care about them," Barber said. "When they come in, they will see the athletic facilities, and we will be able to attract a higher caliber player, which then makes us have more success and quality."
With the success that higher calibers could bring, come the spoils.
"ESPN has already reached out to Liberty about coming to do a game here in our stadium, and they really want to come here because they have heard about what a great stadium it is and the changes to come," Barber said.
Also in progress is an attempt to move the football program to an 85-scholarship level. For that type of upgrade, Liberty needs a better football stadium to garner an invitation from a bigger conference.
Liberty is in the Big South Conference currently, and although there is no way to predict the future, all of these projects are a part of Liberty becoming a more viable candidate to move into another conference.