SGA hosts annual Gala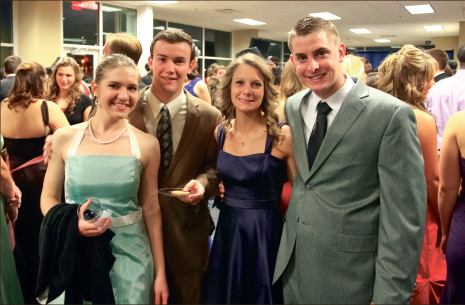 The Golden Age of Hollywood comes to Williams Stadium
Black suits, bowler hats and big band tunes — Hollywood's Golden Age had arrived in fashion on Liberty University's campus.
Hosting the Junior/Senior Gala (SGA) for the second consecutive year, the Student Government Association opted for a 1930s and 40s theme for the gala, channeling the era of Frank Sinatra and James Stewart. Black, silver and gold balloons decorated the upper level of Williams stadium, and the Liberty University Jazz Ensemble provided the soundtrack for an evening that mirrored the past.
"The SGA has been wanting to do an old event on campus for the whole year," SGA Senior Class President Thomas Turner said. "We saw the opportunity last semester, and we made the theme of the gala be the Golden Age of Hollywood."
The event started at 8 p.m. on Saturday, April 14. Turner said that he had been planning the event since January, and that all proceeds from the event would go toward the Jerry Falwell Memorial Library.
Attendees received the theme well, bearing their interpretations of the era's fashion. Styled hair and dress hats abounded, including a girl wearing fingerless gloves and a black veil. Junior James Black sported his tuxedo.
"I automatically knew that it was going to be a tux (event)," he said, referring to his choice of dress, "because number one I dress to represent the Lord and the theme, so it was definitely my first choice."
Like Black, senior Lindsey Churchill was among the many students who enjoyed the gala's theme. She said she spent time researching the time period's fashion before attending.
"I love the 30s and 40s," Churchill said. "I think they pinned fashion."
But the gala's apparel and music were only part of its classy taste: crab cakes, shrimp and chocolate mousse topped with strawberries were available as refreshments throughout the evening.
"I'm impressed with the quality of the food that they've had so far," junior Pat O'Hara said. "I've also really enjoyed just mingling with people that I haven't seen in a while."
With the fashion, friends and fine food it featured, the SGA's Junior/Senior Gala provided students with a respite from the often-busy schedules that characterize the end of the semester by bringing a bygone era back to life.
"The gala is a laid-back experience," Turner said. "People can just come, relax, socialize with each other, get to know other seniors, other juniors, make connections before they graduate…it's just a night of enjoyment."