Fearlessly Chique enlightens students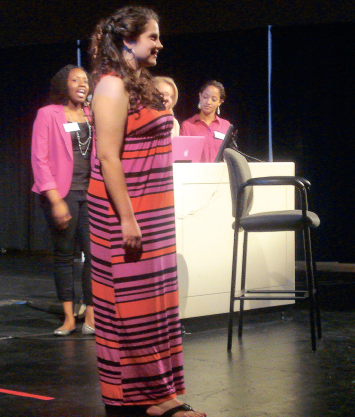 Fashion blog hosts 'We Are The Light' event to celebrate modesty in life, style
As the smell of hairspray, overheated curling irons and cupcakes fill the air, girls in oversize button up shirts file into Towns Auditorium for their last touch ups before the Fearlessly Chique fashion show.
The show, hosted by the Fearlessly Chique website and blog, was emceed by the creator of Fearlessly Chique Sarah Joyner of Liberty University, who was assisted by her consumer sciences professor Ruth Gomes. Gomes and Joyner work together to promote what Gomes describes as "a modesty movement."
"Even the secular world is inspired by modesty," Gomes said. "They call this a modesty movement, and I think they are right."
Gomes expresses that by dressing fashionably as a Christian, you increase your witnessing power by building credibility in the secular world. Both Gomes and Joyner are passionate about doing this in a modest format.
"You don't have to be a bag lady to be a Christian," Gomes said.
Joyner credits the final push to get the website off the ground to reading Jeremiah 29:11-14 in her devotional time one morning.
"I had been praying about how God could use my passion for fashion to glorify Himself," Joyner said.
Joyner explained that in these key verses in Jeremiah, she felt the Lord impressing upon her heart that she was to use her passion for fashion to share with other women that they can be set free from the lies that the world tells them about fashion and femininity.
Joyner began Fearlessly Chique in spring 2011 and is continuously working with a team of other women passionate about modesty to stay on top of the latest fashion trends.
"I looked to the media, and my favorite celebrities dictated who I was and how I saw myself rather than finding my identity in Christ," Joyner said. "As I have developed in my relationship with the Lord, I have grown to see the importance of modesty."
Allie Stollings, a senior at Liberty University, posts the fashion blogs for the website. Stollings' passion is to show girls of all ages how to implement modesty into their lifestyle.
"A lot of girls would like to be modest, but they just don't know how," Stollings said. "You can really use accessories to make new trends modest."
The website, which can be accessed at fearlesslychique.blogspot.com, also contains devotional material written by Liberty junior Caitlin Bradt, modest fixes, a guys panel on modesty, events and resources galore.
The fashion show displayed the newest trends for spring and summer 2012 in the most modest of fashions.
"The trends for 2012 are either extremely long or extremely short," Bradt said. "And here at Fearlessly Chique, we like to keep it extremely modest."
Joyner displayed models of all body types with the newest trends, some of which included color blocking, hi-lo skirts and dresses, chiffon, nautical stripes and oversize blazers.
Shari Falwell of Thomas Road Baptist Church also addressed the women on the area of modesty and what it has meant to her over her lifetime.
The contributors of Fearlessly Chique encourage women to stay connected by accessing their website in addition to following them on both Facebook and Twitter.