Editorial: Sanford, Miami connection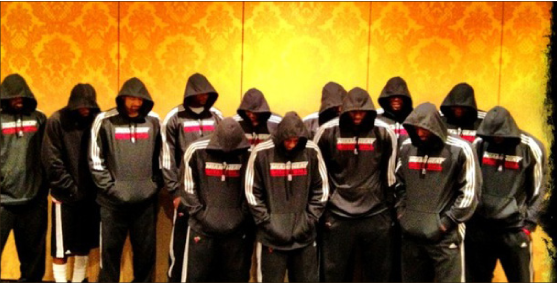 Wade, James, Bosh and the rest of the Miami Heat voice their opinion on a high profile case
The story of Trayvon Martin is on America's mind. What we know from the on-going investigation is that a 17-year old African American youth was walking to his father's house from a convenience store when an unknown man approached him. A scuffle ensued, resulting in the death of Martin within a gated Sanford, Fla. community.
Martin was a star football player but made the decision to hang up his football cleats in order to pursue a career in aviation.
George Zimmerman is the 28-year-old neighboorhood watch volunteer who is accused of the shooting.
According to reports, it was a rainy evening when Zimmerman spotted Martin and called police complaining about seeing a suspicious character in the neighborhood. He told police that he was wearing a dark hoodie with sweatpants. Acting alone, Zimmerman pursued Martin and confronted him.
From then on it is unclear what happened between the two. Reports say Martin died with a cell phone, skittles and ice tea in hand. Zimmerman, along with his family, said that he acted in self-defense, that Martin looked suspicious and up to no good, but many people believe otherwise.
The shooting occurred Feb. 26, 2012, the same night of the 61st NBA All-Star game. After Martin was slain, the community and civil rights activists were livid that an arrest had not been made.
The Miami Heat, led by Dwayne Wade, LeBron James and Chris Bosh, expressed their concern for what is considered by some to be a case of racial profiling.
The Heat paid tribute to Martin March 23 by releasing a photo of the team wearing hoodies with sweatpants — the same thing Martin was wearing on the night of his death.
What the Heat did was bold, expressing their support of the Martin family. It is rare, too. I have not heard of any other professional team voicing an opinion on such a delicate topic.
In any standard, I believe the Heat are correct for standing up for what they believe. Miami and Sanford are 250 miles away from each other. Orlando is only 18 miles away. Surely the city of Orlando, along with the Magic organization, heard about this slaying, but it was the Heat that took a stand.
Even though the Heat are regarded as the most hated team in the NBA, I can't help but applaud them for their role in bringing awareness of this situation involving the death of Trayvon Martin to the public.