CSER acknowledges exceptional students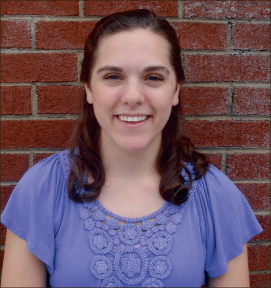 Christian/Community service supervisors nominate volunteers for quality work
Julie Gonzalez

Each semester Liberty University students volunteer their free-time between exams, homework and living life in the 'Burg to give back to the community and benefit those who are in need.
Sophomore Julie Gonzalez was nominated for the Christian Community Service award for her outstanding commitment to excellence in volunteering for the Lovettsville Dolphins Swim Team this past summer.
Gonzalez is a Communications major who is actively involved in the National Broadcast Society (NBS) on campus and is a prayer leader on East 41.
Donating her time to the less fortunate is one of Gonzalez's hobbies. She spends her time volunteering for organizations such as the International Justice Mission (IJM), the Boys and Girls Club of America and helping those in need at the Daily Bread in downtown Lynchburg.
"I think CSER is important because it forces us to focus on somebody other than ourselves for at least 20 hours every semester. It provides a wonderful opportunity to truly live out 1 Corinthians 15:58. As Christians, we are called to serve others and I think CSER just reaffirms that," Gonzalez said.
CSER supervisor Jacob Mason nominated Gonzalez because of her hard work and dedication during the course of her volunteering.
"Miss Gonzalez consistently managed to teach, encourage and inspire. She spent the greater part of the summer devoting several hours a day, five times a week, without compensation to helping families and kids participate in a wholesome and character-building activity," Mason said.
Gonzalez is focused on her future goal of becoming an editor and chief at a magazine after the completion of her degree at Liberty.
"I love the entire process of creating a magazine from the layout and design process to interviewing/writing stories and editing them, to getting advertisers and publicizing the magazine to event planning and promotional events. I would like to use the medium of print in the form of a magazine as an outreach to non-believers," Gonzalez said.
"I cannot tell you how blessed I feel to attend Liberty University. The volunteer opportunities I have had at Liberty are beyond compare, and I wish that everybody had the incredible opportunity to attend such a wonderful institution. You can see God moving on this campus every day, and I am truly honored to say that I have been a part of it," Gonzalez said.
Yuchen Hu

Yuchen Hu was nominated for the Christian Service Volunteer of the Year award because of his service in the International Office. Hu also acted as an ambassador for incoming international students.
"My duties were to help international students move in (here) and help them adapt," Hu said.
"When I came here as an international student, I was eager for others to help me. So I am happy when I can help other students in trouble," Hu said.
Along with his work, Hu had great experiences while volunteering and met several new people. His supervisor, Kristina Venable, and several friends made his time in the International Office an unforgettable one.
"I met new friends, many who came from the same city as me in China. My supervisor always smiles. She is a great supervisor," Hu said.
Volunteer hours for Hu were long and tiring, many times starting at 7 a.m. and ending at 8 p.m. This schedule made sure that he put in much more than 20 hours, however, he enjoyed his time volunteering and learned a lot.
"It seems like a tired and hard job, but it is not like that. It is a job that makes people happy and excited. I was super tired, but I enjoyed it," Hu said.
Hu has volunteered with the International Office for two semesters and hopes to do it again next semester.
Anders Bengston

Senior Anders Bengston has also been nominated for this award. He is in the Interdisciplinary Studies program and is able to design his own degree with the classes he wants.
His areas of study are business, religion and Greek.
Bengston has been an administrative assistant.
According to Barbara Sherman, the Director, Associate Professor of Individualized Studies and Center for Professional and Continuing Education, Bengston has shown outstanding qualities including always being on time, being flexible with time, being attentive, having a cheerful spirit and being confidential with information.
"I am honored to [have been] nominated," Bengston said. "I have grown not only spiritually but as an individual by working with Mrs. Sherman. She has guided me in huge decisions for the past two years. I am so privileged to be able to work with her throughout the week."
Bengston said that CSER is an opportunity for one to grow as an individual. "Never discredit that opportunity, but use it to motivate yourself to achieve your highest goals," Bengston said. "We also have the opportunity to help, minister and advance the Gospel through our work ethic."
Bengston started a business called Anders Ink when he was in sixth grade. His goal is to make that into a sustainable business. "My goal is to be able to provide for my family first, then be able to give to organizations and develop ministries," Bengston said.
Justine Middleton

Through her experience in doing community service, sophomore Justine Middleton has had the opportunity to be involved in a plethora of things. The Individualized Studies major has been nominated for CSER Volunteer of the Year award. She is involved at Calvary Chapel in children's ministry, and attends prayer group and an off-campus girl's Bible study.
According to Middleton, God has blessed her with the opportunity to hear many of Sherman's life experiences with family, friends and strangers and how God has worked in her life and relationships.
Barbara Sherman, The director and Associate Professor of Individualized studies and Center for Professional and Continuing Education, nominated Middleton after being amazed by her care and positive attitude.
"She is a woman who gives so much love. She has been gracious to show me love through kind words of encouragement, appreciation, quality conversation and gifts throughout the year," Middleton said. "I feel it is a gracious honor to be nominated by such a strong, smart, godly woman."
Middleton encourages students to get involved in serving Christ on their halls, on campus, in class, at church and off campus through all of their relationships and tasks.
"The hours do not need to be documented, but just be a part of loving your neighbor," Middleton said. "This gives God glory."
Middleton's goals in life include completing college having learned how to handle stress a little better.
"I want to guard my heart from stress and to love God and love others," Middleton said. "I want to go on to do whatever it is He is calling me to do and not let the stresses of life pull me down."