Vintage Valentines a lost art form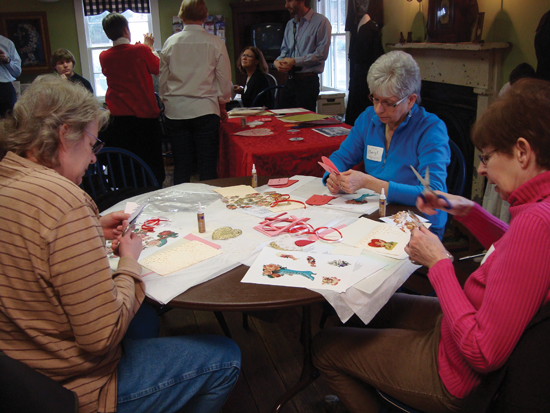 For those wishing to stray away from the commercial side of Valentine's Day, Old City Cemetery held a vintage valentine workshop for the community on Feb. 4 from 10 a.m. to 12 p.m.
Guests were able to learn a brief history about Valentine's Day and how the cards were made years ago, and then were able to try their hand at making their own cards while sipping on pink lemonade and eating heart-shaped cookies for refreshments.
The workshop was led by Mary McIntosh, who began collecting vintage valentines several years ago.
"The first old valentine I owned belonged to my great-great grandmother and was given to her by her husband who was a soldier in the confederacy," McIntosh said. "Inside the card was a wedding proposal."
According to McIntosh, at the turn of the century a valentine card could cost as much as the equivalent of $50 today, which back then could have bought a family a nice horse and buggy. Esther Howland was a pioneer in making the elaborate cards, which was no small task.
"Valentine cards back in the Civil War days were known for their intricate lace detail and overlay," McIntosh said. "There were all kinds of different cards such as flat, pop ups, movable and lithographs. The lithograph cards could take anywhere up to four months just to make one."
This is the third time Old City Cemetery has put on the workshop, and the event was filled with both returners and newcomers alike. One couple came from Salem just to partake in the excitement.
Dawn Wise, Old City Cemetery's public relations and visitor services manager, said the workshop started as a way to raise money for the cemetery, since it is a nonprofit, historical landmark.
"We are the number one historic destination in Lynchburg, and attract around 30,000 visitors a year," Wise said.
Old City Cemetery holds several events like the vintage valentines workshop as a way to engage with the community as well as raise support for the cemetery. Every other year, McIntosh holds a Christmas workshop, very similar to the valentine workshop, where vintage wreaths, ornaments and center pieces can be made.
"My love for vintage valentines all started with my love for Christmas vintage items," McIntosh said. "I just have a passion for vintage holiday memorabilia."
According to McIntosh, it is interesting to see how much things have changed since the original valentines were made years ago.
"The candy conversation hearts we have today were around many, many years before," McIntosh said. "Only now they say 'text me' instead of the romantic sayings from years past. I like to get away from the commercial side of the holiday, and I think this workshop is a good way to do it."
For more information on the Old City Cemetery, or to find a list of upcoming events available to the Lynchburg community, visit www.gravegarden.org.