To keep or not to keep: Manning's future unclear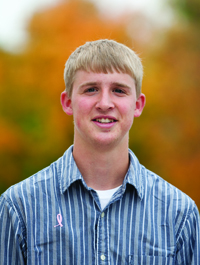 Colts consider releasing star quarterback's contract
In his prolific career, Peyton Manning has thrown 399 touchdowns, over 50,000 yards, completed over 7,000 passes, won a Super Bowl, gone to the Pro Bowl 11 times and won four MVP awards.
Got all of that?
Every single one of those accomplishments were with one team, his team, the Indianapolis Colts.
Now, it's time for a new identity.
After missing the entire 2011-12 football season while recovering from numerous surgeries on nerve damage in his neck, a new dilemma faces Manning and the entire Colts organization. Should they retain Manning, the mastermind founder of their dynasty, or deal him away and use their number one draft pick on a quarterback of the future.
Team owner Jim Irsay has a decision to make that could change the look of the franchise more than anything since it moved to Indianapolis. If Manning is kept on the roster by March 8, he will receive a $28 million bonus from the team. If not, he will be released into free agency to go to the highest bidder.
Irsay must decide if he wants to keep a 36-year-old quarterback with a hurt neck and a seemingly limited future. That's not to say Manning won't return to 100 percent, but the uncertainty plays a factor in Irsay's choice. Despite all he has done for the franchise, the time ahead of Manning seems unclear. The Colts will almost certainly try to reconstruct the five year, $90 million deal Manning is currently in the middle of.
Regardless of whether or not Manning is kept, the fact is that the Colts are going to draft either Andrew Luck of Stanford or maybe Robert Griffin III of Baylor. Manning is not the type to enjoy fighting for his job against a rookie, nor should he have to play the roll of teacher while he himself is trying to recover to his original form.
Football purists squirm at the possibility that Manning would put on a jersey adorned with any color other than the stampede blue and white. But times have changed. Nowadays, players participate in a complex game of musical chairs called free agency, and that's just a part of progress.
If Peyton were to become a free agent, he would undoubtedly become the most sought after quarterback. Currently, he would join the ranks of other free agent quarterbacks such as the inconsistent Jason Campbell, the league journeyman Kyle Orton and Matt Flynn, who has had success but in too small of a sample size for some teams. The money will be on the table for Manning. Perennial free agent bank-breakers Washington has already declared themselves bidders in the impending Manning sweepstakes. This is the same team that threw $100 million to an often disgruntled and lazy Albert Haynesworth.
Duck Manning, the kitchen sink is headed your way.
Right now, no one knows the progress of Mannings recovery better than Irsay, who undoubtedly will make a smaller contract offer than Manning will prefer. Reports have come out of Indianapolis stating that Manning has lost as much as 20 percent of his velocity on his throws. In the free agent market, desperate teams will be much less wary with their money. If Manning were to join a new franchise, the team would revolve around him. In Indianapolis, there would be an invisible ticking clock counting down Manning's days as the team's leader.
Manning's main reason to stay with Indianapolis, the prolific, high-flying offense, is turning into a shadow of its former self whether he returns or not. With an aging soon-to-be free agent in Reggie Wayne, a beaten up Dallas Clark and a mediocre offensive line that allowed 35 sacks, the Colts are not what they once were. The luster has faded.
Also, gone is the father-son team of Bill and Chris Polian, who had managed the team since 1998 and were very close friends with Manning. Irsay fired the duo after last season's 2-14 debacle even though they were instrumental in the drafting of Manning and many of the other players who brought the Colts out from their losing ways. Gone is head coach Jim Caldwell, who had also been Manning's positional coach before being promoted. The hiring of former Baltimore defensive coordinator Chuck Pagano serves as yet another harbinger of the impending philosophical change coming to the team's game plan. Irsay knows the next few years will be ones of growth for the team's offense, but he also has to know they will be ones of uncertainty.
One fact throughout this situation is clear, though. The Colts are in a transitional period, headed in the direction of a new identity.
It's time for Manning to do the same.