Ragtime soon to jazz the Tower Theater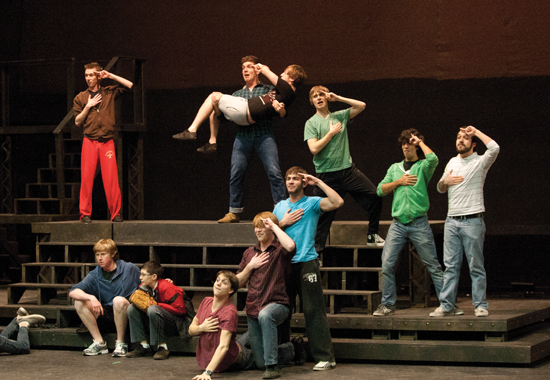 Hours of practice and preparation are underway in anticipation for the opening of Liberty University's upcoming theatre production, "Ragtime." The show, named a modern classic by the show's director Chris Nelson, will fill the Tower Theater with epic tales that characterize the changing times in America at the turn of the century.
"The show is a sung-through musical. The music is gorgeous," Nelson said. "It is an epic show. It covers the turn of the century and the relationships between ethnicities and, really, how America was changing to become the melting pot."
Ragtime, the musical, was originally produced in 1996 and was adapted from the novel "Ragtime," written by E.L. Doctorow and published in 1975. Liberty's student cast includes 49 people playing the roles of both fictional and historical characters such as Henry Ford, Evelyn Nesbit and Harry Houdini.
"You've also got these fictional characters that represent the different groups, whether it is traditional America, the Harlem and the integration of race or, of course, the immigrants," Nelson said. "It's very much about the changing times and the unwillingness to change or the characters finding themselves at the tipping point of choice for how they will interact with each other."
Just as the wave of ragtime music altered the course of music, the clash of race and immigrants changed the face of America and American culture, according to Nelson.
"People might be expecting that this is a happy-go-lucky tap-dancing musical. It's not necessarily that, but it is definitely a thought-provoking piece," Nelson said. "There's just so much depth to the show that I think people will enjoy it. With an epic tale comes everything. You get the mess and the hope."
Nelson has been working with the large cast to help them develop their characters, each of them playing a part in portraying the brokenness that characterizes "Ragtime."
"There's a brokenness in the music, with the broken melodies used. It's a metaphor for what is happening in the lives of the people," Nelson said. "But what's great is that within our community and our audience, we have a good idea of what happens when you're broken — there's a chance to be rebuilt and re-infused into something that is even stronger. I think that, ultimately, is the message of Ragtime. There is a brokenness to it, but in the end there's an infusion to it, and a new strength that comes out of it and there are lessons learned."
"Ragtime" will run Feb. 17, 18, 24, 25, March 2 and 3 at 7:30 p.m., Feb. 18 at 2 p.m. and Feb. 26 and March 4 at 2:30 p.m.
With opening night only weeks away, the cast and crew are preparing for what they hope to be a hit with Liberty students and Lynchburg residents.
"I don't think a lot of people realize the manpower and hours it takes to build, break-down, plan and adjust all of this," Nelson said. "It's definitely teaching our students a good work ethic and to treat it seriously. We keep on seeing our students respect the craft. It's quite a commitment, but they rise to the occasion."
"I hope people will come out because it will be a night of great entertainment for them," Nelson said. "I think they'll really enjoy it."
For more information about Liberty University's Department of Theatre Arts and to get tickets, visit liberty.edu/theatre.