Quiz Bowl wins Big South Conference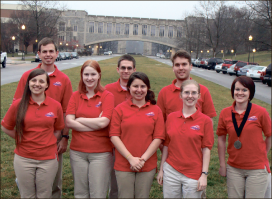 Team finishes third in regional tournament against several ACC, Southern Conference schools
Liberty University's Quiz Bowl team competed in tournaments in consecutive weekends in January and February. Liberty went undefeated for its second year in a row in the Big South Conference tournament on Saturday, Jan. 28, at Winthrop University in Rock Hill, S.C. Liberty competed against six conference schools including Radford, Coastal Carolina and VMI and won the tournament for the sixth time in the last seven years.
In addition to the Big South championship, Liberty's varsity A Quiz Bowl team finished with a winning record and ranked third out of 12 teams in the National Academic Quiz Tournament (NAQT) regionals, Saturday, Feb. 4, at Virginia Tech.
According to team coach and Honors Director Dr. Jim Nutter, senior Catherine Hardee earned MVP honors and was the leading scorer at the tournament.
"As big as it was winning the Big South, knocking off North Carolina, Virginia Tech and Davidson, and going 9-2, is even bigger — as is finishing third in the region," Nutter said.
The team consists of 18 students, all in honors, which make up two varsity teams and a junior varsity team. Six of the 18 students are National Merit Finalists, who are receiving a full academic scholarship at Liberty, Nutter said.
To compete in Quiz Bowl students have to answer difficult questions from a variety of disciplines. Students complete a large amount of reading and memorize facts about presidents, kings, bodies of water, mountain ranges and other subjects.
"It's everything from history, literature, geography, to some of the arts like music, sculpture, painting, the occasional pop culture question and the occasional sports question," Nutter said.
Each team has four players, and each player has a specialty subject that they excel in. With this strategy, team players rely heavily on each other's strengths, Nutter said.
"It's so much more of a team sport," Hardee said. "I love the sense of being on a team and interacting with my teammates."
Every student's score is recorded each practice, and the leading top 10 are the students selected for the tournaments. In the fall semester, Liberty competed in three tournaments, beating Duke University, the University of Pittsburgh, Virginia Tech, the University of Maryland and George Washington University, according to Nutter.
"When we beat Duke University two years ago, we took an all girl team. Duke was not very familiar with Liberty, and they asked if we were an all girls college, and I said, 'No, the girls are just smarter,'" Nutter said.
Quiz Bowl, in general, is a male dominated sport. However, Liberty's team is comprised of 13 females and five males.
According to Nutter, after beating the University of North Carolina, who won the tournament, and finishing third at the NAQT regionals, Liberty may be invited to complete in the NAQT national tournament held in Chicago this March.