Children of the World bring smiles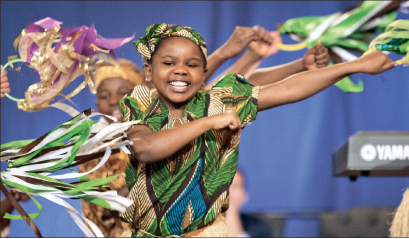 "I like singing. My favorite song is Happy Day," Angel said.
Angel is one of the 15 children who travel with Children of the World, a choir composed of orphaned and disadvantaged children from all over the world. She is from Uganda and smiled as she explained she has known Jesus since she was a little baby.
Liberty University students and faculty were able to experience the joyful choir sing and dance to a variety of lively praise music at convocation on Wednesday, Feb. 15, and in a special concert at the Schilling Center on Feb. 16.
Allison Beck, a sophomore at Liberty, said that the Children of the World visit her church in Duncansville, Pa. twice a year.
"I just love seeing them," Beck said. "Watching them worship the Lord gives me a better perspective on my own life."
Angel and the other Children of the World travel 10 months out of the year and have 250 events annually.
Grace, Angel's chaperone, explains that her favorite thing about working with Children of the World is watching the attitude of the children who participate.
"At first, we were having a hard time dealing with them, but then they started to obey us. Sometimes they are tired, but they are doing their best to sing and dance in front of the people," Grace said.
Even with more than 200 events each year packed into their schedule, Angel explains that each night the children are genuinely excited to perform and worship with their audiences.
"We home-school the kids every Wednesday," Grace said. "They enjoy doing artwork and coloring."
According to the World Help website, Children of the World exists to give a face to the more than 1 billion orphaned children all over the globe who have been affected by war, famine, poverty, unclean water and preventable diseases. The children who are selected to be part of the choir are from World Help's Child Sponsorship program.
"It is a great opportunity for the children to come to the U.S., learn another culture, improve their English skills, help other children around the world and share Christ's love," the World Help website said.