Swashbucklers take stage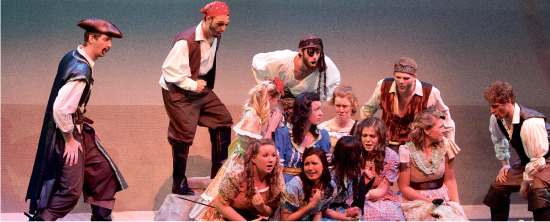 Liberty University's Opera Workshop presented Gilbert & Sullivan's comedy, The Pirates of Penzance, to over 150 guests on opening night, Jan. 20, at the Tower Theater.
A crew of 29 cast members brought to life the classic tale of a soft-hearted pirate group, more timid than terrifying, who try to make a living off of pillaging and plundering and have their eyes set on winning the hearts of the Major General's, played by senior Joshua Head, nine daughters.
The evening was filled with robust rounds of laughter from the audience every time the Pirate King, played by Andrew Potter, stepped on stage, and countless musical numbers filled the air.
"This is the third time I have directed The Pirates of Penzance," Director Dr. Wayne Kompelien said. "The reason I picked this again is because it is my favorite Gilbert & Sullivan show, and a parody that keeps people laughing long after they've left the theater."
Kompelien started Opera Workshop in 1988 and has been directing ever since.
"I started the workshop because when I came to Liberty University, I saw these fine singers who weren't getting the experience of melding music and drama and I wanted to give them that outlet," Kompelien said.
Junior Andrew Potter said this particular show had challenges that were quite unique and different from what he is normally used to dealing with.
"Probably the hardest thing about pulling this off was learning to not just sing opera, but sing it like a pirate. It took a lot of vocal practice, but it was really fun and I learned a lot," Potter said.
Senior Andrew Struhar played Frederick, the pirate who is torn between loyalty to his crew and love for the Major General's daughter, Mabel, played by Jessica Moutoux. The stage is no stranger to Struhar as he has been in over 40 productions since his middle school years.
"I can definitely relate to my character because he is seeking true love in life, like I think most of us are," Struhar said. "He has an over-the-top type of integrity, and I can identify with his more noble characteristics."
Head, on the other hand, said he did not identify much with his zany, whacky character, the Major General, yet he enjoyed being able to gain experience portraying a character with such a crazy personality.
"One of the best things about this production has been the rehearsals and how much the cast has laughed," Head said. "This certainly is one of the most fun casts to be around — even the lighting crew has fun with us."
Kompelien agrees that there is no "drama" in the drama.
"The best thing about all this has been the kids. They are such a great group and all get along so well and are humble. They work together and are clearly in it for the right reasons," Kompelien said.
Tickets are on sale now for the remaining shows which will run Jan. 21, 26, 27 and 28 at 7:30 p.m., and Jan. 22 at 2:30 p.m.
For more information about the show or to purchase tickets, call the ticket office at 434-582-7358.