Exploring the Hill City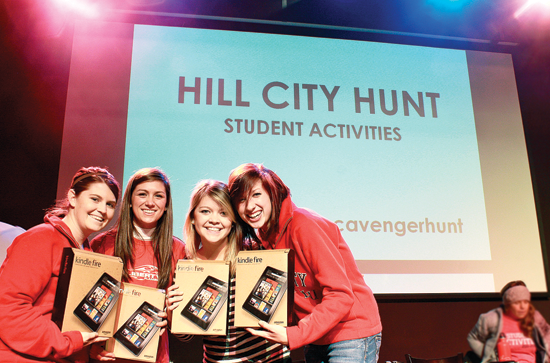 Despite less then desirable weather, Student Activities held its third annual Hill City Scavenger Hunt this past Saturday afternoon. The rain did not stop nearly 400 students from participating in the contest.
Students that took part in the race registered into groups of four and made the trek to many different spots around campus and town. Clues were given out to teams in a booklet with information about each stop listed.
According to scavenger hunt supervisor Jordan Harvey, "It would be impossible to go to every stop in the booklet within the hour and half allowed, so each group will have to decide which places they will go to. Each stop was given a certain amount of points pertaining to the difficulty of the clue or challenge so it is up to the team to decide how many points they get."
The booklet of clues offered 10 different locations but via updates from Facebook and Twitter, bonus locations were announced. The booklet was divided into two different sections called check ins and quests.
The check in clues were given out in either mad gab or pictograph type clues in which the teams had to figure out what location they needed to go to. The quests gave away a location to the teams. After a team arrived at a location, they had a challenge to do to figure something out about that respective spot.
"The hardest part about the Scavenger Hunt was cracking the mad gabs, picture clues and word scrambles," participant Will Croushorn said.
Other students had different troubles of their own including finding locations for the riddles.
"My GPS got me lost a few times through the trip. We ended up in the wrong location several times which was a downer," Andrew Hirst said.
Once students found their way to the designated stop, they checked in with a worker from Student Activities and were able to proceed to the next stop.
Being that this was the third year in a row that the scavenger hunt was offered, Student Activities had the event completely under control.
"The first two years were more hectic due to a lot more teams participating but this year we put the cap at 100," Harvey said.
Teams checking in with a student activities representative also helped keep the event organized.
The first place team was composed of a group of girls who met on their hall last year. It was their second time doing the event. Taylor Milton, Christie Drinkard, Ashley Malone and Victoria Boorum were all ecstatic when their team was called on stage.
"Winning was such an amazing experience. We did this event last year and placed third so we were really excited to take first this year," Milton said.
"The hardest part for us as a team was to know how to plan to get around the city in the fastest time possible," Boorum said.
The first place team received brand new Kindle Fires. Second place was rewarded with four eight-gig iPod nano touch screens. The third place team received $50 Wal-Mart gift cards plus four tickets to Visualite Cinemas for any movie of their choice.