'A Christmas Morning' Coffeehouse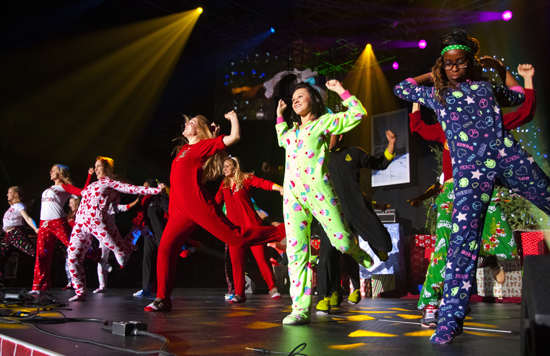 "A Christmas Morning" Coffeehouse took place Friday night Dec. 9 with a sold out crowd filling up the Vines Center. The show sponsored by Student Activities opened with an over-the-top Christmas metal medley described by some attendees as "Trans-Siberian Orchestra on Red Bull."
Lasting well into the night, "A Christmas Morning" included acts such as "Joe Thomas Magic," a Christmas rock mash-up by Santa's lil' Helpers, and a collaborative number by the various dance crews of Liberty University.
A live Twitter contest to find the best holiday themed costume was held during the night's entertainment, and as per popular demand, coffee was served at this year's coffeehouse. Clips from Christmas specials like "A Charlie Brown Christmas" and "The Santa Clause" were shown between acts to keep the audience in the Christmas spirit.
Liberty senior Chris Davidson enjoyed the show in the reserved section along with his friends.
"We have made it a tradition to go to coffeehouse and chip in to reserve a table on the floor," Davidson said. "We order pizza and bring snacks and have a really good view, it's kind of like a VIP section."
An original work by Stairway to Four highlighted the reasons it is a good idea to be single for the holidays, the main one being relationships are expensive. The satirical song promoted dumping significant others before Christmas and then getting back together after the holiday season.
Besides the typical guitar and drums used in most live performances, there were several groups at this edition of coffeehouse that featured banjos and mandolins as a break from the norm.
A popular singing skit was the hectic "The Twelve Days of Christmas," which featured several of Liberty's theater students. The group also sung a number of other Christmas, Hanukkah and Kwanzaa songs.
Another crowd favorite was "Songs in Real Life," a video montage of everyday conversations with popular song lyrics interjected. The combination of conversations and lyrics chosen got the crowd roaring.
The show closed out with the parody "Moves like Santa" by Raccoon Jive. Coffeehouse this year was the most attended in Liberty's history with an audience of 6,100 festively-dressed students and their family members.