Candidates for Virginia House of Delegates, District 59: Republican Matt Fariss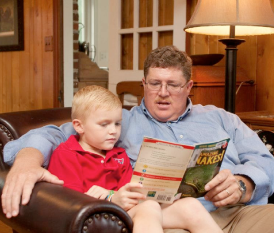 Matt Fariss' business experience and conservative values define his campaign for the Virginia House of Delegates.
Fariss is the Republican candidate in the race for the 59th District delegate and is a self-proclaimed "common sense conservative."
Fariss is running against Connie Brennan, Democrat, and Linda Wall, Independent.
Some of the most significant focuses of Fariss' campaign are lessening government regulations, lowering taxes and fighting against excessive government spending.
Fariss approaches the economy with a pro-business mindset believing that incentives for entrepreneurs, investors and farmers will stimulate business growth which will, in turn, increase job availability, he said.
"We can foster a pro-business environment right here in Virginia by keeping effective tax rates low and fighting back against the big government regulations breaking the backs of small businessmen and women," Fariss said.
Fariss's stances on the economy and job creation stem from his business experience. The Campbell County native was involved in various businesses including the operation of a general store, real estate, cattle raising and farm management, Fariss's campaign website said. Currently, Fariss is the co-owner and vice president of the Lynchburg Livestock Market.
"As a small-businessman, I know firsthand how to create jobs and expand the economy," Fariss said. "I've made a payroll. I know how to trim fat from a budget. I think it's about time Richmond operated more like a business."
Fariss directly addressed preparing the job market for college graduates. Not only does Fariss want to stimulate job growth in small business, but he also wants to foster an increasing business-friendly environment in Virginia.
"In working with Gov. McDonnell to make Virginia a more business-friendly state," Fariss said. "We will improve the job market here and make it easier for Liberty students to find good paying jobs when they graduate."
Fariss and his wife, Crystal, have three sons, Hunter, Bobby and Harrison.
"Fariss hopes (his family) can continue to enjoy the same rights and freedoms that he has been blessed with and, as delegate, he will fight against liberal (big government) policies that will put those liberties in jeopardy," Fariss's campaign website said. "Despite his various successes, he is first and foremost a Christian family man committed to serving his family and community."
Fariss's family values extend to his campaign positions. Fariss believes that traditional marriage between one man and one woman should be the only union recognized on the state and local level. He is determined to fight any attempt to undermine traditional marriage, his campaign website said.
"(Fariss) believes that there is no more sacred right guaranteed to our citizens than the right to life," Fariss's campaign website said. "Being raised with a mentally challenged uncle, (Fariss) is all the more aware that all life is precious."
The pro-life candidate extends his protection of life to the support of capital punishment to those who take life.
Fariss's campaign also stresses the importance of education for children.
"Virginia's greatest natural resource is our children," Fariss said.
If elected, Fariss plans to fight to put funds meant for education directly into the school system. He wants to eradicate excessive government control in the school system, believing that the best people to make decisions for the Virginia schools are people at the local level. He wants parents and the local communities to have a say in their children's education.
As a longtime National Rifle Association member, Fariss will also seek to protect the right to bear arms if elected to office. As a seventh generation Virginian, Fariss recognizes the cultural traditions of hunting and gun ownership, his campaign website said.
Another area in which Fariss wants to return government control to the local level is the area of property rights.
"(Fariss) understands the challenges and frustrations that come when government attempts to regulate how property owners utilize their property and he will work to remove power from regulating bureaucracies and return it back to the people and their elected representatives," Fariss's campaign website said.
Fariss had some advice for college students:
"Work hard, honor your savior and keep plugging along," Fariss said.
Voting for the House of Delegates is Nov. 8. District 59 covers Albemarle, Appomattox, Buckingham, Campbell and Nelson counties.
The District 59 delegate seat is available because its current occupant, Watkins Abbitt Jr., who has held office as Delegate since January of 1986, is retiring. Abbitt endorses Fariss alongside Campbell County Sheriff Terry Gaddy and Virginia Senator Steve Newman.