A sport to test mental endurance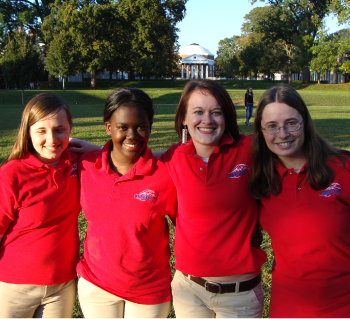 Liberty University Quiz Bowl team excels at Duke, University of Virginia tournaments
Groans of defeat were present on the lips of Virginia Tech quiz bowl students Saturday, Oct. 8, as Liberty University's team annihilated the competition.
Liberty University took two quiz bowl teams, a Varsity A-team and a Varsity B-team, to the University of Virginia's (UVA) tournament. The two teams squared off against 12 other squads, with the Varsity A-team finishing in the middle of the competition.
Dr. Jim Nutter, who has been coaching the quiz bowl team at Liberty University since 2005 and boasts winning the Big South Conference Quiz Bowl Tournament five out of the past six years, stated that the most satisfying victory this tournament was over Virginia Tech, 130-85.
"Based on the competition, I was hoping that our Varsity A-team could play close to .500, because two of our best players were away on fall break," Nutter said.
In addition to beating Virginia Tech, the Varsity A-team won three additional games, including one match against Western Kentucky University. The team also came within five points of beating Penn State.
"Those four ladies are a force to be reckoned with," captain of the Varsity B-team James "Jake" Rogers said.
The Varsity A-team consisted of four women varying in academic experiences. The Varsity B-team contained both men and women from Liberty University that were willing to give up heading home for fall break to compete. In addition to giving up their fall break, students had to wake up early Saturday morning in order to get to Charlottesville, Va., the location in which the tournament was being held.
"Tournaments are really a test of mental endurance. We get up early, take a long ride in a cramped van, walk across a strange campus and spend most of the day in and out of matches with other teams," Rogers said.
Quiz bowl tournaments not only consist of early mornings and long car rides, but they also constitute hours of preparation and days of practice leading up to the competition. According to Nutter, training for this tournament involved two practices a week, each practice consisting of three games.
"The extra practice time has really paid off in the two tournaments we've played at Duke and UVA," Nutter said, referring to the two tournaments Liberty has gone to this semester so far.
Quiz bowl is a game that challenges students to answer questions in any field of study, including popular culture, history, art, science and everything in between. The UVA Tournament contained questions written in the American College Federation format. These questions, according to Nutter, are longer and generally harder to answer than the National Academic Quiz Tournament questions that students are given in the spring.
"Some of the questions are very hard to pay attention to. When I hear that I got a question right, I am mostly just relieved, and sometimes a little gratified, that my hunch was right," captain of the Varsity A-team Catherine Hardee said.
Each question answered correctly is immediately followed by a set of bonus questions, Rogers said. These bonus questions, according to Nutter, are generally worth 10 points each and students are not given much time to answer.
"There isn't a lot of time to ruminate on correct answers," Rogers said.
Quiz bowl players at Liberty will have a few weeks to prepare for their next tournament set to take place Oct. 22 at George Mason University.