Fight like a girl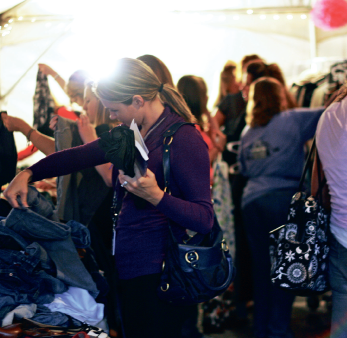 A line of women ready to fight for freedom wrapped around Robin Alexander's in downtown Lynchburg on Wednesday, Sept. 21 for the "Frocks for Freedom" event.
Many of the women showed up an hour prior to the sale to wait in line and have first choice at the clothes, shoes, accessories and bags that were donated to Freedom 4/24 for the special Girl's Night Out event.
Robin Alexander hosted makeup and hair sessions inside their restaurant, while secondhand merchandise was for sale outside under a big white tent. Last year, Freedom 4/24 raised $2,400 from the sale and this year, they were able to raise triple the amount as over 500 shoppers were able to raise almost $9,000 dollars for the cause.
Freedom 4/24 is a nonprofit organization whose goal is to raise awareness of the sexual exploitation of women and children around the world, according to the ministry's mission statement.
"People think that slavery was abolished, yet today there are twice as many slaves as there were years ago when slavery was done away with," Freedom 4/24 president, Mike Zealand, said. "Eighty percent of women and children are sexually abused and this ministry strives to bring healing and restoration to these people."
Calfee said the idea for a "Frocks for Freedom" sale came to her as she was standing in her closet looking at all of her clothing.
"I found myself just standing in the middle of my closet thinking that I've got some nice stuff that's just going to wind up at the Goodwill, and that's when I realized there was something better I could do with it," Calfee said.
Robin Dimond, the owner of Robin Alexander, partnered with Freedom 4/24 for the "Frocks for Freedom" event after she said that God laid a special desire on her heart to help out the ministry in any way she could.
"I think this is a huge and amazing cause," Dimond said. "I mean, some of these girls being sold into the sex industry are as young as seven and eight and are being sold as child brides to men as old as 80 for the price of one cow."
In Thailand, the price for one night with a woman in a brothel is $24. Therefore, one donation of $24 can give a woman in Thailand freedom for 24 hours and the chance to learn about a life full of new opportunities found only found in Jesus Christ, Zeland said.
Although the ministry was started largely because of the rampant sex industry in Thailand, Freedom 4/24 now partners with Christian organizations in not only Thailand but in Nicaragua, India, Kenya and Guatemala as well.
"All of the proceeds from the event will be distributed globally to help women trapped in the sex industry all over the world," Zealand said. "And the slavery isn't just in foreign countries… it's here in America too."
Event Coordinator Martha Heinlein was one of 30 volunteers who worked the event and said she was grateful and blown away by the generosity of people willing to help."One of the best things about 'Frocks for Freedom' is that whether you donated items or bought them, everyone can play a part. Freedom begins with a day, and that freedom can last a lifetime," Heinlein said.
Due to the success of the event, Freedom 4/24 is in the process of planning another "Frocks for Freedom" sometime this spring, according to Dimond.
The next big event for the ministry is "Run for Their Lives," which is scheduled for Oct. 29. The event has the reputation of being the second biggest race in Lynchburg history, according to Calfee.
"God has absolutely showed up from the moment this ministry started," Calfee said. "And he is still here now."
For more information about Freedom 4/24 or the "Run for Their Lives" event, visit freedom424.org and www.r4tl.com.