Anberlin rocks Vines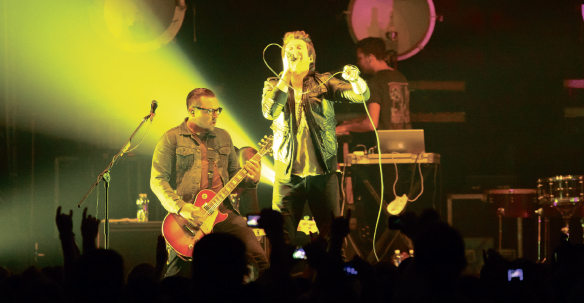 The large crowd outside the Vines Center is extremely restless. Some of them have been waiting since 1:30 p.m. to obtain premium seats or standing space. Others have just arrived, tickets in hand, waiting for the huge metal doors to finally open like they were supposed to do at 7 p.m. Those closest to the doors have chanted everything from "let us in" to "move those chains," and there was even an outburst of a Journey song.
Anticipation fills the air and when the doors finally open at 7:20 p.m., the crowd lets out a yell and rushes forward, excited that the moment they have been waiting for has finally arrived.
This was the crowd waiting to see Anberlin on Friday, Sept. 23. The five piece alternative rock band from Florida has built up a dedicated fan base over its nine-year career. Anberlin lead singer Stephen Christian said he loves seeing people so supportive of the band and singing along during the show.
"The best part of going out on stage is just walking up and feeling that initial adrenaline rush and seeing all those people excited and singing along," Christian said. "There is nothing that compares to people singing along and yelling back and losing their voices with you."
Before Anberlin took the stage, Caleb, a new band from Nashville, Tenn., got the crowd ready. Lead singer Caleb Chapman joked, saying that he knew who the crowd was really there to see.
"It's like that awkward conversation you don't really want to have, but you have to. Anberlin's going to get up on stage in a little bit, but we hope we've warmed some hearts," Chapman said.
After playing a few more songs and winning a new fan base, Caleb left the stage and the crowd gained a second wind of excitement as Anberlin took the stage.
The band played songs off of all of its records, including fan favorites such as "We Owe This to Ourselves," "Never Take Friendship Personal" and "Feel Good Drag." As Christian jumped around the stage in his black leather jacket, fans all around the Vines Center sang the lyrics back to him.
"When we go see a band, we don't like it when they play only new stuff," Christian said. "For us, we just want to make sure we play a little bit off each record."
Christian said that one of his goals in song writing has always been making sure listeners are really thinking about what the lyrics mean.
"I think a lot of times lyrics lately have been very surface. They're catchy and have a good chorus, but at the end of the day, there was really no meaning and they were trivial. But for me, if I can get somebody to be provoked or really think about something in a new light or be inspirational in any way I possibly can, that means a lot to me," Christian said.
As a believer, Christian said he has been able to incorporate his faith into his career. Fans can see this clearly through songs such as "Closer," which is played regularly on 90.9 The Light.
"It was kind of for me and my relationship with God. In the beginning of the song, it's about how every time something goes wrong, we as humans start to blame God. And then the second verse is how in all reality, it is us who walk away, not God. And the whole underlying theme is that I want to get closer (to God)," Christian said.
The band broke up their set with a few acoustic songs, and as blue lights lit up the stage, the crowd swayed gently and sang along. Christian also revealed to the crowd that he had a special connection to Liberty.
"Liberty holds a special place in my heart. I'm actually a student here and am getting my masters in business, so we're going to play a couple of songs we haven't played in the U.S. in a long, long time," Christian said as the crowd clapped and cheered.
The night ended with an encore as Anberlin came back on stage to play their eight-minute long song, "Fin."
Fans such as Kayla Ellis and Nathan Maxwell left the Vines Center extremely happy.
"It was just a really good experience," Ellis said. "I had never been to an Anberlin concert before, and I had never really listened to their music but I'm definitely going to buy their CDs in the future. It was really nice."
"I like Anberlin a lot. The opening band was a good band and Anberlin was awesome. It was just a really cool concert," Maxwell said.
Arika Pickle came to the concert with her husband and said she loves Anberlin's sound and lyrics.
"They're awesome musicians, and they have the best lyrics. The lead singer's voice is really unique, and it's not like anyone else that you hear. I was here when they played Block Party in 2005, and I loved them then, and I still love them now," Pickle said.
Anberlin is currently on tour with Switchfoot and will be working on writing a new record this year.
To find out more about Anberlin, visit anberlin.com.