Scaremare shares the gospel in a fun way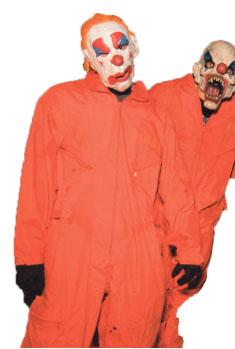 People from all over Central Virginia will soon be lining up for a haunted house experience unlike any other. Liberty University's Center for Youth Ministry will put on its annual Scaremare function opening Oct. 14, taking a pagan holiday like Halloween and turning it around to glorify God.
According to Scaremare supervisor Mike Aldridge, Scaremare was started as a ministry focused on seeing people accepting Christ as their savior through showing them the reality and impact of death.
This year's "House of Death" features a variety of rooms depicting different death scenes that everyone can somehow relate to. At the very end of the tour, the gospel is presented to the group of people, giving everybody the opportunity to hear the good news.
"It will probably be the best bonding experience for a group of friends to go through," Aldridge said. "To kind of get scared together and kind of pull together and have a great time, all with a specific purpose, to hear more about Christ."
According to Scaremare's Facebook page, it has excited the lives of many since Oct. 12, 1972, and it is still going strong. The Scaremare staff has been working on this year's event since the beginning of the summer, according to Aldridge.
Hundreds of Liberty students attended what is known as the Scaremare rally in September for the opportunity to fulfill their Christian service with this ministry, using roughly 200 volunteers every night to run the event. This past Saturday the volunteers participated in their first work day with over 75 students helping to clean up the surrounding area.
"(Scaremare) has given me the opportunity to share the gospel in a fun and active way," sophomore Valerie Claros said. "What's better than scaring people in the name of Jesus?"
Like Claros, many Liberty students look forward to serving in a ministry opportunity that calls people from all over to come and experience it. According to Claros, she learned in the Scaremare rally that even people outside of Virginia travel here for this event.
Scaremare, located on Carroll Avenue, will take place every Thursday, Friday and Saturday beginning on Oct. 14 and ending on Oct. 30, from 7 p.m. to 11 p.m. A college special is offered every Thursday making tickets $3 with a college ID, and $8 per person on any other day. For more information visit the Scaremare Facebook page or www.scaremare.com.
GIRALDO is a feature reporter.