For the first time in school history, Liberty University graduates walked into Williams Stadium at night and turned their tassels under the stadium lights before watching a fireworks show, the perfect finale to the celebration.
This year's Commencement, which included the Main Ceremony on the evening of May 12 and 26 separate degree presentation ceremonies May 11-13 at different locations around campus, was one of the largest in school history. An estimated crowd of 60,000 — graduates, family members, and friends — visited campus over the three days. More than 28,000* degrees were conferred upon the Class of 2023, Liberty's 50th graduating class.
With a large majority of this year's graduates earning their degrees through Liberty University Online Programs, many of those who participated in Commencement were visiting campus for the first time.
The Main Ceremony provided a chance for all graduates to join together with friends and to be inspired and encouraged by music, worship, and a powerful message from world-renowned evangelist and Samaritan's Purse President Franklin Graham. The event opened with the Liberty University Wind Symphony playing the processional fanfare as graduates made their way into the stadium. Liberty co-founder Dr. Elmer Towns carried the university mace as he led the grand processional. LU Praise, Liberty's premier gospel choir, and the Liberty Worship Collective led the crowd in worship throughout the ceremony.
Interim President Jerry Prevo recognized and celebrated many groups in attendance, including those graduating with honors, active duty and military veterans, and parents and grandparents of the graduates. He shared some of Liberty's successes in athletics and academics this school year, and he thanked the many students who have volunteered their time to aid those around the country and the world. 
"You are an extraordinary group, an exciting group of students, and I believe that you are going to be world-changers as you leave this place," he said. "As you leave Liberty with your diploma in hand, you're going to be moving on to make your dreams come true as Champions for Christ, and I know that you're going to be successful."
Prevo noted that this year marked Liberty's highest enrollment between its online and resident programs with over 130,000 students. He attributed the numbers to more people seeking a university with an "unwavering commitment to its biblical foundation and mission" and one that "does not apologize for its biblical stand on social issues."
Graham then began his message by citing his personal connection to Liberty's founder, Dr. Jerry Falwell, and his memory of Falwell pointing to the land on Liberty Mountain with the dream and intent to turn it into a school that would train generations of Champions for Christ.
"(Falwell) was a man who was deeply committed to God," Graham said. "He was obedient to what God called him to do, to build this university and pastor Thomas Road Baptist Church. He was a man of incredible vision. What you see here on this beautiful campus today is God's hand of blessing on the foundation Dr. Falwell laid some 52 years ago. God has honored his faithfulness."
"I want you to stand up, to shout out,
to lift up your voice, to lift up the truth, and live for
Jesus Christ. As you leave here today with this degree, use it for God's glory."


— Franklin Graham
Recalling what it was like to be a new college graduate himself, Graham said he had no clue what lay ahead for his life. With no plan, he chose to be available to God's ultimate plan, and he encouraged the Class of 2023 to do the same.
Much like how a pilot utilizes navigational tools, Graham said Christians need to follow the directions of God's Word in order to get to where He wants them to be.
"You want a compass to be true, you want it to be calibrated correctly," he said. "Not only your navigation depends on it, but your life depends on it. You can be off just one degree and entirely miss your destination. We've got to keep our course set on Jesus Christ and not allow Satan to distract us from God's plan and purpose for our lives. There's only one way to God, and that's through His Son, Jesus Christ. Keep your eyes on Him."
Graham explained that Christians are often told to "sit down and shut up" when it comes to sharing their beliefs and God-breathed truth, but he empowered them to stand firm.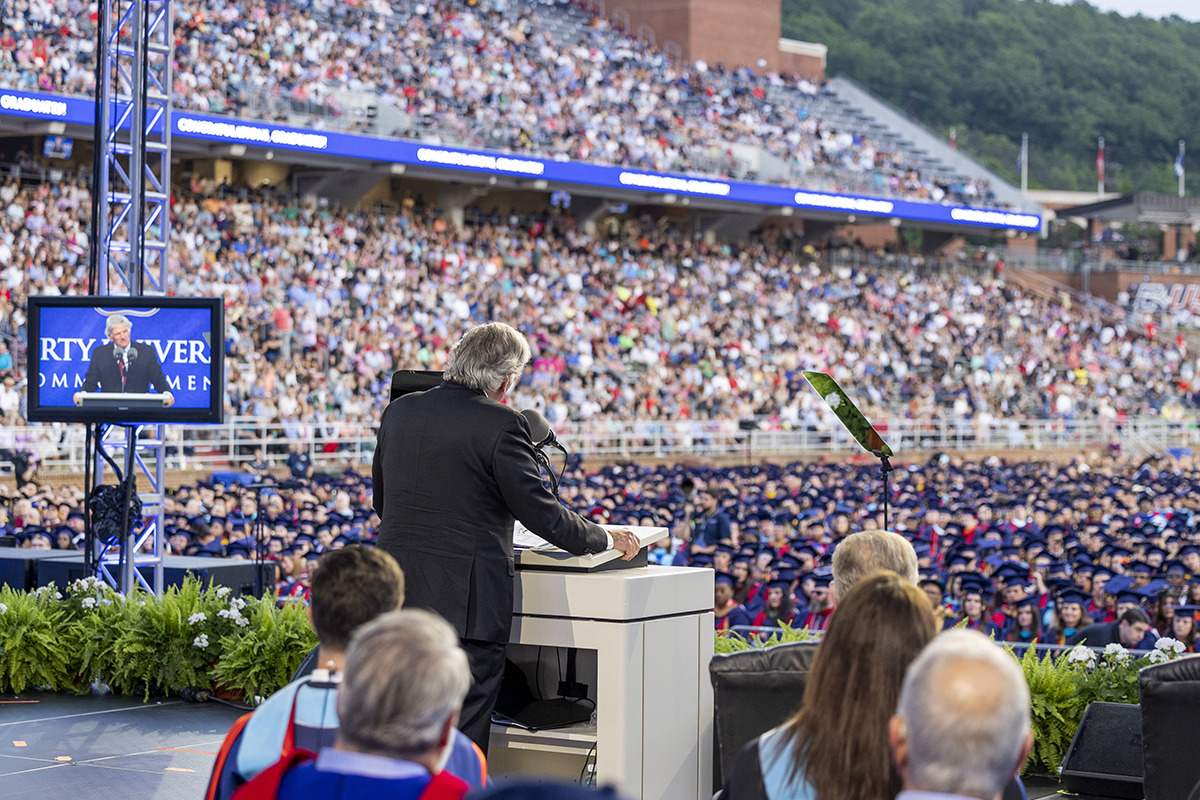 "I want you to stand up, to shout out, to lift up your voice, to lift up the truth, and live for Jesus Christ," Graham said. "As you leave here today with this degree, use it for God's glory. But more importantly, hold up His banner of truth to a dying, skeptical, sin-sick world. Know Him, trust Him, live for Him, lift Him up, and I hope you'll go forth today as His Champions for Christ."
Dr. David Jeremiah, pastor of Shadow Mountain Community Church in El Cajon, Calif., delivered the benediction.
Rebecca Fischer ('23), who received her master's in executive leadership, described the main ceremony as "an absolutely beautiful, moving time."
"I thought that it was an amazing time for us to be together here as a group, as a bunch of students, families, and friends. It brought everything together," she said. "(It was) the culmination of our faith, of our studies, of the university, the journey of everyone."
"This was the absolute best way (the Class of 2023) can go out from Liberty (into the world)," added Patrick Jamison ('23), who earned his bachelor's in cinematic arts. "For the incredible four years I've had here, this was the way to do it." 
*All data reported is based on preliminary numbers for the 2022-23 academic year.