Families donate large collection of paintings
A 20-piece collection of paintings valued at more than $1 million was donated to the Liberty University Permanent Art Collection in honor of Dr. Troy L. Day and in memory of the late Alton H. Thigpen. The pieces are now on display in the new Montview Student Union's Alumni Ballroom. (Thigpen's grandson, Garrett Thigpen, is currently a sophomore at Liberty.) The massive oil on canvas paintings (most are 7-by-5 feet with some as large as 11-by-7) were created by artist Robert Wilson Sr. beginning in 1963 and focus on the life of Christ.
Day and Thigpen, both from North Carolina, initially purchased about 10 paintings and were so moved by them that they commissioned the artist to complete the visual story of Christ.
Wilson has been an accomplished painter for over 40 years, and his life of Christ collection was admired by President Jimmy Carter during the 1978 National Prayer Breakfast. His historical paintings hang in the State House in Columbia, S.C.
"I was awestruck by the beauty and size of these paintings," said Liberty University President Jerry Falwell. "The Alumni Ballroom had exactly 20 open wall spaces, one for each painting, even though it was designed and built before the works were donated. Liberty is a young university but, thanks to the generosity of our donors, is well on its way to establishing a world-class art collection."
Over the summer, another donor gifted a handcrafted crucifix from renowned sculptor Gib Singleton to the university's art collection. Singleton is known for his work for the Vatican, including the bronze cross he crafted for Pope John Paul II's crosier (ceremonial staff). Artist Sandra Bowden also donated four paintings from her collection. Bowden is a founding member of Christians in the Visual Arts who, along with her husband, Bob, are dedicated collectors of sacred art and make their pieces available to churches, schools, and universities across the country through the Bowden Collections traveling exhibitions program.
John the Baptist painting restored
The Jerry Falwell Library has restored a rendering of a famous John the Baptist painting. The rendering, by Paul Geissler (known for his excellent copies of old master works), is of the original "John the Baptist, Resting" by Pompeo Girolamo Batoni (1702-1787). Geissler's work is impressive in its own right, but the John the Baptist piece is especially significant because the original Batoni painting was destroyed by allied bombers during WWII when it was in transit on a Nazi railroad car.
The painting features John the Baptist sitting with a lamb before a grove of trees, gesturing to a figure in the background.
The art was donated to Liberty in 1986 by Tennessee pastor L. Vernon Sisco. The library plans to display the restored artwork in the Caudell Reading Room.
Fall 2016 Convocation schedule
Convocation is held in the Vines Center at 10:30 a.m. Monday, Wednesday, and Friday. Watch it live at Liberty.edu/Watch.
Past events can be viewed at Liberty.edu/Streaming or at YouTube.com/LibertyUniversity.
This schedule is tentative and subject to change.
Visit Liberty.edu/Convo for the most up-to-date schedule.
8/31: Jonathan Falwell – Senior Pastor of Thomas Road Baptist Church
9/02: Mac & Aimee Powell – GRAMMY Award-Winning Singer & Orphan Care Advocates
9/05: Alternative Convocation*
9/07: Clayton King – Evangelist, Author, Pastor, and President of Clayton King Ministries (Spiritual Emphasis Week)
9/09: Sujo John – 9/11 Survivor & Founder of youcanfree.us
9/12: Chris Broussard – Sports Columnist & ESPN Sports Analyst
9/14: Vernon Brewer – President & CEO of World Help (Global Focus Week)/Children of the World – International Children's Choir
9/16: Darren Whitehead – Pastor of Church of the City
9/19: Brian "Head" Welch – Co-Founder of KORN & Bestselling Author
9/21: Dr. Ed Hindson – Dean, Rawlings School of Divinity
9/23: Tim Hawkins & Bob Smiley – Comedians (CFAW)
9/26:  James Dobson – Psychologist & Founder of Family Talk
9/28: David Jeremiah – Founder of Turning Point Radio and Television Ministries & Senior Pastor of Shadow Mountain Community Church
9/30: for KING & COUNTRY – GRAMMY Award-Winning Contemporary Christian & Gospel Band, Producers of Upcoming Motion Picture "Priceless"
10/03: Alternative Convocation*
10/05: Special Olympics Celebration, Ceremony, & Competition
10/10: Ralph Reed – Founder and Chairman of the Faith & Freedom Coalition
10/12: Mike Pence – Indiana Governor & Vice Presidential Candidate
10/14: Dinesh D'Souza – Political Commentator, Author, and Filmmaker/Benny Prasad – Instrumental Guitarist & Missionary
10/17: Tim Tebow – Two-time College Football National Champion & Heisman Trophy Winner
10/19: Brian Littrell – Founding Member of World-Renowned Band "Backstreet Boys"
10/21: Joe Theismann – Former Washington Redskins Quarterback & Super Bowl XVII Champion (Homecoming Weekend)
10/24: Bethel – Multi-Award Winning Worship Group
10/26: Jared Hall – Illusionist & Comedian
10/28: Darrell Scott – Senior Pastor & Co-Founder of New Spirit Revival Center
10/31: Alternative Convocation*
11/02: Levi Lusko – Pastor of Fresh Life Church, Author of "Through the Eyes of a Lion"
11/04: Tim Lee – Evangelist, Vietnam Veteran, and Liberty Board of Trustees Member
11/07: Jerry Thorpe – Pastor Emeritus of Temple Baptist Church & Liberty Board of Trustees Member/Michel Faulkner – Nominee for Mayor of New York
11/09: Karen Kingsbury – New York Times Bestselling Author
11/11: Larry the Cable Guy – Comedian, Recording Artist (Veterans Day Celebration, CFAW)
11/14: Sammy Rhodes – Author & Social Media Personality
11/16: Johnnie Moore – Author, Speaker, & CEO of The Kairos Company
11/18: Ayesha Curry – Celebrity Cook, Author, & Wife of two-time NBA MVP Stephen Curry
11/28: Louie Giglio & Passion Worship Band – Lead Pastor of Passion City Church & Award-Winning Worship Band
11/30: Michael Reagan – Bestselling Author & Chairman of The Reagan Group
12/02: Rosaria Butterfield – Author, Speaker, & Former Professor at Syracuse University
12/05:  Alternative Convocation*
12/07:  Steve Forbes – Chairman & Editor-In-Chief of Forbes Media
12/09: Ben Gutierrez – Liberty Vice Provost for Academic Administration, Vice President of Academic Affairs, & Professor of Divinity
12/12: Christmas Convo
*Schools within the university host their own Convocations.
Worship Collective kicks off nationwide tour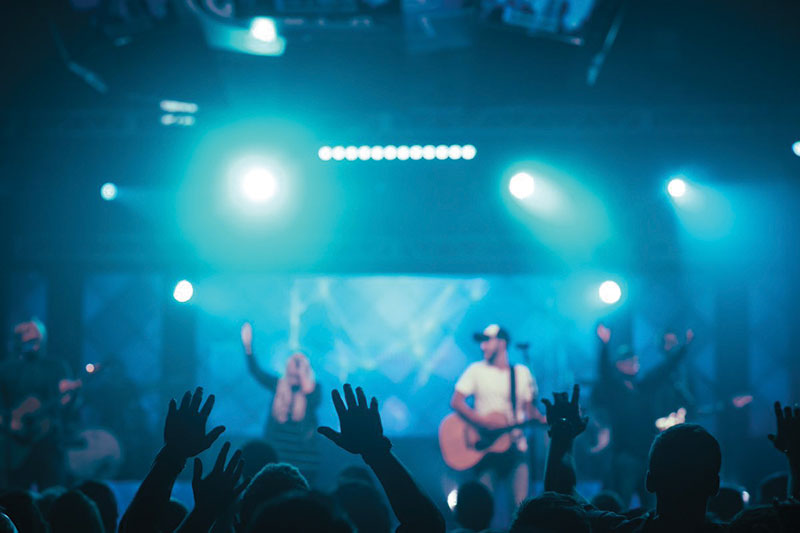 The Liberty Worship Collective is a group of students comprised of 45 worship leaders, musicians, songwriters, and other artists whose primary mission is to celebrate the name of Jesus across the globe. While members regularly lead Convocation and Campus Community services on campus, they also tour the country on weekends and breaks.
The collective works on a rotational basis, meaning the same band is not at every event. Administrative staff works to match the performance location with the students who will minister most effectively there. The group formed in July, and they sing modern, congregational worship music.
Louis Fabrizi, Liberty alumnus and director of the Worship Collective, said that the group has written six songs since forming, and they are in the demo process.
Before accepting the job as director, Fabrizi lived in Nashville, Tenn., and toured as a guitar player with Vertical Church Band, Phil Joel of the Newsboys, and Steve Moakler. He has also shared the stage with Kari Jobe, Meredith Andrews, Jon McLoughlin, and other national recording artists.
"Our hope is that we highly influence the worship culture here on campus and abroad," he said. "Our goal is to stress the importance of a lifestyle of worship to those we minister to."
The Liberty Worship Collective will travel across the U.S. during the Fall 2016 and Spring 2017 semesters, partnering with Student Leadership University (SLU) to perform on the Lift Tour. SLU works together with churches and schools to provide teenagers with leadership training through a biblical lens.
Tour Schedule
Oct. 14 and 16: Lovingston, Va., Camp Crossroads
Oct.14-15: Ridgeview, S.C., Camp Longridge
Oct. 21-22: Ridgeview, S.C., Camp Longridge
Oct. 23: Dobson, N.C., Salem Baptist Church
Oct. 28-29: Leesburg, Va., Harvest of Hope Believers Conference
Oct. 30:  Lancaster, Pa., Harvest Bible Church
Nov. 11-12: Augusta, Ga., LIFT Tour; Kansas City, Mo., LIFT Tour
Nov. 12-13: Overland Park, Kan., Grace Church
Jan. 6-8: Sandusky, Ohio, Kalahari 2017
Jan. 13-14: Huntsville, Ala., LIFT Tour; Benton, Ark., LIFT Tour
Jan. 20-21: Chattanooga, Tenn., LIFT Tour
Jan. 27-28: Texarkana, Ark., LIFT Tour
Feb. 3-4:  Columbia, S.C., LIFT Tour
Feb. 10-11: Calhoun Country, Ala., DNOW United; Dothan, Ala., LIFT Tour
Feb. 17-18: Tulsa Okla., LIFT Tour; Oklahoma City, Okla., LIFT Tour; Orlando, Fla., LIFT Tour
Feb. 24-25: Nashville, Tenn., LIFT Tour, Memphis, Tenn., LIFT Tour
March 3-4: Tampa, Fla., LIFT Tour; Fayetteville, Ga., LIFT Tour
March 10-11: Dayton, Ohio, LIFT Tour
March 10-12: South Hill, Va., DNOW
March 17-18: Greenville, S.C., LIFT Tour
March 31-April 1: Potterville, N.Y., LIFT Tour
University constructing new bridge over U.S. 460
To help improve traffic flow on campus, Liberty began construction in August on a new bridge over U.S. 460 that will connect East and South Campuses. It will stretch from the parking lots near the Liberty Lacrosse Field on East Campus to the south end of campus. The bridge will have two lanes for traffic, as well as a pedestrian lane protected by a steel barrier. The project is scheduled to be completed by Fall 2017. Liberty Mountain Drive is being extended near the site where the bridge will connect to East Campus, giving people another access point onto campus from U.S. 29.
Student club provides body cameras for K-9 officers
The Lynchburg Police Department (LPD) K-9 unit has implemented the use of body cameras, thanks to a gift from the Liberty University Criminal Justice Club.
The club raised $1,100 to purchase the equipment — four GoPro body cameras and mounts — and presented it to the LPD in May.
"We are humbled by the students," said Sgt. Brian Smith, who oversees the K-9 unit. "This is an opportunity to see what capabilities we have with this in training, and we are excited about it. Officers wearing body cameras is certainly a trend of the future."
The club has developed a strong relationship with the LPD; officers have spoken to the group and allowed students to participate in some training exercises. Many job opportunities for students after graduation were made possible because of the local department's involvement.
Commonwealth Games sports success in first year at Liberty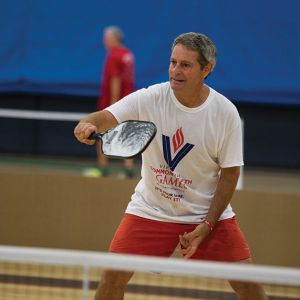 Liberty University's first year as title sponsor of the Virginia Commonwealth Games has been a grand slam. A record number of athletes came to the Lynchburg area to compete in over 55 Olympic and Pan-American sports.
Over 12,000 athletes will have competed in this year's games once all the events have taken place (indoor track will be held at Liberty's new indoor track facility in December). Previously, most of the events were located in Roanoke.
The 2016 Games were held in cooperation with Liberty, the city of Lynchburg, and Virginia Amateur Sports (VAS), a nonprofit organization based in Roanoke.
Games Weekend, held on Liberty's campus and at sites around Lynchburg July 22-24, had the largest compilation of events, with over 3,200 athletes participating. Liberty's championship-caliber athletics facilities were used for numerous competitions, including ice hockey, basketball, indoor soccer, lacrosse, tennis, softball, archery, paintball, and track. Liberty offered a top-notch atmosphere for guests, providing housing for about 400 athletes and officials in an Olympic Village. More than 80 percent of those surveyed said that they would return to Lynchburg.
The university opened its campus dining venues and hosted a Community Farmer's Market with vendors from markets across the region.
When averaging in money spent on lodging and meals, the economic impact of the Games is substantial. Numbers will be finalized later this year, but projections show an impact of over $1.6 million.
This was Liberty's first year to host the games as part of a five-year contract with VAS.
Law professors serve on American Bar Association committees
Two faculty members from Liberty University School of Law are lending their expertise to the American Bar Association (ABA).
Associate Professor Caren Harp was invited during the summer to serve on the Juvenile Justice Standards Task Force committee. There she will help to keep the standards and accompanying commentary relevant in light of important legal developments, ABA policy initiatives, and scientific advances in child and adolescent development.
Professor Scott Thompson, also invited this summer, is now a member of the Competitions Committee's National Appellate Advocacy Competition (NAAC) subcommittee. Thompson is the coach of Liberty's nationally ranked Moot Court team and now has a seat at the table that oversees the practical skills competitions for the ABA. The NAAC subcommittee manages six regional competitions and administers the national championship tournament.
Harp and Thompson will serve for terms of two to three years.
Professor recognized for 100th trip to Israel
Dr. Randall Price, distinguished research professor at Liberty University and curator of the Liberty Biblical Museum, was recognized by Israel's Ministry of Tourism this summer for making his 100th trip to the country. Price was presented with a plaque and named a "true friend of Israel" and an "ambassador of goodwill for tourism."
Since coming to Liberty in 2007, Price has been teaching an annual seminar in Israel and has led students through sites in Israel, Jordan, Turkey, and Greece. As a professional archaeologist, Price has also taken Liberty students and faculty on excavations at Qumran (the site where the Dead Sea Scrolls were discovered) and Jerusalem. Students often get to meet native Israelis (both Jewish and Arab), Palestinians, and Messianic Jews.
Artifacts amassed from his many trips have been placed in the Liberty Biblical Museum, located in the Jerry Falwell Library. Price is returning to Israel with students in December, where another excavation at a cave south of Qumran is planned. He has also planned a tour for June 8-24, 2017, and welcomes Liberty alumni, current students, and faculty to join him.
Visit Liberty.edu/BiblicalMuseum for more information.
Liberty University bucks trend of divestment in Israel
Liberty University's Investment Committee authorized its first Israeli-focused endowment in May. The $5 million initial investment focuses on venture capital in the health care sector, backing Israeli companies in strategic fields, including oncology, biopharmaceuticals, and digital health, with a strong focus on cancer immunotherapy. The investment was sourced by the university's investment manager, Permanens Capital.
Additional Liberty investments in Israel will focus on cutting-edge development projects in technology, medicine, and defense.
This financial commitment is consistent with the university's continued strong support of Israel.
"Since its founding in 1971, Liberty University has supported Israel," said Liberty President Jerry Falwell. "Scores of Liberty students and faculty have visited Israel and collaborated with Israeli academic institutions."
Liberty's student government passed an amendment to its constitution in 2015, forbidding legislation that would support the Boycott, Divestment, and Sanctions (BDS) movement against Israel. This effort to disavow the BDS movement stands in contrast to Israel divestment resolutions recently passed by other colleges and universities.
Students receive industry certification to fly drone aircraft
In June, the Liberty University School of Aeronautics celebrated its first group of students to receive full operator certification for the Aerosonde Small Unmanned Aircraft System (UAS). Eight students flew the drone aircraft while training at the Textron Systems Unmanned Systems Service & Support Center in Blackstone, Va.
The Aerosonde, which has a 12-foot wingspan, is currently being used by a number of agencies, including the U.S. Department of Defense and NASA.
Through an agreement with Textron Systems, a leader in UAS development and operations, Liberty has become the only college in the country with an industry partnership that allows students to gain UAS certification (the same certification that Textron requires of its employees). Many students are then offered jobs with the company upon graduation.
Liberty's UAS program continues to stand out by becoming the only one in the country to offer students training that leads to full operator certification on a medium-sized UAS aircraft.
Drone Training HQ ranked Liberty among the Top 10 best drone training colleges that offer degrees specific to Unmanned Aerial Vehicles (UAV) or UAS.
In June, the Federal Aviation Administration (FAA) released its first regulations regarding commercial use of drones, so Liberty students are flying UAS (under 55 pounds) on campus for the first time. They are using fixed-wing and multi-rotor small UAV, flying within regulations that stipulate the aircraft must be flown within the operator's line of sight, within 400 feet of the ground, and not over the heads of individuals who are not shielded by a structure. Students will have opportunities to gain experience outside the classroom by providing drone services to the university, including aerial photography (such as at Flames athletics events), search and rescue (if needed to support Liberty University Police Department), and data collection (including air testing and weather).
Third high-rise residential hall under construction
The university broke ground on Commons III at the end of the summer. The two-wing residential hall will have five floors with 778 beds. It is expected to be completed by Fall 2017.
Commons IV is currently in the design phase, with tentative plans to include a dining hall.
Liberty completed the 9-story Commons I in Fall 2014 and Commons II in Spring 2016 (though a wing of it opened the previous fall).
Law school faculty member travels to Africa to help develop Nigerian university curriculum
Anthony Ikwueme, director of the Ehrhorn Law Library at Liberty University School of Law, traveled to the University of Nigeria in May to help its law faculty develop curriculum and scholarly resources to enhance their law education experience. He was awarded the summer trip as part of the Carnegie African Diaspora Fellowship Program.
Ikwueme helped set up legal clinics and worked with Nigerian professors and law students as part of a project aimed at helping the latter sharpen their legal research skills and graduate ready to practice. He also helped faculty develop curriculum focused on experiential learning.
Liberty University to hold first-ever Fulbright Week, Oct. 31-Nov. 4
Liberty University is dedicating a full week to promoting one of the most unique and respected educational opportunities in the world — the Fulbright program.  Fulbright scholarships allow students to travel the world for education, to conduct advanced research, or to teach.  Students can choose from more than 125 countries and can live there for up to a year.  Fulbright grants cover travel, room and board, and incidental costs. 
From Oct. 31 through Nov. 4, the Fulbright Committee will be providing information, answering questions, and guiding interested students through the application process.
The Fulbright experience is invaluable — and really stands out on a résumé. In 2014, Liberty University student Cheryl Walton traveled to Malaysia planning to simply teach English, but she found that she accomplished so much more.
"My experience was about promoting the United States culture and understanding to the students in Malaysia," said Walton, "as well as providing the United States with an understanding of Malaysian culture," she said. "I want to promote diplomacy and assist in bridging the gaps that can so easily become uncrossable."
Those interested in attending Fulbright Week can contact internationalexchange@localhost.
LUCOM founding dean retires
Ronnie B. Martin, D.O., FACOFP-dist., founding dean of Liberty University College of Osteopathic Medicine (LUCOM) retired in September after four years of service.
During his time at LUCOM, Martin advanced the medical school's mission to provide care for the medically underserved in Southern and Southwest Virginia by holding health clinics and establishing partnerships with local hospitals, thus encouraging student-doctors to remain in these disadvantaged areas upon graduation. Martin also worked to create affiliations and partnerships with health systems throughout the state. He worked closely with Central Virginia Family Physicians to form the Liberty Mountain Medical Group, a primary care clinic near campus where Liberty student-doctors receive training. Martin also led outreach trips for student-doctors and LUCOM staff in Guatemala.
Martin helped LUCOM receive provisional accreditation from the American Osteopathic Association Commission on Osteopathic College Accreditation — the programmatic accreditor for colleges of osteopathic medicine in the United States — making it eligible to receive full accreditation prior to graduating its first class of student-doctors in 2018.
According to Dr. Ronald E. Hawkins, Liberty's vice president of academic affairs and provost, "Dr. Martin played an indispensable role in setting the medical school on a good course. He led us through the initial phases of accreditation, hired a highly competent team of faculty and staff, and established the med school curriculum."
Martin was also instrumental in seeing the four-story, 144,000-square-foot Center for Medical and Health Sciences through to completion, making sure it was outfitted with state-of-the-art labs and equipment.
"My time at LUCOM was the highlight and the peak of my career," Martin said. "God had been leading me to Liberty for many years — I finally listened and followed. It has been absolutely a joy to myself and to my family."
Dr. David Klink, D.O., chair of the Department of Specialty Medicine and associate professor of ophthalmology at LUCOM, is serving as the interim dean.
The university has retained Carter Baldwin, a professional search team, to initiate a national search for a new dean.
Doctor of Nursing program receives national accreditation
In May, the School of Nursing received full accreditation for its Doctor of Nursing Practice (DNP) program. The Commission on Collegiate Nursing Education (CCNE) accredited the program for the maximum 5-year period allowed for new programs.
CCNE is recognized by the U.S. Secretary of Education as a national accreditation agency and serves higher education institutions and acute care hospitals throughout the United States. CCNE ensures the quality and integrity of nursing programs by assessing and identifying curriculum that engages in effective educational practices.
Liberty's DNP program trains nurses to become leaders, family nurse practitioners, and clinical nurse specialists. Two pathways are available: an online post-Master of Science in Nursing (MSN) and a residential post-Bachelor of Science in Nursing (BSN). Both incorporate additional clinical training to prepare students for advanced careers in nursing. The residential program also prepares students to take a national certification examination for family nurse practitioners. Liberty's BSN and MSN are also accredited by CCNE.
Alumni pair strive to "help up" their fellow men
Two of the first students to attend Liberty University in 1971, Bob Gehman ('74, '80) and Gary Byers ('74, '80), have dedicated about two decades each to seeing broken lives transformed in the greater Baltimore area.
Gehman is the CEO and executive director of Helping Up Mission (HUM), which has been helping men fight addiction and homelessness for over 130 years. Byers is HUM's deputy director and teaches spiritual life classes in addition to his administrative duties.
Together, they have helped HUM become a national model for faith-based drug treatment. The HUM campus is an entire renovated block in downtown Baltimore. Just about every night, all 500 beds are full. Annually, HUM provides 438,000 meals (1,200 per day) and distributes over 155,000 items of clothing. A yearlong in-residence recovery program transforms lives, impacting the city as men learn to make positive contributions to society. A sign of its success is that now approximately 75 percent of the HUM staff are graduates of the program.
Gehman (left) and Byers (right) both earned bachelor's degrees in pastoral ministry from Liberty, as well as master's degrees in Christian education.
Gehman began putting his leadership skills into practice while at Liberty — he taught a Sunday School class, orchestrated a bus route, started Liberty's first Christian service department, and managed a residence hall of 400 students. After graduation, he started a church in the Baltimore area, which he pastored for over a decade, and eventually started a church capital campaign fundraising business.
Now Gehman oversees a ministry with an annual budget of about $9 million, which has grown substantially (from about $350,000) under his 21 years of leadership. Tens of thousands of donors support the mission.
"My gift of leadership allowed me to see what needed to be done for HUM and the city," he said. "Bad conditions did not scare me. In fact, just the opposite. (Because of my time at Liberty) I knew how to pioneer and change things. … I've learned how to endure and stay positive through faith no matter what happens, knowing all of life has a purpose."
Byers, who has been serving HUM for about 18 years, also answered God's call to pastoral ministry after graduation. He founded a church in Frederick, Md. He has also served as a high school track and field coach and executive director of the Associates for Biblical Research, a ministry focused on archaeological research in the Holy Land. (He still participates in archaeological digs and serves on the board of directors.)
Working at HUM has given the friends another way to serve God together.
"Every day I have the opportunity to share what God is teaching me to a couple hundred men desperately looking for answers in their own lives," Byers said. "Every day, I'm able to see guys dealing with their own attitudes and making life-changing decisions."
For more information or to get involved, visit HelpingUpMission.org.
2009 alumna named Pediatric Nurse of the Year
Working as an oncology nurse in a children's hospital, alumna Julie Swee ('09) is fulfilling her lifelong dream to serve others.
Swee was recently recognized by the Society of Pediatric Nurses as its Pediatric Nurse of the Year. She received the award for "Excellence in Clinical Practice" while working at Nemours Children's Hospital in Orlando, Fla.
Swee's desire to help children with cancer began when her best friend's child was diagnosed with the disease.
"I wanted to learn and understand what they were going through, so I chose to take an oncology class to help with that. I believe God put me in that situation to find my true calling in nursing," she said. "I love taking care of children in what I consider to be one of the most difficult situations in life, and I learn so much from them. I am blessed every day to care for them and love on them."
After graduating from Liberty with a Bachelor of Science in Nursing, Swee worked for a pediatric urgent care facility, where she soon learned she was the only new graduate to ever be hired there.
"I think that Liberty gave me a great foundation for the success I have had in my professional nursing career so far," she said.  "I believe that the skills taught by Liberty allowed for my success both in that job and in my current job. The nursing teachers and the level of knowledge taught by Liberty is really wonderful."
Swee is currently pursuing a Master of Science in Nursing Education through Liberty's online program, a degree she hopes to use to educate others around the world.
"I love to teach, and I hope eventually that I can take the teaching experience I have gained and make a difference in places that do not have access to as much knowledge and schooling as I did," she said.
Jerry Falwell Library honored by Library Journal
The Jerry Falwell Library was included on a list of academic libraries "destined to become classics," according to the Library Journal. The publication's September 2016 issue featured eight libraries in its annual New Landmark Libraries listing, which celebrates innovation and excellence by identifying libraries that are "must see" destinations.
The Jerry Falwell Library, which opened in January 2014, received honorable mention for its "user-centered approach" and stunning design, which includes 80,000 square feet of interior and exterior glass.
Liberty ranked among best colleges for campus housing
Liberty University was recently listed among the 30 Best College Dorms in the U.S. in a ranking by The Street, a leading digital financial media company. Liberty ranked No. 12, based on its "spacious and comfortable" residence halls complemented by a "solid A" campus dining experience.
Liberty outranked Harvard University (No. 24), Wheaton College-Illinois (21), and Stanford University (20) on the list that also included Yale University (5) and High Point University (4).
Additionally, Liberty recently ranked among the 2015 best campus housing options in the nation by Niche.com.
Student Activities hosts diverse lineup of musical guests
From some of the biggest names in Christian music — NEEDTOBREATHE, Relient K, and Switchfoot — to Liberty University's talented student artists, the Student Activities Office has planned a full, eclectic lineup of concerts this fall. The semester kicked off with visits from Dave Barnes and Colony House at the annual Block Party and will end with Christmas Coffeehouse, the largest student showcase of the year.
Visit Liberty.edu/StudentActivities for event dates and ticket information.
Liberty acquires rare hymnal collection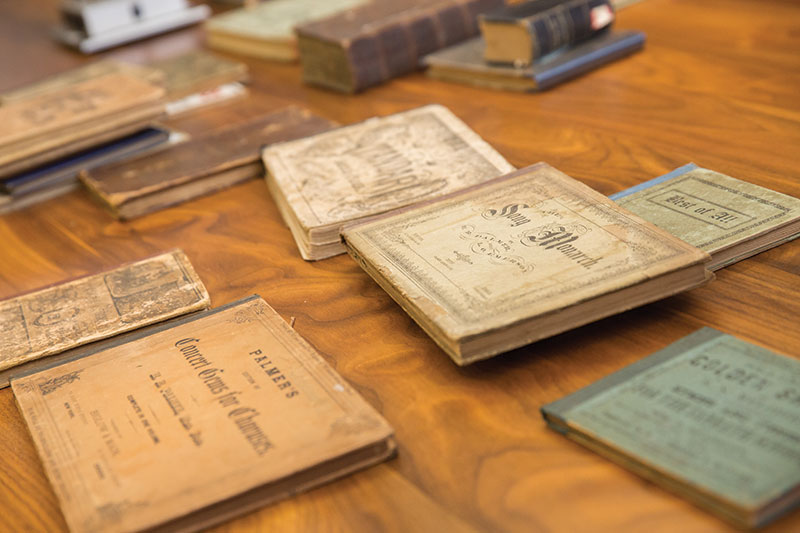 This past summer, Liberty University's Jerry Falwell Library and School of Music acquired a special collection of nearly 2,000 hymnals, some dating as far back as the 18th century and worth hundreds to thousands of dollars. Included in the collection is an original John Newton Hymnal, one of the earliest to feature "Amazing Grace," printed in England in 1779. There is also a first edition of the hymnal in which "Jesus Loves Me" first appeared as well as an evangelistic rally hymn book signed by Billy Sunday.
The collection was assembled over five decades by Jim Lutzweiler, a singer/songwriter and former archivist at Southeastern Theological Seminary who comes from a family of musicians.
Most of the collection will be stored in the Archives and Special Collections Department of the Jerry Falwell Library, while a display in the Center for Music and the Worship Arts will more prominently feature selected books, with some rotating out of the archives to give students a chance to view pieces from several different periods of evangelical music history.
The School of Music will use the collection as primary resource material for those doing historical research in music education, worship studies, and hymnology.
Official University Seal updated
Liberty University has updated its Official University Seal, combining the strength of Liberty's traditions with an exciting vision for the future. The new seal incorporates a number of elements from the original President's Seal, including the Bible, 1971 (the year Liberty was founded), the octagon (representing the Jeffersonian architecture of campus), and the flame (signifying the university motto "Knowledge Aflame" and the light of the Gospel that students take with them into the world).
Each new component of the updated seal was carefully chosen to reflect the university's character. The seal now includes laurels (awarded to victors in ancient Greece and representing the mission of Training Champions for Christ); Freedom Tower (Liberty's forthcoming campus landmark); and the Liberty Bell (which will sit atop Freedom Tower and proclaim the university's dedication to the founding principles of our nation).
The Official University Seal is reserved for use by the president, provost, and formal university functions, such as Commencement.
Military Emphasis Week Set for Nov. 5-12
Liberty University has a longstanding tradition of honoring its military students. The university will host Military Emphasis Week, Nov. 5-12, an event that raises awareness and appreciation for those who have served and are serving in the United States military.
The Valley View/Major Mike Donahue 5 Mile Trail Race will kick off the week and will pay special tribute to Donahue, a former Liberty ROTC instructor who was killed in action in Afghanistan on Sept. 16, 2014. Other highlights include men's and women's ice hockey games, a veterans' appreciation reception, and a special military Convocation.
Military Emphasis Week will conclude as the Liberty University Flames Football team takes on Charleston Southern at 3:30 p.m. in Williams Stadium. A patriotic halftime show will honor military members and their families. Additionally, the winner of the 2016 George Rogers Champion of Freedom Award will be announced and recognized during this time.
Liberty joins national campus health initiative
Liberty University was one of six new colleges and universities to join the Partnership for a Healthier America's (PHA) Healthier Campus Initiative in the spring.
The campaign, backed by First Lady Michelle Obama, is focused on proactively encouraging students, faculty, and staff — over 1 million people across the 44 partner campuses — to make healthier decisions in their daily lives.
The colleges were officially recognized at the "Building a Healthier Future" Summit on May 19 in Washington, D.C.
Working with a group of the nation's leading nutrition, fitness, and campus wellness experts, PHA developed a set of guidelines to build healthier environments for college and university students. These guidelines addressed many aspects of health — including diet as well as physical activity — and credited the efforts of existing wellness programs while challenging colleges and universities to do more.
Participating schools must achieve certain benchmarks within three years. Liberty plans to meet these benchmarks through a free first-semester orientation to the LaHaye Recreation & Fitness Center for all incoming students, personal training services, outdoor equipment rentals, and non-academic cooking classes.
Liberty has already been promoting healthy lifestyles on campus through its Live Healthy Liberty initiative, which educates, motivates, and empowers students, faculty, and staff to maintain spiritual, mental, and physical wellness. The initiative involves collaboration between multiple departments, including the LaHaye Recreation & Fitness Center, Outdoor Recreation, and Dining Services, which has recently placed decals on vending machines to identify healthy snack choices.
To learn more about Live Healthy Liberty, visit Liberty.edu/LiveHealthy.
Eye on the Arts
Liberty University nurtures a culture of artistic expression on campus. A wide variety of performances and exhibitions allow students to display their talents to the public and provide some of the most entertaining productions in Central Virginia.
The following events occur after publication. Continue to check Events.Liberty.edu as more events are added throughout the school year.
On the Stage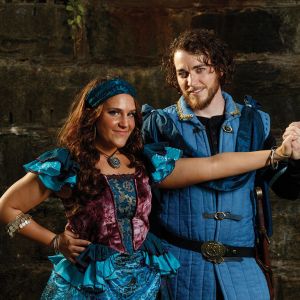 The Department of Theatre Arts offers large academic performances and smaller workshop productions (designed for underclassmen) throughout its main stage season at Tower Theater. The theater also hosts productions by Alluvion Stage Company, Liberty's professional stage company, where professional talent (including alumni) work alongside students both onstage and behind the scenes.

"Quilters" (workshop) – Oct. 13-16
"Over the River & Through the Woods" (academic) – Oct. 28-Nov. 6
"Guys & Dolls" (academic) – Dec. 2-11
"Seussical: The Musical" (academic) – Feb. 24-March 5
"She Stoops to Conquer" (academic) – March 24-April 3
"Chitty Chitty Bang Bang" (Alluvion) – April 28-May 14
Playwriting Competition Winner – May 25-28

Tickets can be purchased online (Liberty.edu/Tickets) or by calling (866) 447-2084. On the night of a performance, call the Tower Box Office at (434) 582-2085.
In the Gallery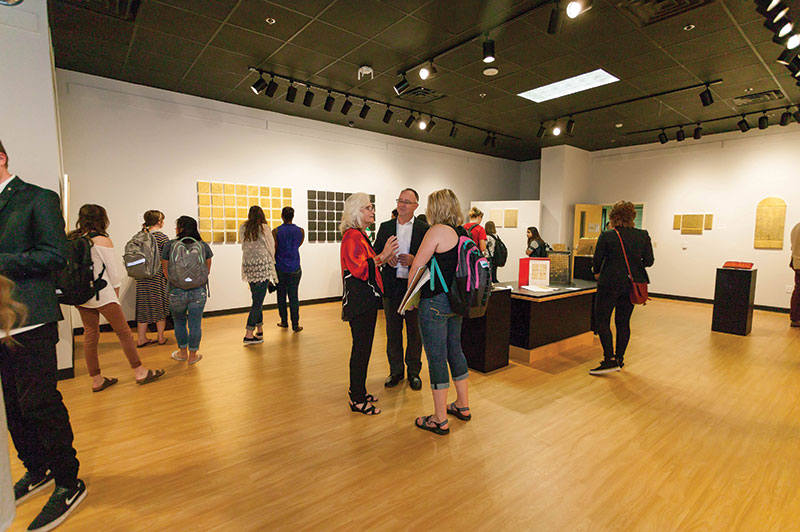 The Liberty University Art Gallery is located in Green Hall, Room 1855. The Fall 2016 season kicked off with an exhibition from Sandra Bowden, considered one of the most unique and inspiring Christian artists in the country. Her "Reflections of Glory" celebrates the visual history of the church with encaustic (wax-based) paintings, books, and drawings.
The gallery is free and open to the public. Visit Liberty.edu/ArtGallery for current hours and exhibition information.
"Reflections of Glory" by Sandra Bowden – Sept. 8-Oct. 16
Juried Digital Arts Competition – Oct. 20-Nov. 6
Opening and reception – Oct. 20 from 6-8:30 p.m.
Studio Art Exhibit – Nov. 10-Dec. 11
Opening and reception – Nov. 10 from 6-8:30 p.m.
Under the Lights
Individuals and groups within the Liberty University School of Music have many opportunities to showcase their talents in a number of genres, from worship to classical and jazz. Guest professionals are hosted by the School of Music, as well. All events are held at the Center for Music and the Worship Arts, unless otherwise noted.
Homecoming Concert (showcase from all School of Music groups) – Concert Hall, 7 p.m. Oct. 21
Liberty University Symphony Orchestra/Lynchburg Symphony Orchestra Concert*– Concert Hall, 3 p.m. Oct. 23
Gospel Music Association Concert – Towns-Alumni Lecture Hall, 7:30 p.m. Oct. 25
Innovative Music Ensemble – Doug Oldham Recital Hall, 7:30 p.m. Oct. 27, March 24
Chamber Brass – Macel Falwell Recital Hall, 7:30 p.m. Oct. 30, March 27
Keith and Kristyn Getty* – Concert Hall, 7:30 p.m. Oct. 31
Chamber Singers – Macel Falwell Recital Hall, 7:30 p.m. Nov. 1, April 11
LU Symphony Orchestra* – Concert Hall, 7:30 p.m. Nov. 3, March 7, May 2
Guitar Ensemble – Macel Falwell Recital Hall, 7:30 p.m. Nov. 4, April 8, April 21
The Gray Havens – Concert Hall, 7:30 p.m. Nov. 5
Clarinet and Flute Ensembles in Concert – Concert Hall, 3 p.m. Nov. 6, March 26
Woodwind Quintets – Concert Hall, 4:30 p.m. Nov. 6, March 26
Concert Choir and University Chorale – Towns-Alumni Lecture Hall, 7:30 p.m. Nov. 7, March 2
FUSION (student worship) – Concert Hall, 6 p.m. Nov. 11, Feb. 17, April 7
CADENCE (showcase of diverse musical styles) – Concert Hall, 10:30 a.m. Nov. 12, Feb. 18, April 8
String Chamber Ensemble Concert – Concert Hall, 3:30 p.m. and 5 p.m. Nov. 13; 6:30 p.m. April 10
Worldwide Worship – Concert Hall, 7:30 p.m. Nov. 14
Jazz Band – Towns-Alumni Lecture Hall, 7:30 p.m. Nov. 15, Feb. 23
Wind Symphony and University Band Concert – Concert Hall, 7:30 p.m. Nov. 17
Christmas on the Boulevard* – Concert Hall, 7:30 p.m. Dec. 6
Opera: Amahl and the Night Visitors* – Concert Hall, 7:30 p.m. Dec. 9, Dec. 10
Lessons and Carols – Thomas Road Baptist Church Pate Chapel, 6 p.m. Dec. 14
Opera: Die Fledermaus* – Concert Hall, 7:30 p.m. Jan. 20, Jan. 21, Jan. 27, Jan. 28
* Tickets required, visit Liberty.edu/Tickets or call (866) 447-2084.
Visit the School of Music website for the full schedule.