College of Osteopathic Medicine receives provisional accreditation
Liberty University College of Osteopathic Medicine (LUCOM) announced in August that it has been granted provisional accreditation from the American Osteopathic Association Commission on Osteopathic College Accreditation (AOA-COCA), the programmatic accreditor for Colleges of Osteopathic Medicine in the United States.
Provisional accreditation allows LUCOM to officially begin recruiting and accepting students and offer education leading to the D.O. (Doctor of Osteopathic Medicine) degree. LUCOM has  initiated that process, and the inaugural class will begin in Fall 2014.
The Southern Association of Colleges and Schools Commission on Colleges (SACS-COC), Liberty's accrediting agency, also recently recognized the university's capacity to develop a D.O. degree program.
In gaining provisional accreditation, LUCOM becomes the 30th College of Osteopathic Medicine in the nation and the second in Virginia. The profession boasts 38 campuses in 28 states. Today, one of four students attending medical school in the U.S. is attending a College of Osteopathic Medicine.
"Provisional accreditation comes as a testament to the tremendous work of the faculty and staff, our clinical and community affiliates, and our financial supporters," said LUCOM's dean, Dr. Ronnie B. Martin, D.O., FACOFP-dist. "Having achieved the highest level of recognition available at this time, we are on track to achieve full accreditation prior to the graduation of our first class of students in 2018."
"The college exists for one purpose: to provide service that benefits people in need," Martin said. "Our mission centers around producing health care professionals who are not only excellent physicians but have a servant's heart that will cause them to positively impact patients around the world, specifically those in underrepresented and underserved areas. Our graduates' knowledge and skill, along with their passion and commitment, will positively affect the lives and health of countless individuals in the decades to come."
In addition to its new provisional status, LUCOM is also ahead of schedule for construction on the much anticipated, 140,000-square-foot Center for Medical and Health Sciences, which broke ground at the southeast end of campus in November 2012.
Construction is set for completion this coming spring.
Referencing the unparalleled curriculum, Martin said the program focuses on active learning processes that are designed to produce primary and community-based physicians who practice holistic, patient-centric medical care while placing an emphasis on wellness prevention of disease.
"Our obligation may be to teach," he said, "but our avocation is to serve."
School of Aeronautics earns Innovator of the Year award
Virginia's Region 2000 Technology Council presented the Liberty University School of Aeronautics its Innovator of the Year award on May 23, during TechEDGE, the Lynchburg area's premier business and education conference.
Jonathan Whitt, executive director of the Region 2000 Technology Council, recognized Liberty for its Unmanned Aerial Systems program (one of four in the country), the addition of several high-tech simulators, and its collaboration with other entities, including the Center for Advanced Engineering Research.
Liberty launched its specialization in UAS last fall. The technology is used to remotely pilot unmanned aerial vehicles, popularly referred to as drones in their military application. John Marselus, associate dean of Flight Operations, joined a team of industry professionals to present the uses for drones in law enforcement during the National Sheriffs' Association Annual Conference in Charlotte, N.C., on June 22 following a presentation to the Virginia Sheriffs' Association Convention in April.
Biology professor receives prestigious grant for Alzheimer's research
Dr. Gary Isaacs, assistant professor of biology in Liberty University's Department of Biology & Chemistry, was recently named a recipient of the 2013-14 Alzheimer's and Related Diseases Research Award Fund (ARDRAF), receiving $40,000 to further his research. This brings Isaacs' research total to $90,000 since coming to Liberty in 2009.
The ARDRAF was established in 1982 by the Virginia General Assembly to stimulate investigations into Alzheimer's disease and related disorders along a variety of avenues, such as the causes, epidemiology, diagnosis, and treatment of the disorder; public policy and the financing of care; and the social and psychological impacts of the disease upon the individual, family, and community. The competition is administered by the Virginia Center on Aging at Virginia Commonwealth University.
"This funding gives Liberty prestige while also enabling undergraduate students to work on things they wouldn't be able to otherwise," Isaacs said.
The grant will allow six of his undergraduate research assistants to continue studying the brain before and after the disease using mice, specifically looking at the DNA.
For the second year in a row, Isaacs' undergraduate students won a first-place award for their presentation on Alzheimer's research at the Virginia Academy of Science Annual Meeting in May, competing against both undergraduate and graduate students. Two other Liberty students won awards for their work as well.
Several of Isaacs' students have gone on to prestigious research institutions for graduate or medical school, including the University of Virginia, Virginia Tech, and Dartmouth. Many continue to perform outstanding research and receive praise for their work.
Isaacs recently received this feedback from a professor at another Virginia university:
"Each year, I am amazed at the quality of work that is presented by (Liberty) students at the VAS meeting. … It is clear that (Liberty) uses research to teach, and it is no surprise that many … students have gone on to successful graduate research careers themselves."
Computer Engineering, Computer Science programs receive ABET accreditation
Two bachelor's degree programs within the Liberty University School of Engineering & Computational Sciences (SECS) have been accredited by ABET, the recognized accreditor of college and university programs in applied science, computing, engineering, and engineering technology.
The Computer Engineering program has been accredited by the Engineering Accreditation Commission and the Computer Science program has been accredited by the Computing Accreditation Commission.
The school's Electrical Engineering and Industrial & Systems Engineering programs were accredited by ABET last year.
"We are proud to be able to say that 100 percent of our students from any current Liberty engineering program will have graduated under an ABET accredited program," said David Donahoo, dean of SECS. "Engineering at Liberty has reached a new age. With the accreditation of our programs complete, we now seek to expand our offerings to include mechanical engineering, while we continue to reflect and improve on our electrical, industrial, and computer programs."
The school graduated its first Computer Engineering students this past May. The accreditation is retroactive for their degrees.
SECS has worked hard over the last year to provide more opportunities for students entering the business and technology fields, Donahoo said.
"With our existing B.S. programs in Computer Science and Management of Information Systems, and our new M.S. programs in Information Systems Technology Management and Information Assurance, as well as the launching of our new M.S. in Cyber Security soon, every potential student desiring a technology-related degree can now find a path to that goal at Liberty."
TobyMac visits campus, partners with LU for tour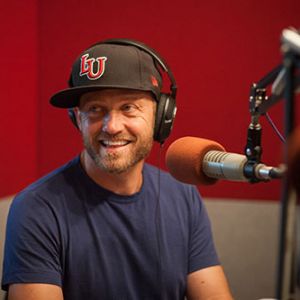 Six-time Grammy Award-winning recording artist and alumnus Toby McKeehan ('88), better known as TobyMac, visited campus on Aug. 28. One of his stops was Victory FM, which moved to its new site at Candlers Station Shopping Center in May after operating out of a building behind the Carter Glass Mansion on campus for more than 30 years.
McKeehan took the time to meet students. He watched the men's soccer team practice, coached by his longtime friend Jeff Alder, and visited with SOAR Dunk, one of Liberty's ministry teams, as they worked on their acrobatic basketball skills.
McKeehan also recorded promotional materials for Liberty, which is the primary sponsor of his upcoming Hits Deep Tour, Nov. 7-Dec. 15. Brandon Heath, Mandisa, Jamie Grace, Colton Dixon, Chris August, and Capital Kings are part of the lineup. Liberty's recruitment team will man a booth and give presentations on stage that will include prizes.
"Liberty is a school that definitely was pivotal in my life … it offered me a foundation for my spiritual life and for some of my friends that I have done my whole life with," McKeehan said, "It's nice to get that opportunity to tip my hat to something that played such a massive role in my life."
Liberty makes lists of top colleges for dining, safety, and intramurals
BestColleges.com recently listed Liberty University among the top schools for "Best Dining Halls," "Best College Campus Security," and "Best Intramurals."
Liberty's Reber-Thomas Dining Hall was listed alongside the University of Notre Dame, UCLA, Ohio State University, and Vanderbilt University for the best dining halls.
Reber-Thomas Dining Hall has 10 different dining stations, from homestyle favorites, Tex/Mex and Italian specialties, to an expansive soup and salad bar. "Simple Servings," a gluten- and other common allergen-free foods station, was recently added to serve nutritious meals for students with dietary restrictions. In addition to the dining hall, Liberty offers nearly 15 different dining options around campus, including Sub Connection, Doc's Diner, Dunkin' Donuts, Bistro 71, and Chick-fil-A.
Liberty was cited as a having "Best College Campus Security" for its exceptional campus police services, its self-defense classes for students, and its widespread campus  alert system.
Liberty's Intramural Sports program, one of the university's many campus recreation opportunities, was cited for the variety of sports offered. Students can participate in 20 different sports — including flag football, broomball, ultimate Frisbee, beach volleyball, and softball — with close to 7,000 students participating each year.
Earlier this year, another website, CollegeProwler.com, which ranks schools based on input from students, ranked Liberty in the top 25 for schools where students are both smart and attractive. It called Liberty a school where students "treat newcomers with respect" and avoid "drama in relationships."
Moody's upgrades Liberty's bond rating
Moody's Investors Service announced on Sept. 9 that it was upgrading Liberty University's bond rating from A1 to Aa3 with a stable outlook.
The Aa rating category is reserved by Moody's for obligations that are judged to be of high quality and are subject to very low credit risk. Liberty's Series 2012 taxable bonds now carry the Aa3 rating, placing the school among the 71 top rated universities in the nation by Moody's.
The latest report says the upgrade "reflects Liberty's remarkable momentum in revenue growth and cash flow from operations. This momentum, if continued, will produce sufficient cash to fund transformative capital investments as well as to build reserves over time."
Moody's cited Liberty's milestone in reaching $1 billion in net assets in fiscal year 2013. Liberty is the first evangelical Christian university and is one of the youngest American universities ever to reach this mark.
"The growth in revenue and cash and investments makes Liberty a true outlier in Moody's portfolio of not-for-profit universities," the report reads.
It also recognized Liberty's strength in growing its enrollment, "supported by an extensive array of online programs with full-time equivalent enrollment of over 50,000 making it one of the largest private universities in the U.S." The brand strength of its online program, it adds, "is built on the university's Christian identity, lower cost, and residential campus experience including intercollegiate athletics."
Liberty's total enrollment now exceeds 100,000, with over 13,000 resident students and more than 90,000 studying with Liberty University Online.
"Liberty achieved another remarkable year of revenue growth (up 13 percent to $728 million) as it continues to attract new online students and slowly build core residential programs," the report says.
It also outlined recent program expansion, including Liberty's new College of Osteopathic Medicine, which recently received provisional accreditation.
Liberty is in the process of replacing many structures on its campus that had become obsolete and is investing hundreds of millions of dollars in a multi-year campus transformation. Parts of the campus are being completely rebuilt. While the capital expansion is grand in scale, the university has kept its commitment to building reserves for the future its first financial priority.
"We came to the realization over the last 25 years that significant cash reserves and endowment funding was needed to ensure that Liberty University could fulfill its mission to provide Christian education for generations to come. It is rewarding when rating agencies recognize Liberty's commitment to and recent successes in building those resources for the future," said President Jerry Falwell, Jr. "Going through the ratings process over the last three years has been a real learning experience for our management team. When we met with Moody's last month in Manhattan, it was gratifying to hear from them how they had noticed that Liberty had reached certain financial milestones about one year earlier than we had predicted when we met with the same Moody's folks in 2010."
Bond ratings measure an institution's financial management and ability to pay back borrowed money on time and in full. Liberty marked its initial public bond offering when it issued $120 million worth of tax-exempt education facilities bonds in December 2010. In January 2012, Liberty announced its second IPO, this time in the corporate bond market selling $100 million of taxable bonds.
Last year, Liberty received another superior credit rating, "AA," from Standard & Poor's on its tax-exempt bonds. That credit rating placed Liberty in a group of 78 universities with the highest credit ratings in the nation.