With a faith in God that touches everything she strives to do, Liberty University's new dean of the School of Health Sciences, Dr. Heidi DiFrancesca, aims to train students across her departments to approach their research and service with a focus on God's calling on their lives.
DiFrancesca came to Liberty last fall after spending two years at Johns Hopkins University's Bloomberg School of Public Health, where she served as the Executive Director of Academic Affairs and taught graduate-level courses as an associate scientist and professor. Prior to Johns Hopkins, DiFrancesca served as associate dean for the School of Natural Sciences at the University of Mary Hardin-Baylor.
DiFrancesca found her interest and calling in the sciences after taking introductory biology courses at Lee University. Feeling her curiosity stirred, she soon switched her major from communications and journalism to molecular biology. Learning the intricacies of God's creation, including the design of the human body, became her driving passion.
"I found something that deeply resonated with me, and as I got further into my education, I became increasingly more intrigued about molecular biology and the way the body works," DiFrancesca said. "The inherent design of our body by God, the beauty and complexity of what He had created, it's fascinating. Studying the human body allows me to see God in a unique way — His nature and His love and compassion for humanity. Through my studies, I began to recognize in a very tangible way that I am His creation; we are all His creation, intentionally and brilliantly designed with purpose."
DiFrancesca's graduate-level research focused on molecular cancer biology and the prognostic and diagnostic value of a specific enzyme, steroid sulfatase, as it relates to hormone-dependent breast cancers. As a graduate teaching assistant, she began to realize she had a passion for teaching, too.
"I really fell in love with teaching during that time," she said. "I found myself having greater interest in it and could really see myself in an education role as an academician. As a graduate student, through my experiences in teaching and mentoring undergraduate students, I started to recognize that teaching is a gift I have."
Her early teaching experiences shaped the direction of her career.
"It became increasingly apparent to me that education is the cornerstone for empowering success both within academics and beyond," she said. "I understood this for myself, but now it had a broader meaning — I am able to be a part of something bigger than just me."
DiFrancesca went on to earn a doctorate in molecular biology from Duquesne University. After college, while she was running an undergraduate research lab at McMurry University in Texas, DiFrancesca gave birth to her daughter, Brielle, who was diagnosed with Down syndrome. Brielle was born with significant medical complications that required an extended hospital stay followed by considerable acute care. Needing the time to focus on her daughter's health, DiFrancesca took a three-year hiatus. When she returned to her career, her inclination toward academics was even stronger, leading her to Mary Hardin-Baylor and, later, Johns Hopkins.
"There is not a separation between my faith and my professional role, because my faith informs everything that I do, and I am not who I am without my faith. I attribute the favor that I've gained and my successes as a result of my relationship with Christ — the most important thing about me — and I want that to be recognizable."

— Dr. Heidi DiFrancesca, Dean, School of Health Sciences
Being able to contribute to students' success is an approach that she's taken throughout her career — first as a faculty member and then as she stepped into leadership positions with greater influence. As a leader, she recognizes the impact her influence can have, and this is not something that she takes lightly.
Now living in her home state (she grew up in Virginia Beach), DiFrancesca said she has cherished the opportunity to work among fellow Christians at Liberty who are outspoken and active in their faith, using their expertise in their chosen field to Train Champions for Christ.
"It is so refreshing to be in a university that is unapologetically Christian, that values Christian principles, and that stands on biblical principles," she said. "I certainly see that lived out among the faculty, the administrators, and the students. They understand the importance of faith and the role that their faith has in their lives."
DiFrancesca considers her faith inseparable from her work, and she hopes that those she interacts with at Liberty can see that in her.
"There is not a separation between my faith and my professional role, because my faith informs everything that I do, and I am not who I am without my faith," she said. "I attribute the favor that I've gained and my successes as a result of my relationship with Christ — the most important thing about me — and I want that to be recognizable."
DiFrancesca also praised the caliber of the three departments in the School of Health Sciences — Biology & Chemistry, Public & Community Health, and Allied Health Professions — and shared her goal of building upon what Liberty has already been doing to train students for the workforce, especially in the current healthcare climate.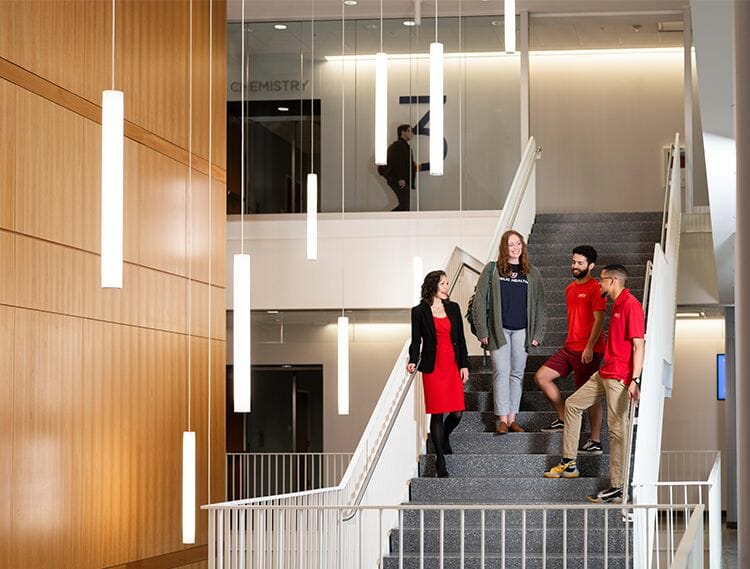 "Healthcare as a whole is changing across the country and the globe, and I think it's important for us to look at the landscape of healthcare and the allied health professions and public health sector to see where we might build out programs that could prepare individuals for the positions that are growing," she said. "We know healthcare is growing pretty significantly, so we're asking what we can do to help get Christians in those areas where they can impact individuals and the nation."
The dean said she also wants to ensure that each of the degree programs within the School of Health Sciences continues to align with workforce trends and demands so that students are equipped for their careers in the medical, scientific, education, and/or healthcare community as scientists, teachers, doctors, and allied health or public health professionals.
"We have some very solid degree programs, and I want to see us build upon those strengths so that we can prepare this next generation of champions who are going to go out and change the world and bring the message of hope and healing to a world that desperately needs it," she added.
DiFrancesca said she and her family have settled in well to campus and are thoroughly enjoying everything Liberty has to offer. Brielle has become an instant Flames fan.
"Given the challenging start to her young life, my husband (of 22 years), Mark, and I see our 11-year old as our miracle from God," she said. "Brielle is our gift and really is the light of our lives. She is so excited to be here at Liberty, and she is already a huge fan of Liberty. She loves being on campus, interacting with the students. She feels like she is a part of the Liberty community, which is huge for us. She also enjoys attending the sports events, cheering on her new favorite team. It's been a really good transition for us."