You don't need a runway when you have a floatplane.
This is the phrase that Luke Hamer ('13) said God used to redirect him and his wife, Tracy ('13), on their path to Papua New Guinea.
After graduation, the couple, who met while pursuing their B.S. in Aeronautics and Associate of Arts in Aviation Maintenance Technology, first settled in Florida, where they worked teaching people how to fly floatplanes (planes that land on water).
"It became our skill," Luke Hamer said. "We hadn't landed a plane on a runway in years."
They moved to Ketchikan, Alaska, in 2015 and started looking at mission organizations in need of floatplane pilots. A fellow Liberty alumnus told them about Samaritan Aviation, a nonprofit organization that provides emergency flights to the nearly 220,000 people living along the Sepik River in Papua New Guinea. Because the river is surrounded by dense jungle, it can take up to seven days for someone to receive medical attention. With floatplanes, pilots are able to fly patients to the hospital within an hour.
"God really blessed us with the ability to fly floatplanes, and there was a need there," Luke said. "If that was all there was, then that was enough for us (to move there)."
The couple said the move to the Pacific island was a "wild ride" as they had to quickly adjust from the northern climate to the grueling heat and encounter many different languages and primitive cultures.
"It's like stepping back 200 years once you get on the river," Luke said.
The Hamers have transported patients coping with everything from pregnancy complications to snake bites and spear wounds.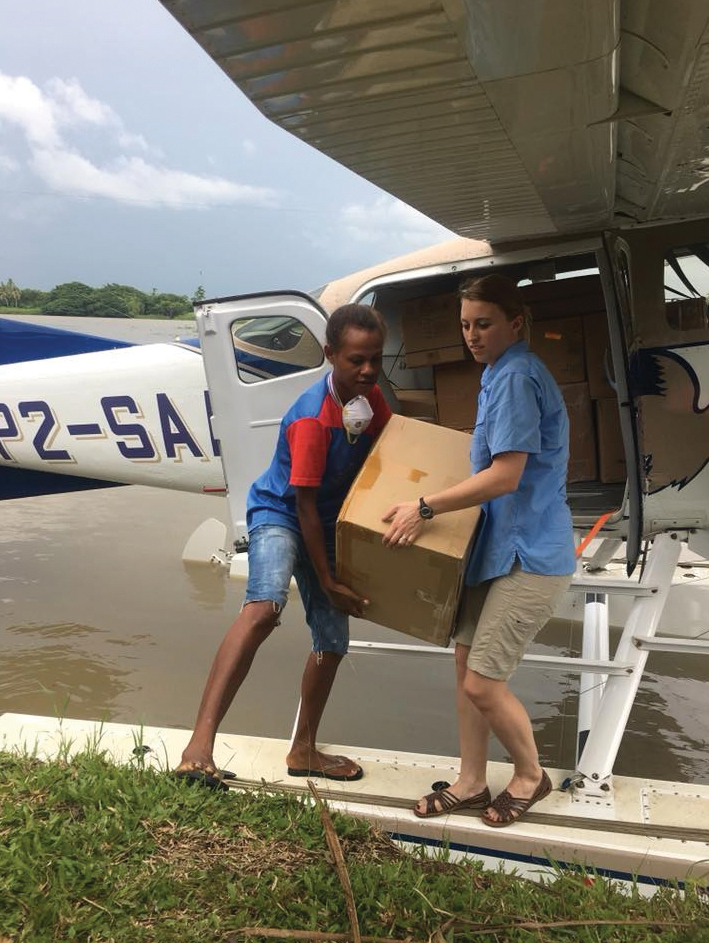 All patients are flown to the hospital for free. The flight crew spends time with them and, ultimately, shares the Gospel.
"A lot of times, they haven't heard of Jesus, or they haven't heard about grace or love," Luke said. "In their languages, there's a very limited vocabulary when it comes to those subjects, and you have to constantly paint a picture of what that looks like."
There are nearly 850 different languages spoken on the island. Luke said that many people there believe in the spirit of nature, but they also believe heavily in revenge and fear. However, when they see their medical expenses are paid for, they experience grace and compassion in a tangible way.
"It's the story of the good Samaritan," he said. "We're helping the physical need so we can address the spiritual need."
The Hamers have also made history in Papua New Guinea. Tracy Hamer is the only recorded female floatplane pilot in the country's history, which is a huge milestone in a culture where women are viewed as second-class citizens.
"We always thought we would get pushback for having Tracy fly," Luke said. "But they love it. All of our pilots wear a blue shirt, and the patients always ask why Tracy has on a blue shirt. Here, they have this thing where if something is unbelievable or mind-blowing, they flick their tooth with their nail and make a popping sound. Tracy always gets it whenever she tells people she flies the airplane."
Tracy Hamer said she uses her job to be an encouragement to the women of Papua New Guinea.
"I can tell them it is only because of God's grace that I have come this far," she said. "I also hope to inspire them to be more than they think they are capable of, especially since they are immersed in such a male-dominated culture."
Luke said if it wasn't for their time at Liberty, the couple would not be on the mission field.
"I think for both of us, our faith was solidified while at Liberty, and it put us on the right track," he said. "God definitely used that time to stretch us and mold us."
Tracy said she has many people to thank at Liberty.
"I am so thankful for all the spiritual encouragement and learning from my professors, campus staff, and leadership on my hall," she said. "The aviation professors are dedicated to training students to be their very best. Though aviation is still a man's world, I always felt and was treated like an equal in the aviation department at Liberty."
Currently, the Hamers are back in the states celebrating the birth of their first child, Lorelai Mae, who was born in September. They plan to return to Papua New Guinea in January.
Forty-seven years ago, Liberty University's founder, Dr. Jerry Falwell, formed a new college to Train Champions for Christ who would impact the world in all fields. At the time, many of the programs that we now offer — such as aviation and law — were only a dream. But today, thousands of alumni from a broad range of degree programs are spread throughout the globe, championing the causes of others. They are the voice for the voiceless. They are bringing healing to the hurting. And they are fighting for the oppressed.
Read more inspiring stories from graduates who are changing lives daily by following God's calling wherever it leads them — in the true champion tradition of Liberty University:
Know more Champions for Christ who are fulfilling the vision? Email us at news@localhost or connect with us on social media using #WeTheChampions.
Read more Champion stories at Liberty.edu/Champions.