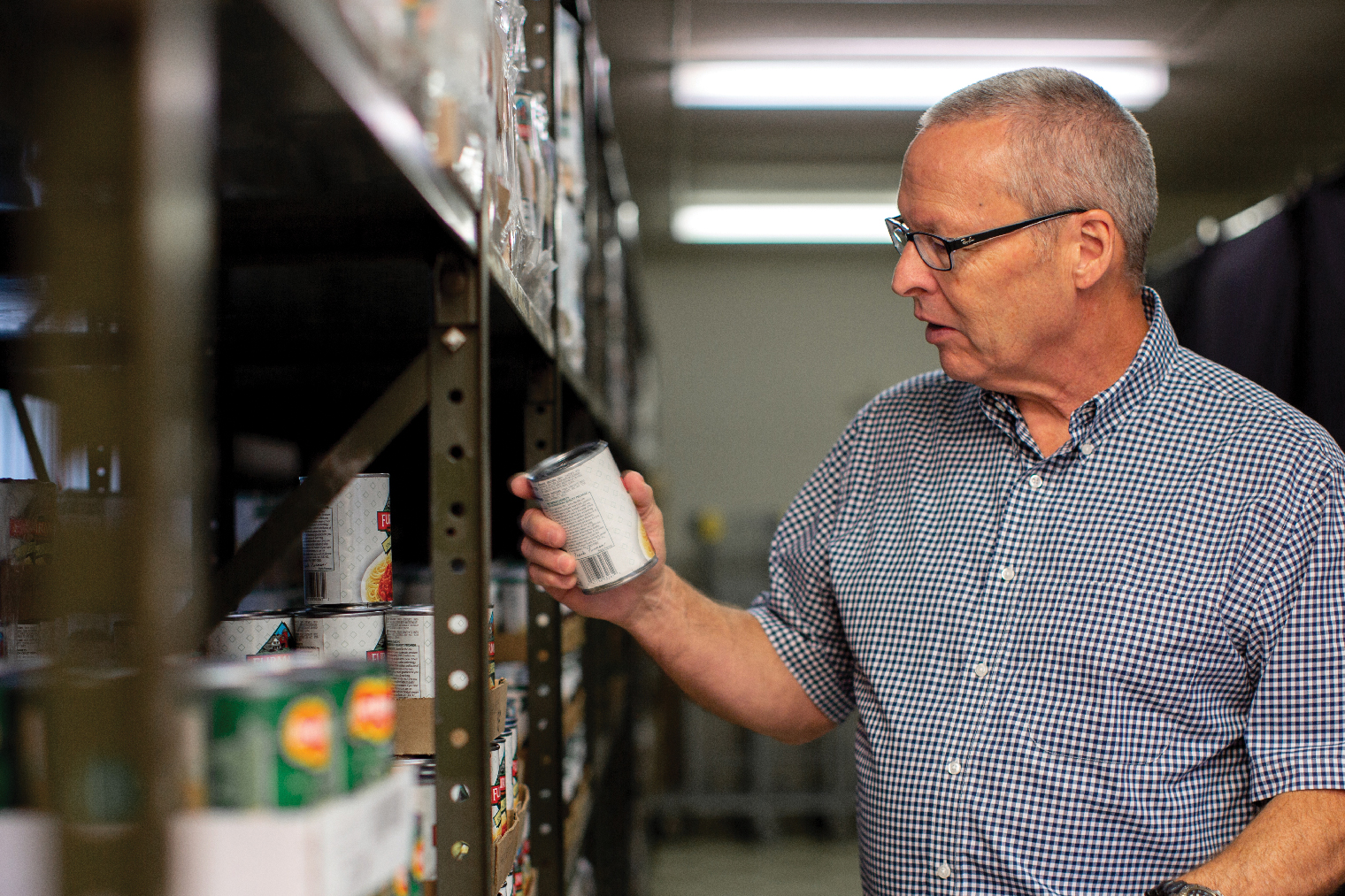 Gordy Harper ('94) jokes that it only cost him $50 to attend Liberty University.
He first arrived in 1976, but he wasn't sure it was the place for him. In fact, he said he could barely call it a campus.
There were no permanent buildings or residence halls — just a mountainside and empty farmland. He remembers standing there in the snow at a prayer meeting with the rest of the student body asking God to provide a campus.
After one year, he left Liberty to enter the motorcycle business in Virginia Beach, Va. He returned to Lynchburg in 1985, and six years later felt the need to finish what he started at Liberty. Dr. Jerry Falwell, Liberty's founder, offered him a scholarship to cover his tuition.
"That even included my $50 parking ticket, but I made sure to pay that because I didn't feel comfortable having that erased, too," he said.
Harper graduated with a degree in psychology and moved to Tampa, Fla., in 1999. He lived there for the next 15 years until one of his daughters decided to attend Liberty.
"When we came to visit, we realized how much we missed everyone here," Harper said. "We bought a home and split our time between Virginia and Florida."
Eventually, he settled in Lynchburg for good. That's when he and his wife began serving at the Agape Center in Moneta, Va., a clothing and food ministry supported by area churches.
"There was a part of me that always thought I had missed out on God's calling for my life," Harper said. "But He began drawing something out of me once we left Tampa and came to Lynchburg. Helping others just became my passion."
He started small with helping an elderly woman cut her lawn, but then moved on to bigger things once he became more involved with the center.
"I remember there was this one woman who was in need of spoons, and we didn't have any to give her," he said. "She was heartbroken. The everyday things we take for granted are what people need. God just kept pushing me down this path to want to meet people's physical needs while giving me a deeper understanding and more compassion."
In 2016, he became director of the Food for Families ministry at Park View Community Mission in Lynchburg, which is housed in an old church on Memorial Avenue. In addition to the food pantry, the mission offers educational classes and mentoring programs in cooperation with other community partners.
Now, as executive director, Harper has revitalized the mission. He paid attention to details that helped community members feel more welcomed and valued.
"People would tell us that when they would go to food pantries, they felt disrespected," Harper said. So he added little touches, such as handwritten signs and new paint.
"We call them neighbors, and I wanted them to feel like they were in a real store," he said. "We make sure the shelves are well-stocked and clean, and we give great customer service."
The mission serves about 15,000 to 20,000 individuals each year. Harper said volunteers are the reason that the mission is able to reach so many people. Many of the volunteers are Liberty students.
"We love when the students are here, and we miss them over the summer," Harper said. "They just have a heart for the neighbors we serve."
Senior Rachel Koenig began volunteering at Park View in 2017. Seeing Harper's passion to help the community inspired her to work there.
"Gordy walked me through each of the rooms and explained what they handed out to customers in each one," Koenig said. "By the end, I was crying, and I knew that was where God wanted me and that God was truly doing something through this ministry."
Koenig will become the assistant executive director after she graduates in December.
Harper said Dr. Falwell's example of faith led him to where he is today, and he is thankful for the second chance he was given many years ago. The prayers from his first year at Liberty have truly been answered, he said.
"It blows my mind to see what the campus has become. I drive past the campus every day, and it's unbelievable. I never had a sense of what Liberty could become, but Dr. Falwell did."
If you are interested in serving with Park View Community Mission, contact (434) 333-5162 or email gordyharper57@gmail.com.
Forty-seven years ago, Liberty University's founder, Dr. Jerry Falwell, formed a new college to Train Champions for Christ who would impact the world in all fields. At the time, many of the programs that we now offer — such as aviation and law — were only a dream. But today, thousands of alumni from a broad range of degree programs are spread throughout the globe, championing the causes of others. They are the voice for the voiceless. They are bringing healing to the hurting. And they are fighting for the oppressed.
Read more inspiring stories from graduates who are changing lives daily by following God's calling wherever it leads them — in the true champion tradition of Liberty University:
Know more Champions for Christ who are fulfilling the vision? Email us at news@localhost or connect with us on social media using #WeTheChampions.
Read more Champion stories at Liberty.edu/Champions.