Liberty's Golden Anniversary is well underway, with multiple opportunities to join the celebration
The big 5-0. It marks a major milestone for anyone, whether blowing out candles on a cake, cherishing the bond of marriage, or celebrating business goals. It brings us to a place where we can pause to reflect on how far we've come and focus our sights on a promising future. They call it a "golden" anniversary because it symbolizes years of refinement to reach this foothold and, like the precious mineral, to come out shining with pure strength and beauty.
In early August, a few weeks before residential classes began, the first signs of Liberty University's yearlong 50th Anniversary celebration could be seen across campus. A massive banner bearing an official 50 Years seal adorned the School of Business building. Signs were hung from lamp posts along main campus streets, and even the roundabouts on campus roads were stamped with 50th logos. Emblazoned on the windows of the Montview Student Union, overlooking the Academic Lawn, was the anniversary theme: "50 Years of Training Champions for Christ."
It was definitely obvious to students upon their return that this was going to be a special year of celebration.
A new website — Liberty.edu/50 — became the hub for all stories, news, and events surrounding the yearlong anniversary. With historical pictures, a timeline of major events in the school's history, and memories from alumni through the decades, the Liberty family can learn about the past and ways to join the celebration from near and far.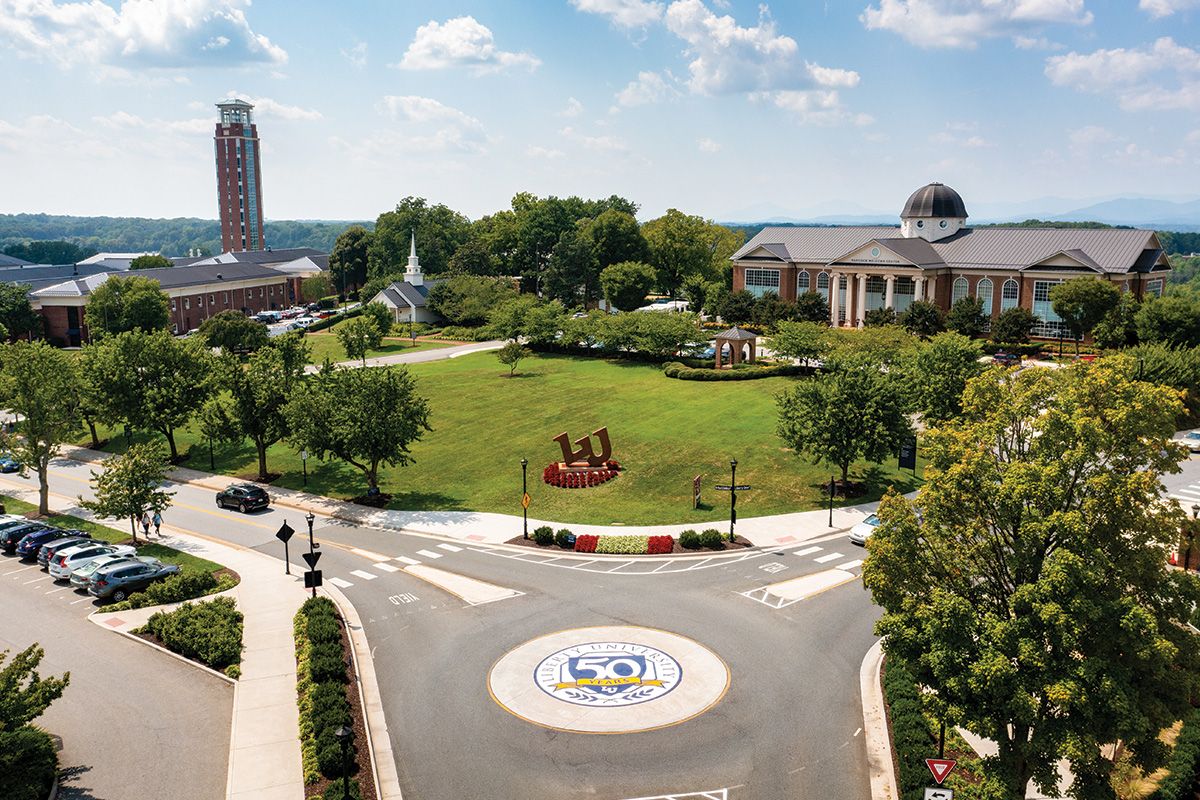 Representatives from multiple departments across the university have collaborated on ways to celebrate the anniversary on campus and online, meeting regularly for over a year to coordinate the rollout with Liberty's Marketing Department. Leadership teams have worked hard to ensure that all members of the Liberty community — faculty, staff, students, alumni, supporters, and family and friends of the university — have an opportunity to become involved in the celebration.
Faculty were the first to learn more about the 50th Anniversary at their orientation on Aug. 12, where President Jerry Prevo emphasized their essential role in preserving the university's original mission as they serve students and teach them through a Scriptural lens.
"I don't meet with these students every day or every three days, but you do," Prevo told them. "We're dependent on you to Train Champions for Christ, to be world changers, and you've been doing that, and I know you're going to continue to. I want you to know that I appreciate that. I know (the late) Dr. Jerry Falwell, our founder, would appreciate that."
LEGACY OF FAITH TOUR
Created especially for Liberty's 50th anniversary and launched on Homecoming Weekend, the Legacy of Faith Tour is a self-guided walking tour that takes guests to nine sites on campus where they can view videos about Dr. Jerry Falwell's vision and hear about God's blessings on Liberty University. The tour starts at Hancock Welcome Center. At each marker along the way, guests scan a QR code on their mobile device that will take them to the relevant video.
Dr. Falwell walked and prayed over much of the same ground, before any campus buildings were constructed. This interactive experience is a literal walk down memory lane, as guests can reflect upon the years of prayer and faith that forged what Liberty is today. The tour will remain available to all guests to the university. The videos can also be viewed at Liberty.edu/LegacyTour.
He assured them that Falwell's vision will never be compromised.
"We're celebrating our 50th year," he said. "What a tremendous accomplishment, and we are still biblically based, upholding the truths of God's Word that have been in existence for 2,000 years.
We haven't gone the way other colleges that are Christian have gone (straying from their mission), and we're not going to go that way."
A few weeks later, on Sept. 3, the student body had their formal introduction to the anniversary celebration during the first Convocation of the school year. The event began with the same powerful message of a vision that began 50 years ago and is being fulfilled today. On the videoboard inside Williams Stadium, students watched scenes from throughout Liberty's history, narrated in the words of founder Dr. Jerry Falwell, which illustrated the God-inspired vision and tremendous growth of the university over the last 50 years. Campus Pastor Jonathan Falwell said the day was a culmination of all that his father spoke of when he founded Liberty in 1971.
"What you just saw was talking about vision — a vision that came from the heart of God and was given to the heart of a man, and that man was simply saying, 'God, here I am, use me.' We sit here now, today, 50 years later, and we see what God can do with anyone who says, 'God, here I am.'"
Falwell said that while the year is a special time to look back at the school's beginnings, it is also about looking forward.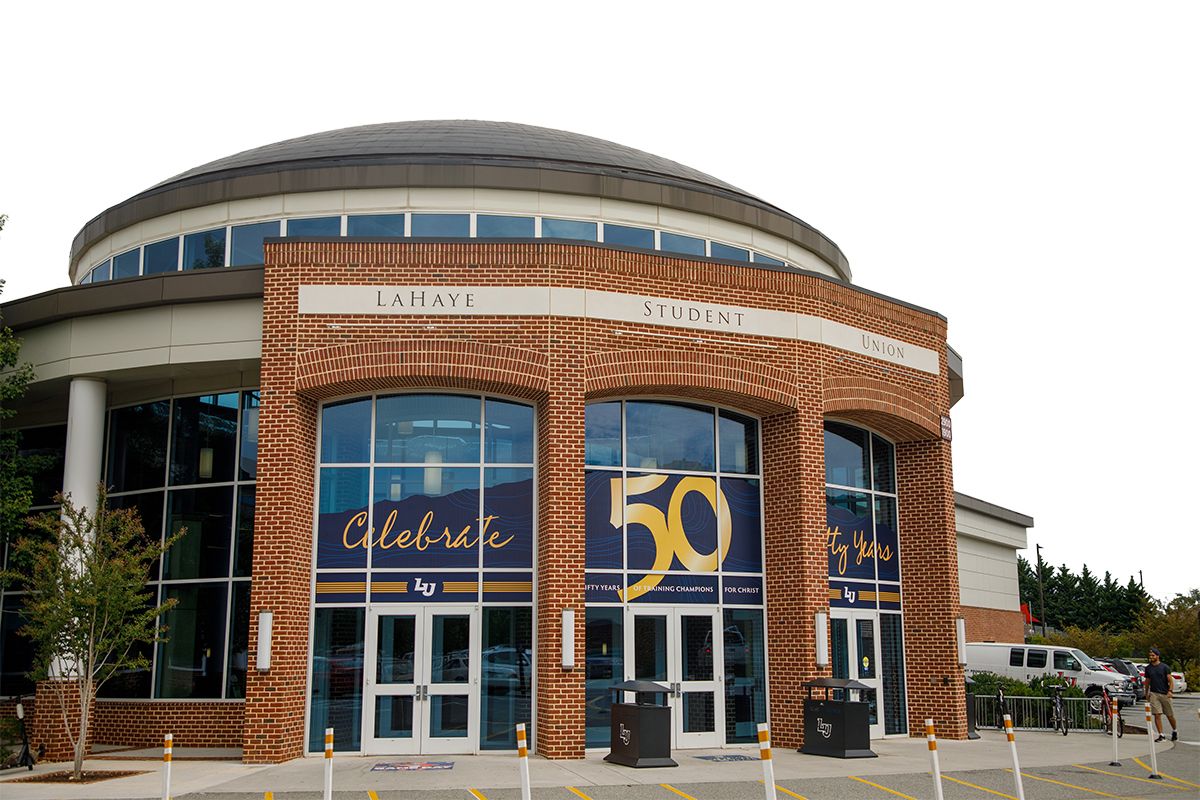 "We celebrate, this fall, 50 years on this mountain, 50 years of what God has done through Liberty University. And while we take a moment to look back at what God has done in the past, what we really need to be focused on is what God is going to do in the future … through you (students)," he said. "We're excited about what is ahead for Liberty University, but we are more excited about what is ahead for each and every student who is a part of this campus today as they are becoming Champions for Christ in our world."
Liberty's academic departments are engaging students and alumni in anniversary events.
The John W. Rawlings School of Divinity kicked off the school year with its 50 Days of Prayer. Each day, videos were posted to Facebook and Instagram featuring faculty from various academic departments, coaches, and Spiritual Development staff leading prayers for the university, thanking God for the past 50 years and asking for His continued blessings for the next 50 years of impact. President Prevo, Jonathan Falwell, and School of Divinity leadership helped launch the initiative with Facebook Live events. (You can still take part by watching the videos on Facebook and joining in prayer throughout the year).
The School of Communication & the Arts is participating in a series of creative projects. The Liberty University Art Gallery will feature a special exhibit this spring related to the 50th Anniversary and showcasing the work of Studio & Digital Arts students as well as pieces from the university's permanent collection, including the paintings of the late Macel Falwell, wife of Jerry Falwell Sr. The Cinematic Arts, Zaki Gordon Center is producing a special video with footage from major moments in Liberty's history.
The History Department will publish a special commemorative edition of "Bound Away," its graduate student journal, that will feature reminiscences from faculty and graduates, including pieces from the late Dr. Mark Steinhoff and Dr. Boyd Rist, former department chair, dean, and provost. The issue is scheduled to publish by the end of the year and will be available on Liberty's Digital Commons.
The Online Provost's Office, with the assistance of deans from each school, has planned events throughout the academic year. Activities include celebrations for Liberty's rise as a global leader in online education, featuring "Fabulous 50" online alumni, and initiatives for Giving Day on Nov. 3.
Homecoming ushered in many reunions for the different schools within Liberty, as well as an alumni dinner and a special concert by the School of Music celebrating 50 years of music at Liberty (read more on the following pages).
Liberty's main social media platforms will continue to celebrate the anniversary this year with Then & Now throwback videos and posts for Founder Fridays and 50 Fridays. Future posts will feature Liberty history trivia, takeovers, and giveaways.
The yearlong celebration will culminate on May 7, when Liberty will recognize the Class of 2022 and welcome graduates and their friends and families to Liberty Mountain for a special 50th Anniversary Commencement.
---
Athletics programs take part in the anniversary
Over the last 50 years, Liberty created a diverse, faithful, and global community of Champions for Christ. That community includes student-athletes from Liberty's 20 NCAA Athletics programs and 42 Club Sports teams who have gone from being game changers to world changers in their chosen fields.
Many athletics venues are sporting 50th Anniversary banners and signs. Two large "50" logos have replaced the regular 50-yard line markers in Williams Stadium, and a large "LU 50" flag is carried across the field after every touchdown. The Spirit of the Mountain Marching Band is getting in on the action at home games by forming a 50 in their pregame show.
Large anniversary banners adorn the Liberty Baseball Stadium, Liberty Arena, and the press box at the Liberty Lacrosse Fields. Fiftieth logos decorate the boards and the Olympia ice resurfacers in the  LaHaye Ice Center.
Some student-athletes are also being outfitted with special 50th logo patches and decals on uniforms and helmets.
In recognition of the 50th Anniversary, Liberty Athletics is posting special moments in history to its social media platforms and website, including weekly "Top Moments from the Past 50 Years." All 68 members of the Liberty Athletics Hall of Fame are also being spotlighted in a weekly video feature focusing on their careers at Liberty
and beyond.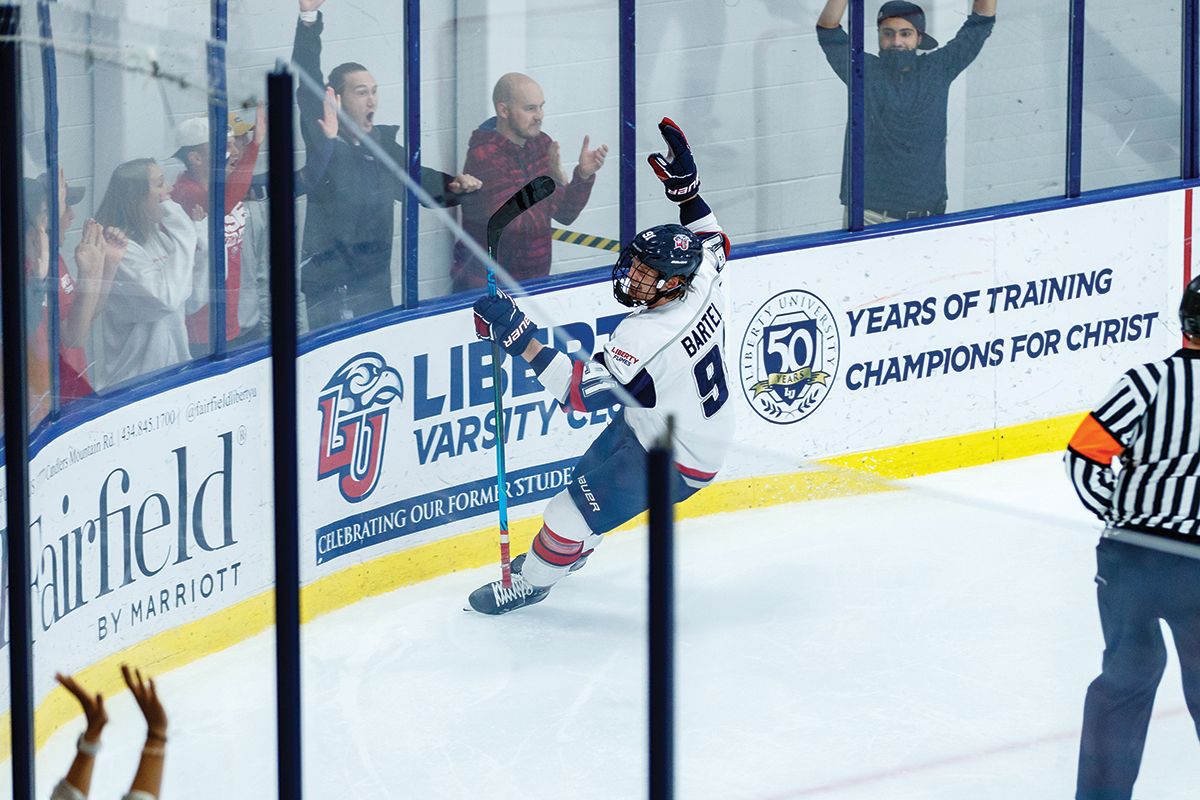 Over Homecoming Weekend, several teams held reunions. The men's hockey program held an alumni gathering for players dating back to the team's inaugural season in 1984, and former men's lacrosse players returned for an annual contest against current players.
"What Liberty has been able to do is nothing but a miracle of the Lord to see the progress that's been made in 50 years," said Club Sports Athletic Director Kirk Handy, who is in his 22nd season as Head Coach of the ACHA Division I men's hockey team after playing for the Flames from 1995-99. "I've been here half of those years as a student and on staff. A major reason why Liberty was started was to impact the lives of young people, and a true testament (of that) is the student-athletes who come through here and are sent out and make an impact in the world as Champions For Christ through their careers and lives."