Flames take on No. 1 Virginia Cavaliers
The Liberty Flames men's tennis team began its season Jan. 19 with a daunting matchup, welcoming the No. 1 Virginia Cavaliers to Lynchburg. 
The Flames, coming off an ASUN Conference Championship, were unable to hold off UVA, falling to 0-1 after losing the match 7-0. Virginia extended its win streak, which started last season, to 26 matches.
The Flames, however, didn't fall without a fight. The match began with a fairly dominant showing from UVA as the Cavaliers took the doubles point, but the Flames had several players give a great effort in the singles matches. The most notable performance of the day for Liberty came from Zion Heaven, the 6-foot-5-inch senior from Hawaii. Heaven was the only Flame to take a set from the Cavaliers, as he and Bar Botzer went into a thrilling tiebreaker. Botzer ended up stealing the point for the Cavaliers, defeating Heaven 21-19 in the tiebreaker.
"I've never seen a tiebreaker go 21-19, and I've never even seen anything close to that," Head Coach Derek Schwandt said. "You can easily see that Zion put his whole heart, soul and mind into that match."
Another significant performance for the Flames came from junior Deji Thomas-Smith, who narrowly lost his second set, 6-7, giving Virginia's Jeffrey Von Der Schulenburg a challenge. Redshirt junior Thando Longwe-Smit also had a nice showing for the Flames after playing two closely contested sets before narrowly losing them both, 4-6 and 6-7.
The Cavaliers saw solid outings from Inaka Montes De La Torre, Ryan Goetz and Chris Rodesch, as the team had a straight sweep in five of six of its singles matches.
"It was a real honor to host the No. 1 team," Schwandt said. "We really respect their enthusiasm for the way they compete and their work ethic. There's a reason they're No. 1. It was a big honor to get to start our season against them, and we definitely wanted to take advantage of the opportunity."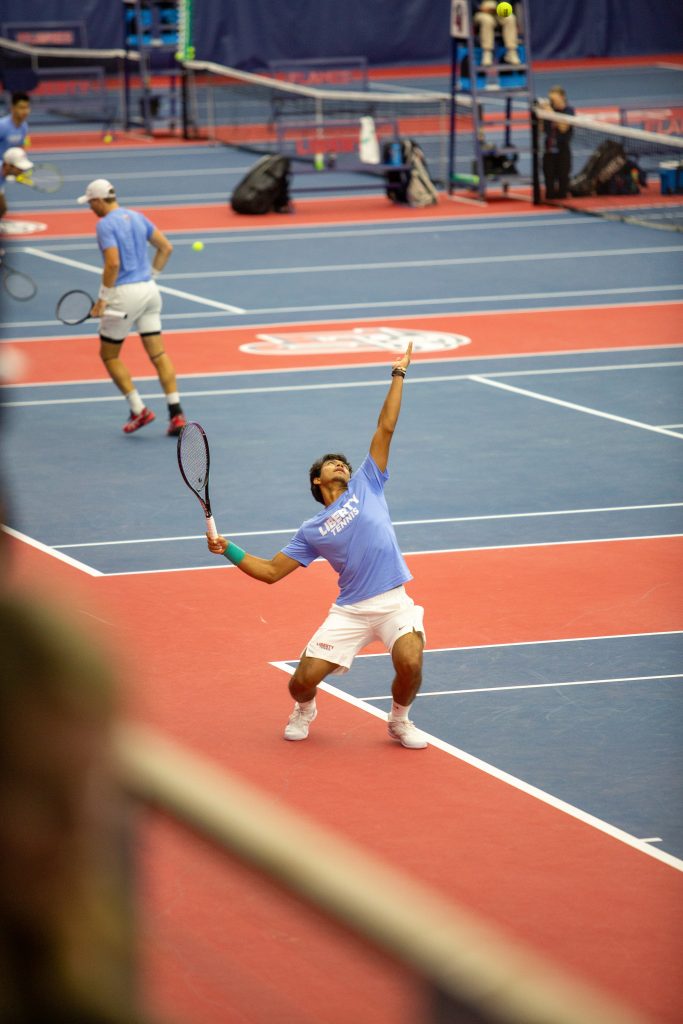 The Flames have matched up with UVA four times in program history, but never at home. Schwandt began his coaching career as an assistant for Virginia and said it's always special to be able to play the program where it all started for him.
"You keep relationships from coaching and create a brotherhood," Schwandt said. "I've stayed in touch with some of the other coaches, and my boss while I was there has been the biggest supporter of me wherever I've been and has helped me in each step of the coaching journey."
After dropping their first match of the new season, the Flames bounced back in a big way. They hosted a shorthanded Tennessee Tech team, who they handily defeated by a score of 6-1. Unlike their first match where the Cavaliers swept the Flames in all six singles matches, the Flames were able to do the same to Tennessee Tech, sweeping them in all four contests.
The Flames went on to win the match 6-1, making them 1-1 so far on the season. The Flames face off against the Queens Royals for match three of their season-opening homestand on Wednesday,
Jan 25.
Willard is a sports reporter for the Liberty Champion. Follow him on Twitter