Around 200 students gather to hear singers, bands, poetry readings, and more at first Open Mic

The first Open Mic of the spring semester, hosted by Student Activities, took place on Jan. 17, allowing students to demonstrate their talents live and in front of an audience. 
Open Mics feature students with a variety of talents, creating a space where performers feel comfortable stepping out of their comfort zones to perform in front of an audience.
The event took place in front of the Starbucks in Montview, making it accessible for the audience.
With both residential and commuter students in attendance, around 200 students gathered to watch their peers perform.
Open Mic is just one of the many events put on during the semester by Student Activities that lets students showcase their abilities.
A variety of talents took the stage, including bands, solo artists, poetry readings, sing-alongs and a jazz group.
Open Mic has gained popularity over the past year, allowing students of different talents to become aware of the event and showcase their acts.
Elisabeth Hardy, Student Activities event supervisor, said that Open Mic attendance varies depending on the week, but the average for the fall semester was 275 students.
"Student Activities put on events like Open Mic Nights to create a space for communities to be formed or to gather together," Hardy said. "We love seeing students make lifelong friends or just do something fun with the friends that they already have at an environment that fosters culture."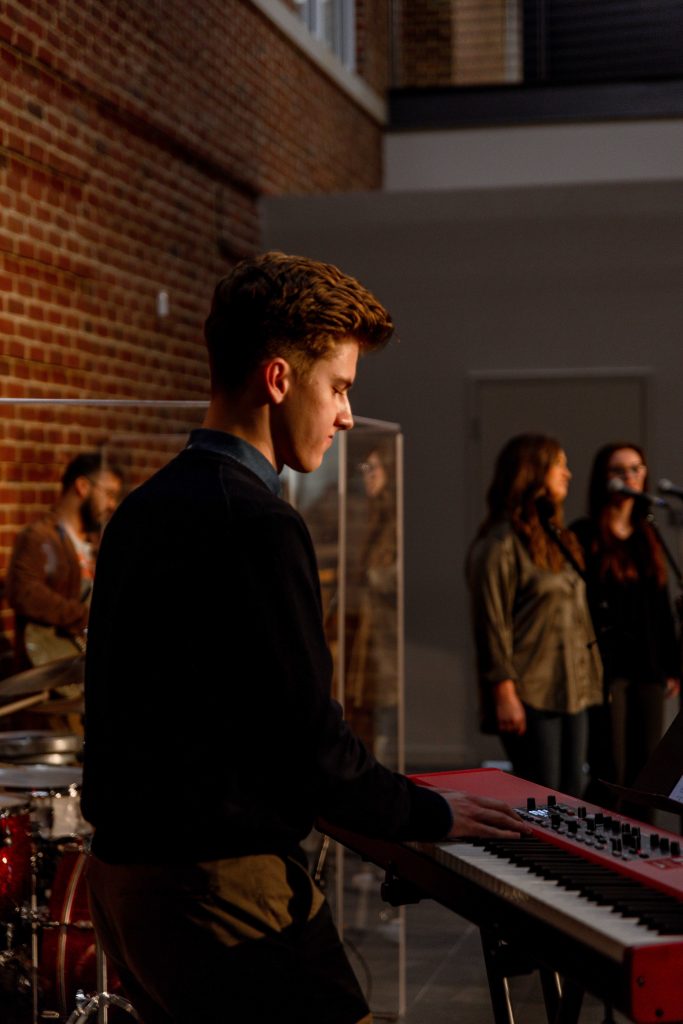 Freshman Brooklyn Woodard said that Open Mic allowed her to connect with other students with similar interests. Woodard said that she tried the event for the first time and plans to return in the future. 
"You get to meet students that kind of have the same talents that you have … and (get to) share something that you really enjoy with each other," Woodard said.
This Open Mic was the first large event put on by Student Activities for the semester, providing students with a way to reconnect with peers or to create new connections. 
Student Activities staff member Storm Nickerson said that he was able to enjoy Open Mic with his coworkers as well as perform. The junior said that these events allow him to relate to and connect with other performers.
"Personally, I think that it takes a lot of stomach to get up on a stage, and so when you're up there with someone else who is also about to get up on stage, you kind of you have something to relate to," Nickerson said.
Student Activities hosts Open Mics throughout the semester, promoting student engagement.
The department ran a promotion for the event, having a free chips-and-salsa bar for anyone in attendance. 
"It's a great opportunity for students to showcase their talents such as singing or stand-up comedy," Hardy said. "It's also a great place to get together with friends and enjoy those same peoples' talents."
The next Open Mic will take place Tuesday, Jan. 24 at 7 p.m. at the Montview Starbucks.
For more information on Student Activities events and additional Open Mic dates, visit the student activities website. 
Zagursky is a news reporter for the Liberty Champion. Follow her on Twitter