Veteran Carries Flag Around Campus To Honor Fallen Veterans
Oftentimes, patriotism is recognized through a proud salute to the flag, a hand on the heart for the national anthem or a large celebration in honor of Independence Day. For one student veteran, patriotism is boldly carrying the American flag with him throughout campus.
"I get chills every time I see the flag and hear the national anthem," John Williamson said. "It's like the flag is in my blood and it's part of me."
Williamson, 24, is a junior at Liberty University. The Virginia native served as a reservist for five years as a motor transport operator for the United States Marine Corps, with one month of active duty. He is currently on recall and has the possibility of being called back for two more years.
The morning of election day 2020, Williamson showed his excitement for voting in a different way. Before he left his Commons 1 dorm, he grabbed his American flag that hangs on a silver pole in his room and carried it whereever he went that day. And he has not stopped.
"It's not a political thing. It's absolutely not a political thing," Williamson said. "I'm just proud of my country."
Williamson's military background caused him to grow an extreme appreciation for the flag. For him, the flag represents patriotism and honors his friends who have died while in service.
Williamson has lost a few friends to the mental health struggles that veterans face. One was a childhood friend that Williamson's mother taught in high school. He joined the military a year before Williamson and experienced intense combat first hand. In dealing with the trauma related to serving in combat, he developed a problem with alcohol and committed suicide.
"That really opened my eyes to see a big struggle that a lot of people go through, and they just don't tell anyone," Williamson said. "Nobody in his family knew what was going on."
Williamson lost another close friend, Wolfgang Weninger, whom he met in his first unit at boot camp. While in preparation for special operations, Weninger was sent to the United States Army Airborne School for basic paratrooper training and died in a training accident. Williamson drove from Richmond to the Cleveland area to attend Weninger's funeral.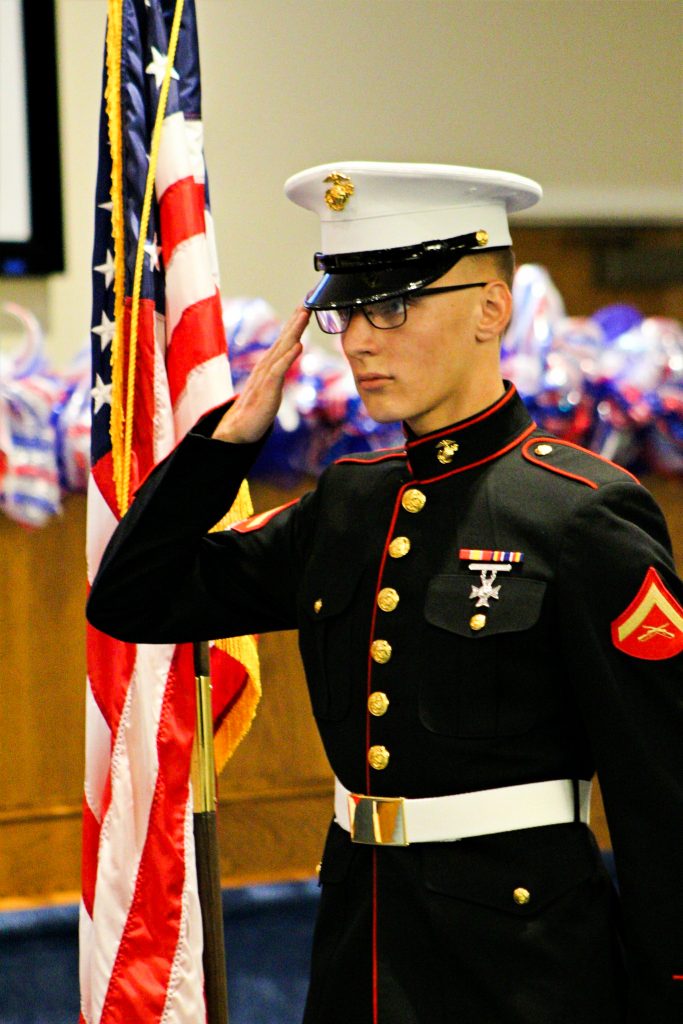 "His parents were definitely touched that I would drive so far," Williamson said. "To me it was just the right thing to do, because he played such a big role in my life."
Carrying the flag has been a way to start conversations on campus, and Williamson receives mixed reactions. Some people have made simple comments such as, "nice flag," others are quick to point out the bad aspects of the country and some have simply asked him why he carries it.
Overall, he has found that Liberty is a campus where most people have a sense of patriotism, especially those at the Veterans Center.
No matter the reaction, Williamson sees the act as a small effort that allows him to share what the American flag means to him.
"[The flag] symbolizes the men and women who fought and sacrificed their lives so that we can enjoy the freedoms this country is founded upon," Williamson said.
Peyton MacKenzie is a Feature Reporter. Follow her on Twitter at @PeytMacK.