Nashville Artists Hold Unique Workshops for school of Music Students
Liberty University students get a look into the behind-the-scenes world of Nashville session musicians, a hidden process only a few professionals ever get the opportunity to see.
From Sept. 14 to Sept. 16, 2020, four professional Nashville studio musicians will visit the Michael W. Smith Center for Commercial Music. Steve Brewster, Dave Cleveland, Jacob Lowery and Jason Webb will show students what the professional music world is like through live recording sessions, a master class and a
Q&A session.
"The School of Music is so excited to host an event featuring such high-caliber professionals in the industry. … This opportunity is for our students to hear from and work with people they aspire to be like," said Dr. Stephen Müller, interim residential dean of the School of Music.
Drummer Steve Brewster, guitarist Dave Cleveland, bassist Jacob Lowery and keyboardist Jason Webb are high-level, influential Nashville professionals. As session musicians, they play in a variety of styles, adapting to whatever is needed for the recording they are a part of. They have played on albums from many top artists, including Natalie Grant, Michael W. Smith, I AM THEY, Francesca Battistelli, Lauren Daigle, Chris Tomlin, Kari Jobe and even Elvis Presley.
Brewster, Lowery, Cleveland and Webb adapt to different styles in a recording studio environment. According to Nathan Zwald, Director of Audio Production for Liberty University's School of Music, "playing in the studio is so difficult because it's a microscope. Every flaw is exposed. Every little detail is there for all to see and hear over and over and over. When you play live, if you make a mistake, it's gone in a moment, but when it's recorded, it is carved in stone forever."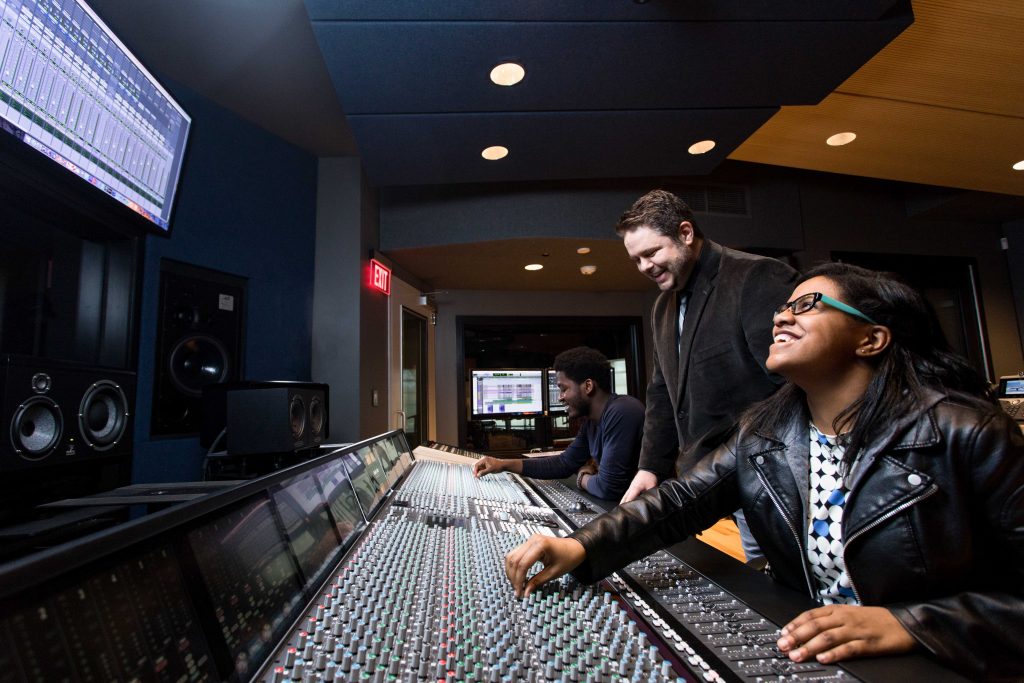 These four musicians will demonstrate the process of recording to Liberty University students. On Monday, Sep. 14, the musicians will spend the day in the recording studio at the university's SOM. They will record Liberty-generated songs from concept to completion, and the entire process will be livestreamed in the SOM's Oldham Recital Hall (MUSC 170). Students will have the opportunity to observe the musicians' professional workflow at full speed.
In addition to the recording sessions, the musicians will host a workshop Monday evening in the concert hall. During the workshop, the musicians will be presented with a song they have never heard before. Then, while on stage, they will create a chart for the song and discuss an arrangement. By the end of the workshop, they will perform their newly-created arrangement for the Liberty community.
On Tuesday evening, the musicians will host a Q&A session in the concert hall. This will give the Liberty community the opportunity to ask questions not only regarding music and the recording process, but also regarding life as a musician and what it is like to be in the industry.
Lowery encourages students to "Go with your passion. Don't second-guess your instincts." Regarding his upcoming visit to Liberty University, he said, "I hope I can show someone that chasing after the dream in their heart is what they should be doing."
Karissa Juhas is a News Reporter.